Jane Fleck sees herself and her husband, Terry, not as the owners of their 130-year-old Carmel home, but rather its caretakers.

"We view this home as the community's," said Fleck, a wedding planner. "It was here long before we were born and hopefully will stand long after."

Jane and Terry, vice president of the public relations agency Look East, purchased the place in 1992, after spending several years in Vienna. There, they acquired a love of old homes and—in Jane's case, in particular—for formal gardens.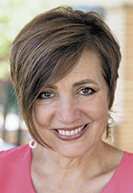 Fleck
"We wanted a place that we could make feel like a little, mini-Europe," Fleck said.

At the time, however, their two-story residence didn't exactly exude Old World sophistication. It began as a farmhouse and during the 1950s was turned into a duplex and its quarter-acre lot used as a junkyard. Fortunately for the Flecks, by the time they spotted the place, that unpleasantness was far behind it. The massive wall that once sundered the house into two units was gone, and its most recent owner had carefully renovated the place.

"They did all the grunt work, and we were able to decorate," Fleck said.

Most of the home's floors were redone with hardwood cherry. The main entrance now features double doors with leaded glass that Jane bought for $250 at an Atlanta antique shop. Unfortunately, there's not much left of the home's original equipage, beyond a hulking sink in the utility room that may (or may not) date to the property's earliest days.

The first-floor parlor, however, features a fireplace that undisputedly goes back to the 1800s. It serves as a counterpoint to the room's grand piano, which was played by Antigone, the oldest of the couple's two, now-grown daughters.
The next-door dining room is equipped (as is the rest of the house) with a large number of clocks.

"My husband likes to work on clocks, so we have an unusual number of them," Fleck said.

The first floor includes a guest bedroom illuminated by a ceiling fixture taken from Jane's grandparents' home. There's also a bathroom and, at the back of the abode, a combined kitchen, dining area and family room. The upstairs includes a bedroom formerly shared by the couple's daughters, plus an office area, master bedroom and bath.

The interior is just half the story, however. The living room's double doors open onto a large patio that serves as the gateway to the property's extensive landscaping. The former junkyard is now a formal garden, complete with tree-lined pathways and a pergola floored with recycled granite where the couple's oldest daughter was married. There's even the floral version of a family heirloom—a peony bush transplanted from Jane's grandmother's home.

Not that the property's less-refined former life is entirely behind it. The ground regularly disgorges everything from railroad spikes to broken crockery to an unusually large number of clay and glass marbles.

The home's street-side face is dominated by a porch that wraps around its front and right sides. The Flecks, who originally paid $113,000 for the place, love to chat there with neighbors in the evenings—though they probably have to speak a little louder these days, because a retail-residential development is going up on the block across the street. However, Jane is unfazed by the work.

"I'm excited about it," she said. "The developer worked really hard with us."

Over the decades, the home has gone from sitting in a backwater to sitting in the middle of everything. The soon-to-be-expanded Monon Trail is less than a block away, and the Flecks' research into their home's history was greatly aided by the fact that the Carmel Clay Historical Society's Monon Depot Museum is their next-door neighbor.

This summer, the couple plans to tackle a decidedly unglamorous maintenance task—repairing the home's stone foundation, worn down after more than a century of service. The Flecks are sanguine about that too, however, seeing it as a necessary part of their stewardship of the property. No matter how much the neighborhood changes, the house, they hope, will stay.

"It has a history way beyond us," Fleck said.•