Daniel Incandela explains his unusual career trajectory like this: "I have interest in a lot of things, so I tend to change careers when I start to get bored. I want new experiences and I want to make sure I'm growing personally and professionally."

That approach has led him from the Indianapolis Museum of Art to the Indianapolis Motor Speedway, Exact Target/Salesforce and, since January 2015, Return Path, an email marketing firm.

Incandela made his name (and earned his Forty Under 40 honor) at the IMA, where he helped develop ArtBabble, a kind of YouTube for the arts that allowed museums to post content. He moved to the Speedway in 2010 and helped define its digital strategy. "I'm a huge race fan," he said, "so it makes me proud to look and see all the great work they're doing now."

At Exact Target/Salesforce—"an insane and incredible ride for almost three years" where the team grew from three to 50—he led the launch of a new digital strategy, which resulted in a relaunch and rebranding of the company's website.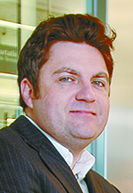 Incandela

"It was one of the biggest projects of my career and it was wildly successful," he said. "I proved myself in a difficult environment with really top-notch people, and I think that's probably the most important project of my career."

He moved to Return Path for a position similar to the one he held at Exact Target, and in November 2016, he was named chief marketing officer.

"I've had people throughout my career who believed in me," Incandela said, "and that's how I've been able to transition from different career spaces—because of people who would give me time and mentor but also take a chance. I'm grateful to the people along the way who were willing to give me a shot."•

—Marc D. Allan