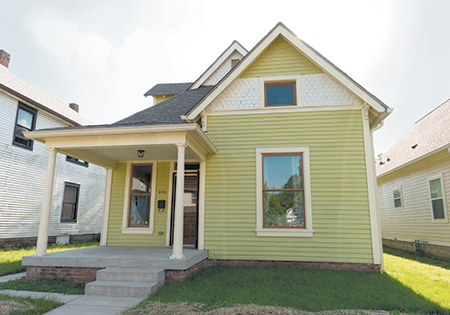 Andrew and Stacey Frye could be considered trailblazers for buying their family's home two years ago in blighted St. Clair Place on the city's near-east side.
The neighborhood, platted in 1899, was littered with vacant lots and homes inside its boundaries of Michigan Street to the south, Rural Street to the east, 10th Street to the north and Tecumseh Street to the west.
St. Clair Place, like other urban neighborhoods, had fallen victim to decades of suburban flight. But it's on the upswing now, thanks to residents such as Frye who are investing in the area.
Even more impressive: Frye, 31, purchased his home on Jefferson Avenue for $195,000 at market rate without any affordable housing subsidies attached, which is the way most new or refurbished houses are bought there.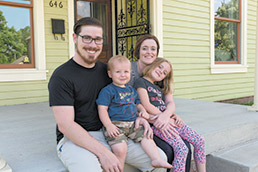 Andrew and Stacey Frye with their children at their home on Jefferson Avenue in the St. Clair Place neighborhood. (IBJ photo/Eric Learned)
"Given what's happened the last two years," he said, "it's a pretty good deal."
To be sure, the not-for-profit Near East Area Renewal achieved a major milestone this month by starting construction on its 100th home since 2010.
Most of the homes NEAR develops are priced below market and sold to buyers making less than 80 percent of Marion County' s median income. But it has constructed a handful of houses aimed at market-rate buyers, demonstrating the faith it and other builders have in the neighborhood.
Those homes, including Frye's, are becoming more plentiful as St. Clair Place rebounds. The long-range objective is not to create the next urban hotspot and mirror what's happening in Fountain Square, for instance, but instead have a mix of housing available for a range of buyers.
"You want progress; you want development, but we are very much trying to shy away from the buzz terms," said Frye, who serves as the neighborhood association's president. "We're focused on being socially and economically diverse in what we're trying to accomplish."
NEAR's efforts, however, are beginning to attract a few private homebuilders who think St. Clair Place is strong enough now to support market-rate housing. The thought is that once the neighborhood gets backfilled with enough newly built or renovated affordable houses, it will start to support the construction of houses without subsidies.
Local builder Steve Keller constructed a home on the vacant lot on Jefferson Avenue next to Frye's residence soon after his family moved there in 2015. It quickly sold for $287,000 while another on the same street fetched $283,000—proving that St. Clair Place can support pricier houses.
"Those two sales are pretty significant," NEAR Executive Director John Franklin Hay said. "It's become a very desirable neighborhood to live in, but there's still so much abandonment and still so much to do."
Born out of Super Bowl
Until recently, evidence of the decay remained most visibly in the form of a few flophouses—often rife with drug-dealing and prostitution—which NEAR managed to wrest from the owners.
Founded in 2003, NEAR partners with organizations to spur revitalization in 20 east-side neighborhoods. St. Clair Place, with a 40 percent residential vacancy rate a decade ago, was identified in 2007 by the Great Indy Neighborhoods initiative as an area most in need.
That program helped attract the National Football League to the near-east side after Indianapolis won the bid in 2008 to host the 2012 Super Bowl. The housing project initially received a $500,000 commitment from the charitable arm of the Metropolitan Indianapolis Board of Realtors to renovate 32 homes in partnership with the John H. Boner Community Center.
Local builder Steve Carly has been constructing houses in St. Clair Place since 2012—all with the help of U.S. Housing and Urban Development dollars. But he's considering building without subsidies, now that it's beginning to rebound.
"We would be willing to build a spec home at market rate," he said. "That's how much faith we have in the neighborhood."
NEAR, with the aid of HUD dollars, buys the vacant homes and lots through the Renew Indianapolis program—a not-for-profit that strives to return vacant and tax-delinquent properties to the city's tax rolls.
Most of the homes NEAR renovates or builds typically sell for between $110,000 and $140,000 to county residents making less than $37,350. The amount rises to $54,000 for a family of four.
Funds from HUD help offset development costs. For example, it might cost $180,000 to build a house that sells for $130,000; the HUD money compensates for the difference. NEAR partners with a builder to construct the houses and charges a development fee to sustain operations.
But no assistance is needed for homes that have been renovated for market-rate buyers. NEAR has built a few of those to generate more revenue and likely will build more, though that's not the organization's focus.
"You revitalize urban neighborhoods first and then what follows, hopefully, is a healthy housing market," Hay at NEAR said.
Bringing families back
The efforts of NEAR and private builders are beginning to pay off, particularly by attracting families back to the neighborhood.
Andrew and Stacey Frye have a 5-year-old daughter and a nearly 2-year-old son. And new St. Clair resident Amanda Brinkman, 24, also has a 5-year-old daughter. She and her boyfriend purchased a home from a previous owner in May on Jefferson Avenue that had been built three years ago.
They had been renting and decided to make the plunge into homeownership, paying $185,000 for the house.
"We wanted to stay in the city, but in a place where we felt was an up-and-coming area," said Brinkman, who works downtown. "We like the idea of being a part of a growing community instead of settling into a community that's already been developed."
When NEAR purchases vacant lots and homes from Renew, it strives to buy in clusters to foster safety and bolster home values, Hay said.
There's no danger of running out of properties in St. Clair Place on which to build, either. NEAR has 63 in its inventory and has received approval from Renew to acquire 17 more next year.
Renew Executive Director Bruce Baird is pleased with the progress.
"You start making that investment and other people see the activity happening, and then that leads to more work getting done and private market activity," Baird said. "I think NEAR has done a great job promoting the things that they do, and that spurs interest in the neighborhood."
For NEAR and Hay, it's all in a day's work.
"Some people say we're crazy," Hay said, "but we're going to try to make a difference."•
Please enable JavaScript to view this content.