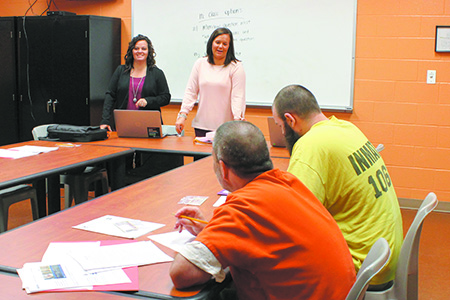 Ashley Whitsey of Indianapolis said she has always been ambitious.
She has an associate's degree in medical assisting and about a decade of experience working in the health care industry, including stints at area hospitals as well as home health care, where she enjoyed running errands and cooking meals for others.
But that's only part of Whitsey's story.
She also has experience with the criminal justice system—and not as an employee. Two years ago, Whitsey was charged and later pleaded guilty to felony theft. And although that sentence was suspended, Whitsey later violated the terms of her probation and a judge ordered her to serve 180 days in the Hamilton County Jail.
Now, with three weeks left in her sentence, Whitsey is setting new goals for herself. And with the help of a new career-readiness program at the Hamilton County Jail, she's looking to reenter the home health care field when she is released.
She'll be among the first few dozen people to finish the jail's five-week Transitioning Opportunities for Work, Education, and Reality program, known as TOWER, which began in April as a partnership with a state WorkOne Center to provide resources for soon-to-be-released inmates. The goal is to reduce the rate of inmates' returning to the county jail.
In the TOWER program, Whitsey is preparing a fresh resume and cover letter, brushing up on her interviewing skills and signing up for employment websites like Indiana Connect. She said she has had experience with many of these skills, but through the program, she has received greater individual guidance, with lessons about learning how to dress for a job interview and how to discuss her past convictions should a potential employer ask.
"Every week is something different," said Whitsey, who began TOWER classes last month. "We're moving forward."
All TOWER participants have been charged with nonviolent offenses such as driving violations or drug possession and are carefully selected to join the program. Hamilton County Jail Commander Jason Sloderbeck said an emphasis is placed on selecting inmates who show a readiness to engage in class and succeed in a job once released.
Funded by a two-year, $427,337 grant from the U.S. Department of Labor, the program funds two full-time WorkOne employees who work directly from the jail. The grant also funds the costs of eight laptops, software and classroom equipment.
Sloderbeck said TOWER is one of the only programs of its kind at a jail facility. Similar programs exist at the state prison level or through work release programs. But because county jails are typically seen as places where defendants serve short sentences, funding for local programs is harder to come by.
With 375 inmates, the Hamilton County Jail is at capacity, Sloderbeck said. The average length of stay is 64 days, up from a 49-day average two years ago.
"People are starting to take a different look at jails, because jails are actually starting to hold prisoners for longer periods of time," he said.
That's in part thanks to a recent state law that aims to move fewer inmates to state prisons and serve more of them in county jails and locally based programs, which the state promised to bolster as demand for the programs increased.
Sloderbeck estimates that more than 30 percent of jail inmates statewide will re-offend, something he hopes TOWER will improve at the Hamilton County Jail.
"This is the way we need to try to manage our jail population," Sloderbeck said. "If we're taking a more proactive approach to the people we have while they're here, the probability is much greater that they're not going to come back."
Stephen Luce, executive director of the Indiana Sheriffs' Association, said programs like TOWER are not unusual in larger jails, which typically have more resources than Indiana's smaller, rural jails.
The Marion County Jail system has run a similar federally funded program called Linking to Employment Activities Pre-release since 2015, in partnership with EmployIndy.
While Marion County's LEAP program has filled its enrollment target of 100 inmates, Chelsea Meldrum, EmployIndy's senior director of development, said the number of graduates placed in permanent jobs has been low. Of the 100 participants, 47 are still incarcerated, while many others have taken transitional jobs or are receiving additional occupational skills training through a partnership with Goodwill Industries.
Meldrum said a continuation of the program's two-year Department of Labor grant will allow EmployIndy to work with LEAP participants after their release to meet its goal of 60 percent placement in full-time, permanent jobs by June 2018.
In Hamilton County, four sections of TOWER classes are in progress at the jail, each with no more than eight inmates, meeting twice a week for two hours. But it's too soon to know whether the program will work.
Lance Ratliff, executive director of WorkOne's Region 5 Workforce Development Board, said 17 inmates have completed the program. Five have been released and one is now working a full-time job.
David Muhlhausen, a research fellow in empirical policy analysis at The Heritage Foundation, a conservative think tank, said he is often skeptical of workforce re-entry programs that emphasize job training.
"There's not a lot of evidence that show these programs work to a great degree," Muhlhausen said. "The programs that have been evaluated that work the best tend to provide multifaceted services. They realize people don't commit crime because they don't have a job. They commit crime because it's an individual decision and they have some personal factors that need to be addressed."
But Ratliff is hopeful. He said Hamilton County's 2 percent unemployment rate means there is high demand for employees, which opens opportunities for inmates who complete the TOWER program.
In addition to building career skills, participants complete work personality assessments and apply for management, leadership and OSHA certifications.
WorkOne's Tori Thorlton and Cassie Mata provide the education, and when they're not teaching, they reach out to local businesses to develop partnerships for future employment opportunities. They have also worked to organize job interviews at the Hamilton County Jail to help inmates secure positions before their release.
"To start job searching at that point, it might take them one or two weeks to find a job and then another couple weeks to get a paycheck," Mata said. "With this, it's going to speed up the process as to when they can start getting paid and building their life back together."
Sloderbeck said part of TOWER's focus is on changing a mindset. He said often inmates may get in their own way, giving up on their job searches when they become overwhelmed. That's why the program doesn't end after inmates are released.
Thorlton and Mata share their contact information and makes attempts to follow up with all TOWER participants as they continue their job searches outside of the jail.
The program is also looking to develop a community mentorship aspect of the program to help connect the recently released inmates with individuals who can provide guidance on both work and non-work-related issues, such as opening a bank account for the first time.
Whitsey said when she is released early next month, she plans to seek out services at her local WorkOne office. She said without her TOWER classes, she probably wouldn't have taken the same amount of time to prepare for reentering the health industry.
"Me being me, I probably would have just jumped back out there," Whitsey said. "I'm grateful that I've had this preparation to go back out there and get ready, because I can do some different things. I've learned some different things since being in that class."•
Please enable JavaScript to view this content.