Tired of missing events in his children's lives because of travel demands (they're ages 20, 10 and 7), Tracy Barnes closed his technology consulting business, Entap Inc., in December 2015. He sold off some contracts, let others phase out, and went to work for the state of Indiana. He started as IT director, spending 11 months in that role, then became deputy auditor of operations. In January, he moved upstairs to the Lieutenant Governor's Office as chief of staff.

"All of my work at the state has been about improving operations and efficiency, and having that responsibility makes me truly proud," he said. "Helping our agencies work smarter and ensuring our stakeholders are properly served is a big accomplishment."

In his current role, Barnes assists Lt. Gov. Suzanne Crouch with the management and leadership of the executive office, the business office and five state agencies—the Housing and Community Development Authority, Office of Tourism Development, Office of Defense Development, Office of Community and Rural Affairs, and the State Department of Agriculture.

So far, he said, the job is working out as he had hoped—especially in the most recent legislative session, where priority projects such as tourism and Indiana Grown, which promotes Indiana's agricultural products, received increased funding.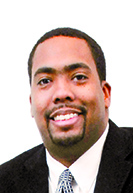 Barnes

So while he does miss the work he did at Entap to some extent—"I helped a lot of organizations across the U.S. and overseas"—Barnes said he feels fulfilled in his new role because "we get to focus on helping communities and constituents right here at home."•

—Marc D. Allan