What, you were expecting more for Paul George? Why?
This is the way the George era ends—not with a bang but a "gut punch." Plus Victor Oladipo and Domantas Sabonis. The Pacers' new world has begun. How do you like reconstruction so far?
It's not exactly going to be rebuilt in a day. Rebooting will be hard. It will take time. It will take money. There will be many nights, it won't be pleasant.
You were probably waiting for a big pile of draft picks. Or maybe for a glittering new marquee name that would make you grab your credit card when tickets for next season are available on line. Someone whos every presence screamed rebirth. Didn't happen. Was never going to happen. A team has to have some leverage for that sort of thing, and the Pacers had as much leverage as a loan shark customer, two weeks behind in payment.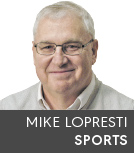 The contenders out there are serious at the moment about stocking up their weaponry. The chatter about this trade hardly had time to dent Twitter Friday night when that the Golden State Warriors had re-upped Steph Curry for five years and the gross national product of Uruguay. It's load 'em up time for the heavyweights in the NBA.
So the clock was starting to tick, with free agent season upon us. Apparently, the Pacers looked at the time, felt some urgency, and fired away. We'll find out later if it was a shot taken with precision and foresight, or one of those off-balance prayers from behind the 3-point line that clangs off the rim. If this were football, did Kevin Pritchard just throw a Hail Victor?
Some reports suggested one reason the Pacers were up for this was because they didn't want to see George end up a Cleveland Cavalier or Boston Celtic, in their own Eastern Conference. Well, maybe. But let's face it, the Cavs and the Celtics are not the teams the Pacers should be worried about beating next season. How about the Miami Heat and Chicago Bulls and Charlotte Hornets and anyone else figuring to be hanging around the No. 8 line for the playoffs.
All the recent conversation about maybe we can get this for George ... maybe we can get that for George ... patience and perseverance will tell in the end ... nothing gets done until the deal is right ... that sounded just peachy. Left out one minor piece, though.
Someone else out there had to be willing to make this sweet deal the Pacers were waiting for.
Nobody was. Apparently, this is the best the Pacers could do. If true, it is a stark and unmistakable message about this franchise's immediate future. There could be some dark days ahead in what might turn into Bankers No-Life Fieldhouse.
(Now might not be the best time to mention how the Pacers want the place renovated.)
Plus, it is a rather solemn ending to the Age of George. The final reckoning on his legacy here will not be all the glorious Junes he accomplished, but rather how uneven the prize was to see him go. He leaves like a family heirloom, sold in a yard sale at discount rates, before all the shoppers got in their cars and drive home. There are no championship banners to discuss in the wrapup of George's Indiana adventures. Just speculation about who gut-punched whom—and a tag attached to his uniform "Must sell now!".
Now there are new, young guys in town, fresh from Oklahoma City. Let's be clear, the Pacers did not get a set of steak knives for George. It's just, everyone had talked themselves into believing there'd be more. But rebuilding—the situation, plain and simple—doesn't work that way.
Victor Oladipo? Good player. Maybe ends up scoring 18 or 20 a night. They loved him in Bloomington, and they should have.
Domantas Sabonis? Well, he was a handful at Gonzaga. Brings some muscle, and that runs in the family. First chance you get, ask him about the day in 1988 his dad mashed the Yankees in the Olympics. Arvydas Sabonis is one of the reasons the USA, weary of getting pushed around internationally, decided it was time to bring in the NBA guys. So in a way, Domantas' daddy helped create the Dream Team.
Nobody will likely be using that phrase for the 2017-18 Indiana Pacers.