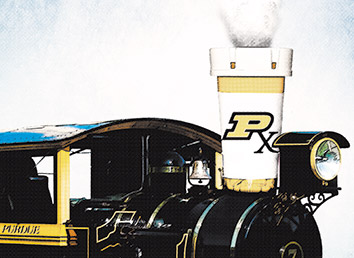 Eli Lilly and Co. plans to give Purdue University up to $52 million over five years to find better ways to inject medicines and to develop new models for clinical drug tests that can better predict the outcome of new medications in humans.
The two institutions announced the "strategic research collaboration" Thursday morning, calling it the largest agreement of its kind between Purdue and a single company.
The announcement comes as Purdue, based in West Lafayette, is spending $250 million over five years to bulk up its work in the life sciences sector, hiring more than 60 faculty members in life-sciences related fields and purchasing new research equipment.
"Our investment on campus in the life sciences, announced in 2016, is leading to just the types of impact we had hoped to effect," Purdue President Mitch Daniels said in a written statement.
For Lilly, the agreement is the latest in a long string of collaborations with universities and research-based pharmaceutical and biotechnology companies.
The Indianapolis-based drugmaker traditionally spends about half of its research and development budget on outside partnerships, although it maintains a large in-house R&D workforce. Last year, Lilly had 9,300 employees in research and development, including several thousand in Indianapolis. Its total R&D budget last year was $5.24 billion, or about 25 percent of sales.
Lilly spokeswoman Lauren Zierke said the partnership wasn't expected to replace in-house research.
"This is not an outsourcing agreement, but rather a strategic collaboration for Lilly and Purdue to conduct additional research together using the expertise from both institutions," she said in an email to IBJ. "We anticipate no reduction to our headcount in Research and Development as we create this framework for a lasting collaboration. Instead, we view this agreement as an opportunity to reinforce a positive ecosystem for scientists in Indiana and further the work that has been done to create a life science hub in our state."
Lilly CEO David Ricks said the partnerships with Purdue and others were vital in helping to discover and develop the latest technology.
"The biomedical revolution is upon us, but harnessing its full potential will require strong collaboration between academic research centers and industry partners," he said in a written statement.
The initial research between Purdue and Lilly will focus on two areas. The first will be to develop improved ways to inject medicines, with the goal of reducing pain, decreasing the number of injections and thus getting patients to comply with medical orders and improve their health.
The second area is to develop new models for clinical tests that will better predict how humans will respond to new medicines. The overall success rate for new drugs is just 9.6 percent, from early clinical testing to government approval, according to BIO, a huge biotech trade association, based on data from 2006 to 2015. That means nine out of every 10 drugs that go into clinical testing are scrapped along the way.
Purdue researchers from the natural and physical sciences, engineering and veterinary medicine will work on the projects with Lilly researchers. The collaboration could be expanded to other areas, the two institutions said.
Please enable JavaScript to view this content.