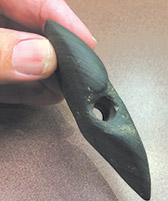 Cut line goes here xxxxxx. (Photo credit xxxx)
A historic artifact likely dating to native American settlements in Hamilton County has been found at the site of a Carmel roundabout project, city officials said July 3.
An employee of the city found the object—identified as a banner stone—on June 29 near the project site at East 136th Street and Gray Road.
City officials immediately notified the Indiana Department of Natural Resources, which investigated the incident and deemed it an isolated find that should not hinder the project, unless more artifacts are found.
The banner stone could be more than 4,000 years old and is identified as being from the archaic period. The stones are commonly found in Indiana, Ohio and Michigan, and are noted for their centered hole in the middle. Most archaeologists think they were used as atlatl weights (for throwing spears) or for certain ceremonies. Others have suggested they were used as tools for drilling or fire-making.
Please enable JavaScript to view this content.