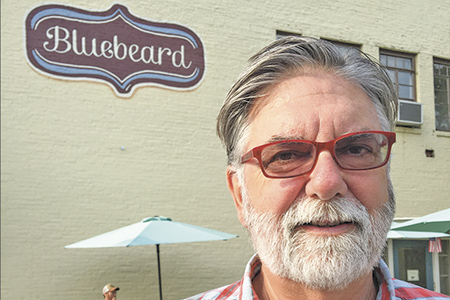 Tom Battista does a lot of real estate deals, but when pressed for his actual job title, his default response is still "stage manager for Jimmy Buffett." Giving that answer makes sense because it's certainly easier to explain than some of the other aspects of his unorthodox business history.
"It's only for 10 weeks a year, but that's what's allowed me to do all this other cool stuff," said Battista, 67, of his annual cross-country pilgrimage with Mr. Margaritaville. "If I had a regular job, it would have stifled my whole life."
These days, his schedule is anything but regular. On one recent day, he met with the contractor building the fence that will surround The Idle, his widely discussed (and sometimes derided) concept for a micro park between Fletcher Place and Fountain Square where visitors can contemplate downtown highway traffic.
Next comes a meeting with the Indianapolis Department of Public Works regarding parking for a three-screen art house cinema and restaurant he's helping to develop in the former Christian United Missionary Baptist Church at 1258 Windsor St. just off Massachusetts Avenue at Brookside Parkway.
And, finally, he and his business partner plan to scope out yet another potential property.
Oh, and at some point, Battista is going to help pour a new floor in one of the back rooms of the rambling old Fletcher Place building that houses Bluebeard, a tony restaurant owned by his son, Ed. The eatery has been credited with helping to turn the formerly rundown neighborhood that surrounds it into a food mecca.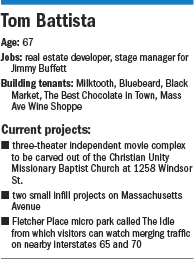 Turning around old buildings—and using them to revive entire blocks—is something of a specialty for Battista. Using a combination of sweat equity and real estate savvy, over the years he's brought a long list of marquee tenants to his buildings, including R Bistro, Black Market, Milktooth, Mass Avenue Wine Shoppe, and The Best Chocolate in Town.
"I take the long view," Battista said. "I guess I'm kind of a bottom feeder. I find these properties that are derelict, and I'll come in and say, 'I'll deal with it.'"
Indeed, Battista has emerged as an important grass-roots player in community redevelopment, said Bill Taft, Indianapolis executive director for the Local Initiatives Support Corp.
"Tom has an eye for picking both buildings that could be great with creative renovation and people in the restaurant business who can emerge as great chefs," Taft said in an email. "He is willing to put his own heart, sweat, time, and money into these people, buildings, and neighborhoods, often when others won't take this kind of risk."
Battista said part of the thrill is creating space for budding entrepreneurs.
"Basically, we're enablers," he said. "We enable people who have a passion to do something to go ahead and do it."
Battista came by his enthusiasm—and his renovation skills—the old-fashioned way. Born in Indianapolis, he cut his teeth in the real estate business as a child, helping his father maintain a not-exactly-new building at 24th and Illinois streets that housed the family pharmacy, a couple of other storefronts and several apartments.
"We were always fixing stuff," Battista recalled.
After studying history at Indiana University, his career path took a wild turn. In 1972, he was asked to help set up a music festival at the old Bush Stadium on West 16th Street in exchange for free tickets. Battista's work impressed the production crew's chief, and he was asked to help fit out a New York City club. After that, he worked behind the scenes on David Bowie's 1974 "Diamond Dogs" tour, followed by gigs with other acts and, most lastingly, his multi-decade relationship with Buffett.
But though his stage work paid the bills, it didn't keep him busy. Or rather, busy enough.
"I've never had a regular job, so I've never had to do the 8-to-5 thing," Battista said. "Every workday's a weekend, and every weekend's a holiday. It made no difference."
Finding their passion
For years, he and his wife, Sherry, an art conservator, filled their spare time buying, renovating and renting houses. Then, in the early 1980s, they bought a down-at-the-heels building in the 900 block of Massachusetts Avenue—which now hosts the restaurant Black Market. Shortly thereafter, they bought a retail strip in the street's 800 block and filled it with local businesses, including R Bistro, a much-heralded restaurant that closed last year.
More deals followed, including the purchase of the Bluebeard building at 653 Virginia Ave.
"Six years ago, this building was abandoned," Battista said. "Ninety percent of it was boarded up. It just screamed out that it needed to be saved."
If the structure was indeed screaming, Battista was the only one who heard it. Which is par for the course. Many of the buildings he's taken on looked like bulldozer bait to others. The one on Mass Ave that now houses Black Market, for instance, sported a hole in the roof that went all the way to the basement.
Which is why he usually gets them cheap.
"We see something that's not anywhere near its potential, and is almost ready for the wrecking ball, and we buy it," Battista said.
The Bluebeard building took his real estate dealings to another level. Originally, he didn't plan to put in a full-service restaurant at all—just the bakery that bears his grandmother's name, Amelia's. However, his son, Ed, swayed him to think bigger.
"Instead of the bakery having a little cafe, it segued into Bluebeard," Tom Battista said. "It's been hugely successful, and I could never have done it. My son has a degree in finance, and his friends were chefs, so he was able to figure it out."
Indeed, Ed possesses both finance and law degrees from Indiana University, which gives him the ability to mind the P's and Q's that his father, who balks at getting an office because it's "too legit," is less inclined to attend to. However, the senior and junior Battistas do see eye-to-eye on the sorts of projects they should undertake and who their tenants should be.
"When it comes to buildings, historical context is always good," Ed Battista said. "A great old building can come back to life and be as cool as it once was. From the people side, we want passionate people with a vision. We typically have better resources and can figure out a way to execute that vision better than the person could alone."
A star is born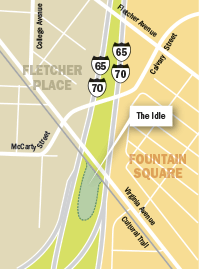 Three years ago, that approach produced one of the city's most-lauded eateries, Milktooth.
Here's the back story: Tom was sipping beers one day at Bluebeard with Indianapolis businessman Sam Sutphin, a longtime acquaintance who is a board member of Big Car Collaborative and shares the Battistas' passion for historic preservation and place-making.
Ed introduced Sutphin to chef Jonathan Brooks, who mentioned he was looking for a space to start his own restaurant. Shortly thereafter, they walked down the street to look at an old auto repair shop at 524 Virginia Ave., whose owner, Battista had learned, wanted to sell out and retire. Brooks loved the place, and the rest is history.
"We basically made a deal with the guy right then and there," Sutphin said. "And that was the beginning of the restaurant Milktooth."
Battista and Sutphin went in 50/50 on the project, and have continued to work together. Right now, they're involved in a couple of Massachusetts Avenue infill projects, along with a grander scheme to bring a three-screen independent movie theater and restaurant to the Windsor Park neighborhood.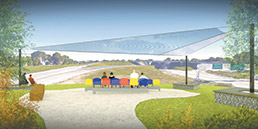 (Rendering courtesy of The Idle)
"This is what Tom is so good at," Sutphin said. "He promotes people and tries to help them realize their dreams. He's capable of seeing the big picture, and seeing what's good for the community and the city of Indianapolis, and at the same time promote the development of young entrepreneurs."
Watching wheels go by
Perhaps Battista's greatest (and most idiosyncratic) gift to Indianapolis is his personal brainchild, The Idle. For five years, Battista has worked to turn a tiny bit of scrub overlooking the interstate near Bluebeard into a tiny park where people can relax and just … watch the traffic.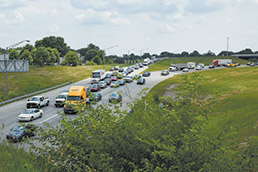 The Idle's vantage point allows for watching merging traffic from the Indianapolis Cultural Trail overpass.
(IBJ photo/Eric Learned)
The concept is, so far as anyone can tell, absolutely unique.
"There have been many people who say, 'That's a crazy idea; no one will ever go there,'" Battista said. "And there are other people who say, 'I love that; I remember watching traffic as a kid.' It strikes a chord with a lot of people."
Paul F. Smith, president of Southeast Neighborhood Development Corp. loved it from day one.
"I used to sit on a bluff in Monterey, California, when I lived there and watch the cars go by," Smith said. "I thought of it as very inexpensive entertainment. When Tom mentioned that he wanted to do something similar out here, I was all over it."
The project has been written up from coast to coast, and Battista and other supporters recently raised the $90,000 needed to turn it into a reality. When it's completed later this year, visitors will be able to sit in a bank of seats reclaimed from Bush Stadium, under a canopy made from pieces of the Hoosier Dome roof, and watch traffic buzz along the I-65/I-70 northbound and southbound lanes.
The project—recently mocked by NPR's quiz show "Wait Wait … Don't Tell Me!"—might sound loopy. But Battista said it fits perfectly into his strategy of finding underused places and bringing them to their full potential.
"Tom marches to the beat of a different drum," Smith said. "He's a big thinker with lots of ideas. The Idle is one such idea, and I suspect that he has many, many more."
Battista said he doesn't have anything else that clever on deck at the moment. But he doesn't plan to stop ruminating. Or to stop working.
"People ask me when I'm going to retire. I'm not going to retire. I think you only retire if you have to do something you don't like," he said. "I think what will have to happen to me is that my body wears out, and I physically can't do it anymore."•
Please enable JavaScript to view this content.