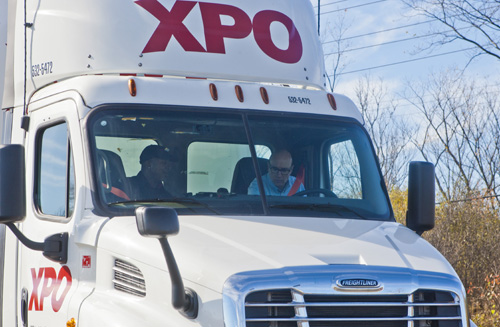 One of the country's fastest-growing transportation and logistics companies is making plans to open a massive distribution center northwest of Indianapolis that could employ 1,160 workers.
The Lebanon City Council on Monday is slated to consider tax incentives for XPO Logistics Supply Chain Inc., which wants to take over an existing 1.2 million square-foot warehouse on a 49-acre site at 135 S. Mount Zion Road, just southwest of Interstate 65.
The building was vacated at the end of 2014 by Pearson Education Ltd., which used it as a book distribution center.
According to resolutions filed with the Lebanon council, Piedmont, North Carolina-based XPO plans to spend $30.8 million to equip the center with logistics distribution and information technology systems, including conveyers, racking, scanners, computers and software.
Work could begin as early as August and be completed by the end of 2018, documents say.
The estimated 1,160 employees are expected to make an aggregate annual salary of $46.9 million, or an average of $37,275 each.
The documents did not say how much XPO planned to spend to lease the building, which was built in 1997 and 2001. Officials estimate the assessed value of the building will be about $43.2 million once improvements are made.
Planning officials noted that the building's owner, who wasn't named, has had difficulty finding somebody to buy or lease the facility since Pearson moved out.
XPO Logistics Supply Chain Inc. is a subsidiary of Greenwich, Connecticut-based XPO Logistics Inc., a public company that more than doubled revenue in 2016, to $15 billion, placing it No. 191 on the Fortune 500 list of America's largest companies. The company specializes in delivering big, bulky items ordered online.
The company says it operates in 34 countries, with over 89,000 employees and 1,431 locations. It conducts an average of 150,000 shipments daily.
Lebanon council members will consider two tax-incentive contracts: a 10-year real property tax deduction on the building and a 10-year personal property tax deduction on the new equipment.
The first tax break will save the building owner 10 percent on real property taxes each year. The other will save XPO more than 50 percent on personal property taxes over the 10-year period. The documents do not include actual financial estimates on the tax breaks.
Please enable JavaScript to view this content.