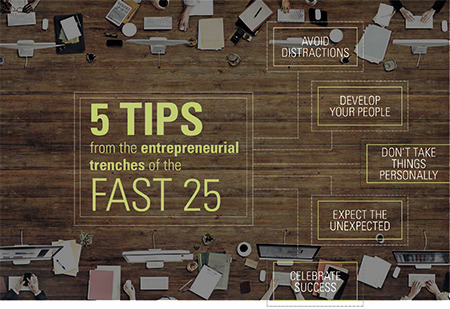 Plenty of business advice is dispensed in books, online forums and classrooms. But there's no experience quite like doing.
The business leaders who run central Indiana's fastest-growing private companies have been there. They have the scars and the souvenirs of hiring, scaling, selling and managing cash flows of firms that sell everything from toys to technology, real estate to concrete.
So IBJ asked them to share a few lessons from the trenches—mistakes, surprises and successes—with an eye toward helping the next generation of Hoosier business leaders.
Their advice:

Michael Osborne, CEO of the digital marketing platform SmarterHQ, calls it "shiny-object syndrome." Fast-growing companies, he said, need to hone in on priorities and stick to them. "We learned that by being super-diligent in what we said we would and wouldn't do, both externally and internally, we could be super-efficient with our resources and lead the market instead of follow it."
Clear priorities, though, aren't much use if rank-and-file and new employees aren't looped in. "It is so hard to reduce distractions in a startup, but constant focus on a shared goal and direction can make a difference," said Josh Owens, CEO at e-commerce platform SupplyKick.
Just as important as a sense of focus is a realization that not every moment calls for the same leadership strategy.
"At any given time, your company is likely to be in a peacetime or wartime state, and your leadership in those times needs to change drastically to fit the state of your business," said Chris Byers, CEO at Formstack, which makes form-building software.
Staying focused also can serve to keep growth in check, said Scott Moorehead, CEO of Round Room, an umbrella company for firms serving the wireless cellphone industry.
"We got ahead of ourselves and lost sight of what really made us great in the first place," he acknowledged. "But when we learned we had grown too quickly, we paused to fix things, which has allowed us to set forth a plan that means more consistent growth the company can absorb."

One of the best investments a fledgling company can make is in its people—both veteran hands and new hires.
"The employees have all the touches with our clients and all of the information available to them to make us a great company," said Martin George, CEO at LTC Language Solutions, which provides language and cultural training and translation services to corporate and institutional clients.
But investment in people goes beyond recruitment and onboarding. As Will Mattingly, president at Mattingly Concrete, noted, investing more on "training, hiring from within and delegating" enables greater capacity for growth.
Make sure to give your up-and-coming leaders runway to influence business strategy and direction, said Michael Kelly, managing partner at DeveloperTown, which provides software and design consulting. "We know that great ideas don't just come from the founders—and if anything, our past success can keep us from seeing changes we need to make as we continue to scale," he said.
SupplyKick's Owens said he waited too long to hire experienced talent. "It is an investment, but one that pays off in culture, team mentorship and collective growth," he said.
Russell Hughes, president of Greenlight, which designs and manufactures diecast collectibles, said his biggest mistake was "sorting out the timing for staff additions to give relief to those who helped build the core."

As an entrepreneur, it's normal and positive to feel enthusiasm for your company and industry. At times those emotions can become liabilities as well.
"I have learned to distance myself just enough from the moment-to-moment work to avoid an official title of 'micro manager,'" Mattingly said. "This opinion may vary depending on what day and who you ask, but I try to be as conscious as I can be as we grow."
In the same vein, convictions are more productive than comparisons. Byers, of Formstack, said his biggest failure was an inclination toward comparing his company to others.
"You never know why a company did or did not succeed in enough detail to make a meaningful difference in your own planning," he said. "Build the company you want to build, and let the chips fall where they may."

The biggest challenge to growth for Creative Solutions Consulting Inc., which advises clients on financial and technology issues, was it had an organizational infrastructure built to support a small business, said President Michele Meyer. "Then in 2015, we experienced unprecedented growth—what many call 'catastrophic success'—and our reactionary mode of operation began to negatively impact our service delivery."
The company shifted gears, implementing a framework for repeatable processes and accountability, which has supported sustained growth and allowed the company to pursue new opportunities.
For Mattingly, there was an unexpected expense from scaling up fast: "Our first full workers' compensation insurance audit came as a daunting surprise when I received a rather large bill for the difference in payroll from one period to another. As basic as this seems, it was a valuable lesson in business and growth."
Added Andrew Elsener, president and co-founder of logistics provider Spot Freight: "The little things begin to add up and multiply very quickly."

Time is always at a premium for fast-growing companies, but don't let recognition and celebrating success slip through the cracks. Both are part of a healthy company culture.
"With rapid growth comes new, bigger and more daunting problems," DeveloperTown's Kelly said. "While you're scrambling to tackle those issues, take the time to look back at what you've accomplished and celebrate those wins with the team."
Acknowledging progress has benefits that go beyond morale and goodwill.
"We made the choice early on to create a collaborative culture where people knew their contributions and input were valued," said Ron Pelletier, partner and co-founder at Pondurance, which provides information security, threat management and business continuity services. "This has fostered an environment of trust and dependability, and has ultimately led to the highest level of customer service."•
 
Check out more of IBJ's ranking of Indy's fastest-growing companies..
Please enable JavaScript to view this content.