Revenue Growth FY 2014 to 2016: 280%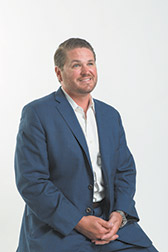 Kyle Bach says the company initially had to convince schools that private student housing would help them grow and retain students. (IBJ photo/Eric Learned)
Persuasive evidence: In the beginning, Annex Student Living, which develops and builds student housing at colleges and universities that typically haven't offered campus housing, had to convince schools that they needed what Annex builds. Now the company's work is starting to speak for itself. CEO Kyle Bach points to IU-Kokomo, which has seen enrollment and retention increase since Annex built there.
Helping their goals: "The institutions we're looking at, that is probably one of their main motivations: to increase enrollment and retention," Bach said. "We feel like we have a part in that. It's a dynamic story to be able to tell other institutions—to say, we can be an off-campus housing provider that can help you achieve your goals." Bach said he also knows Annex is on the right track by building in underserved areas because "we're seeing a lot of our competition and our peers coming into our space because they also see the validity of those markets."
New construction: Bach said Annex just finished a transaction at Kellogg Community College in Battle Creek, Michigan, and is finishing the exterior work on phase one of its project at IUPUI, which will add 256 beds. "We're excited to see the future for the near-west side and proud to be part of that."
Branching out: Early in his career, Bach worked in affordable-housing construction, and Annex is heading into that space—starting in Bloomington. Bach, an alumnus of Indiana University in Bloomington, said that virtually everything that's been built in Bloomington over the past two decades has been geared toward the student population. The result has been increasing rents. What Annex is doing in Bloomington and near other flagship university locations is building affordable housing communities. "We think there's tremendous need and a good long-term value for these types of projects."
New markets: Annex has built in six states: Illinois, Indiana, Kentucky, Michigan, Missouri and Ohio. The company plans to branch out. Bach said Annex has property under control in Colorado and is working on locations in Montana and California. •
Check out more of IBJ's ranking of central Indiana's fastest-growing private companies.
Please enable JavaScript to view this content.