Revenue Growth FY 2014 to 2016: 247%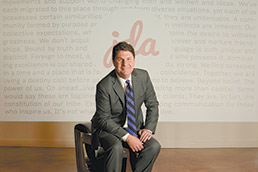 Brad Benbow says JDA prefers to work with emerging brands because they tend to be more aggressive. (photo courtesy of Joseph David Advertising)
Ads plus: Joseph David Advertising, which does business as JDA Worldwide, is a full-service ad agency. But as CEO Brad Benbow said, "We consider ourselves interpreters of dreams." The agency provides four services: buying paid media, creating campaigns, brand work (it has a dedicated office in Colorado Springs, Colorado, for that), and strategy. "We seek relationships in which we get to be a voice in the process. When we're in competition for an account, we always make it clear that if you want a vendor, we're a lousy vendor. If you want a partner, if you want somebody who will be strategic with you for the long haul, that has the wherewithal and patience to handle all the ebbs and flows of a high-growth company, we can be very attractive."
His background: Benbow is a Wabash College graduate who started his career at a Dallas ad agency. He moved back to Indiana to start Rutter Communications Network in Muncie with Tom Rutter. Benbow and partner King Lumpkin spun off JDA from Rutter in 2003.
Clientele: JDA prefers to work with emerging brands. "We're aggressive, and clients that want to be aggressive like that probably appreciate it more." Current clients include SeaPak Shrimp & Seafood Co., a provider of frozen grocery products; Bleacher Report, a sports website; and Mainstreet, the Carmel-based real estate developer.
New client: Benbow said his firm has been hired to do advertising and marketing for The Museum of the Bible, which is opening in Washington, D.C., in November. A JDA creative team has been on location in a California desert shooting footage, in preparation for the campaign's pre-launch at the end of summer.
The name: Joseph David Advertising is named for Joseph and David from Old Testament history—Joseph because he was an interpreter of dreams and adviser to the pharaoh and David because he's arguably the most creative guy to ever live and he was ready to fight, Benbow said. "Those traits pretty much sum us up."•
Check out more of IBJ's ranking of central Indiana's fastest-growing private companies.
Please enable JavaScript to view this content.