Revenue Growth FY 2014 to 2016: 205%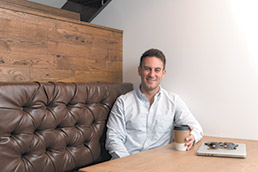 Josh Owens says SupplyKick can help companies that have been kicked off Amazon for shipping incorrectly or misclassifying products.  (IBJ photo/Eric Learned)
In the beginning: SupplyKick helps brands and manufacturers maximize and manage their Amazon.com sales. (It also sells on Walmart.com, eBay and other platforms.) But it wasn't always that way. The company started in 2013 as an arbitrage business, buying up assets that could be sold online for a profit.
Experience helps: As SupplyKick gained expertise about online sales, the founders encountered brands that wanted help selling on Amazon. "It really opened our eyes," CEO Josh Owens said, "to the number of companies, brands and manufacturers who needed assistance making that Amazon platform work for their business. Once we figured that out, we ran straight for it."
Helping brands grow: SupplyKick has two business units. One creates an offline retail environment online. SupplyKick works with about 100 brands or partners in the home and garden, automotive, tools and hardware, and travel realms. Brands include Dometic, a northern Indiana company that makes RV coolers; Mac Sports, which sells a beach wagon; and Earthway, which manufactures seed spreaders.
Consulting too: Because of SupplyKick's knowledge of online sales, some companies hire it for guidance. "We have a lot of great experience on Amazon," Owens said. "We've seen everything Amazon can throw at someone, from shutting down an account because it shipped products incorrectly or labeling was done incorrectly or having a product listing taken down because it was incorrectly classified." This is a newer side of their business. "As you expand on Amazon, having some expert help is really key."
Need to be online: Owens said that as some bricks-and-mortar stores struggle, the onus is on the brands and manufacturers to make sure they have a strategy that incorporates Amazon. "Right now, there is a giant segment of the retail space that is flying under the radar—mostly because it's pretty complicated and because it's the back end of what makes Amazon and Walmart.com and eBay work. Because those stores aren't in our backyard, the impact of what those online retail giants can be is understated. We've been really lucky to see that opportunity and come in contact with a number of brands that we've been able to help expand their sales."•
Check out more of IBJ's ranking of central Indiana's fastest-growing private companies.
Please enable JavaScript to view this content.