Revenue Growth FY 2014 to 2016: 133%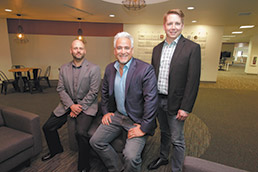 Pondurance partners, from left, Dustin Hutchison, Ron Pelletier and Landon Lewis, opened an office in St. Petersburg, Florida, and will soon have another in Chicago. (IBJ photo/Lesley Weidenbener)
The name: Ron Pelletier explains Pondurance, the name of the cybersecurity firm he cofounded, like this: "'Pon' is to set or put in place in secure terms, so it has a lot of security considerations. 'Durance' is another term for incarceration or imprisonment, but also for the long run, so to put in place securely for the long run. The joke I always make is that it was an exercise at 3 a.m., the domain was available, so I registered it and that became the name." That was in 2008.
Growing fast: Pondurance is headquartered downtown in a 10,400-square-foot space that Pelletier thought would never be filled. But with new security threats popping up daily—ransomware is a big one the company is dealing with now—the office is reaching capacity, he said. Pondurance also opened an office in St. Petersburg, Florida, and soon will have one in Chicago.
What the company does: Pondurance also works in areas such as information protection, incidence response, and threat hunting and response (finding holes in computer systems and fixing them before they're penetrated). It also handles compliance issues for organizations that need to deal with health care data and credit card privacy. Pelletier credits his partner Landon Lewis as "the genius behind our technology and technical solutions." Pelletier said Pondurance is unusual in that more than 30 percent of its employees are women in an industry where the average is 14 percent. "That's real exciting for us to demonstrate that it's not a man's world."
Qualifications: Pelletier got interested in online networks as a tanker in the Army in the 1990s. He started in the disaster recovery and continuity field, "which gave me a great business perspective of risk and the dependency on systems."
Bringing in clients: With data breaches in the news so often, "We always say the media does a lot of our selling for us," Pelletier said. "But we offer a good value proposition and we have the ear of a lot of our clients because we're bringing rationalized solutions to them. We're not just saying 'buy this' or 'do this' or 'spend a million dollars.' We're helping them figure out what their risk profile looks like and getting their security program to get in line with their risk tolerance."•
Check out more of IBJ's ranking of central Indiana's fastest-growing private companies.
Please enable JavaScript to view this content.