Revenue Growth FY 2014 to 2016: 95%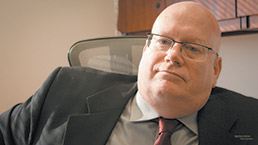 Martin George's mother was Austrian, which meant he grew up hearing the German language. That fueled his interest in languages. (photo courtesy of LTC Language Solutions)
His interest: LTC Language Solutions CEO Martin George said he's always been interested in language. His mother is from Austria, "so we had a lot of German going on at home." He earned his master's and doctorate in language education at Indiana University and was director of the ESL program at IUPUI when he started LTC (which stands for Language Training Center, its original name). When he was doing that, he got a lot of calls from the business community about the need for language-training programs. George said he went to the dean of liberal arts and asked about creating a parallel business. He did that for a couple of years until branching out full time.
Evolving: LTC started teaching languages in the business-to-business and business-to-government realms. Today, it's a full-service language service provider, offering language training, cross-cultural training, translation and interpreting. "There are not many out there that do all four of those," George said.
How it's grown: In the last few years, LTC has made a concerted effort to do a lot more interpreting, translation and cross-cultural training. Those additional services and expansion into the Orlando, Florida, and Washington, D.C., markets have fueled the company's growth.
Military contracts: Much of LTC's work comes from the Army and Navy, as well as what George calls "three-letter government organizations." For example, George said, the Navy may be sending a group of high-level officials to Beijing and will hire LTC to train all the naval seamen on cultural competency. For rear admirals and others, LTC will teach them how to greet dignitaries and how to say key phrases.
Opportunities knocking: George said LTC plans to expand by offering programs for first-language users. Native English speakers can take classes like technical writing, public speaking and presentation skills, and millennials, who grew up on social media and texting shorthand, can learn to improve their language skills. "We're linguists, so we know language acquisition," he said. In addition, the company is looking to expand into additional cities, with Las Vegas and Nashville as possibilities.•
Check out more of IBJ's ranking of central indiana's fastest-growing private companies.
Please enable JavaScript to view this content.