Revenue Growth FY 2014 to 2016: 89%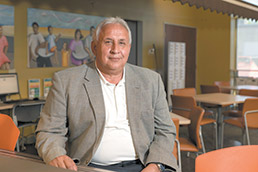 Tomas Morales' staffing company has placed more than 40,000 workers in jobs throughout the Midwest. (IBJ photo/Eric Learned)
Better reputation: Morales Group Inc. CEO Tom Morales said that a decade ago, companies mostly saw staffing firms as a necessary evil. But they came to appreciate that "we are a great partner to have. The ups and downs of the economy itself, the unknowns even now, allowed us to be a partner. Full-time employees were not necessarily the answer to everything. The flexibility companies wanted was something that really pushed us to the forefront."
Founders: Morales and a partner (since bought out) started Morales Group in 2003. The company has added offices in Columbus, Indiana, and Louisville and now has placed more than 40,000 workers throughout the Midwest in temporary, temporary-to-permanent and performance-based positions. Most of the placement takes place in manufacturing, warehousing and logistics, and light industrial companies.
Many competitors: Morales said there are more than 200 staffing companies in central Indiana. To differentiate itself, Morales Group started by concentrating on the Latino workforce. Fourteen years later, it has placed workers from 24 nationalities. The company's motto is "Building better futures, one story at a time."
Offering opportunities: Visitors to MoralesGroup.net can read the stories of people who fled their homelands and wound up in Indiana, where they found work through Morales Group. "We help those who can't help themselves," Morales said. "Many look at these $10-$15-an-hour jobs as opportunities, versus those around us who say they can get something better. Many of them are very talented people who can't practice what they learned in other countries."
Growth and service: Revenue is important, Morales said—he expects to top $100 million this year—but so is service. So every year, the company takes a team of associates to build homes. The team built four in Mexico this year, he said. "We talk a lot about purpose," he said. "I want to feel more than that we're just making a nice net income."•
Check out more of IBJ's ranking of central Indiana's fastest-growing companies.
Please enable JavaScript to view this content.