Revenue Growth FY 2014 to 2016: 85%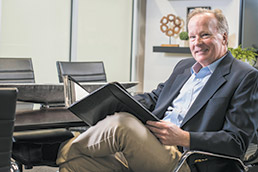 Dan Harrington says he expects Becknell to double its business in the next five years. (photo courtesy of Becknell Industrial)
Commercial builders: Becknell Industrial builds spec and build-to-suit warehouse and light-manufacturing space. The architecture, engineering and construction supervision is done in house. It's now building a 357,000-square-foot spec building in Plainfield and has done spec construction in Whitestown, as well as a build-to-suit project in Mount Comfort. Co-founder and CEO Dan Harrington said the company also bought a building in Mount Comfort. Over the last five years, Becknell has started to acquire property in addition to develop it. That has spurred the company's growth, as has the post-recession increase in demand for industrial space.
In the beginning: Harrington was a lawyer in Champaign, Illinois, and Fritz Hartrich was a contractor there when they started Becknell in 1990. They did their first building for Nabisco, which is still a client, and now work in 33 states and have offices in Chicago, Carmel and Delray Beach, Florida, where Harrington lives. (Hartrich is semi-retired but still consults for Becknell.)
Coming to Indianapolis: The company opened in central Indiana in 2011. At the time, it was considering a public offering and Harrington was looking for a chief financial officer. It hired Matt Cohoat, who had been CFO for Duke Realty Corp. Cohoat "set up that entire office and made some great hires."
Lots of competition: Harrington said that on every project his company does, there are probably three or four additional bidders. "So we have to be extremely efficient," he said. "You have to make sure you underwrite these deals correctly so that you're ahead of the competition. In build-to-suit, we always try to give our clients the best deal we possibly can. That's why we get that repeat business."
Continuing growth: Harrington said he expects Becknell to double its business in the next five years—an outlook he never would have predicted 27 years ago. "Looking back on it," he said, "sometimes I can't hardly believe it."•
Check out more of IBJ's ranking of central Indiana's fastest-growing private companies.
Please enable JavaScript to view this content.