Revenue Growth FY 2014 to 2016: 72%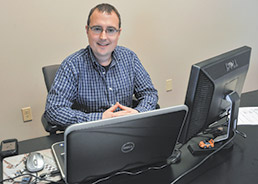 Russell Hughes says GreenLight has expanded in part by taking over manufacturing for other companies in its industry. (photo courtesy of GreenLight LLC)
Running fast: Excitement over the 100th running of the Indianapolis 500 was one of several factors that helped propel GreenLight LLC, which makes collectible die-cast vehicles, to another successful year. President Russell Hughes said GreenLight produced more IndyCar and Indy 500-related merchandise than in any year in the recent past, and sales continued to be strong this year with the popularity of the car for Fernando Alonso, referring to the Formula One star who raced in this year's 500. In addition, GreenLight started making replicas of Formula E (electric) cars.
Doing for others: Hughes said the company also expanded in the past year by taking over manufacturing for other companies in its industry. "There are a lot of small guys in our industry who don't have the know-how or the staff or the contacts to really control their costs and maximize their manufacturing capabilities. So that's been something we've offered to companies we're friendly with or know well."
Acquisition: GreenLight also added a brand to its high-end portfolio by acquiring Iowa-based Highway 61 Collectibles, a model car maker, at the end of 2016. That was GreenLight's fourth acquisition in three years. It will relaunch Highway 61's 1:18 scale molds, which were discontinued in 2012, later this year.
Sales: Hughes said the retail market has been tough, and GreenLight felt the loss of Hastings Entertainment and Gordmans, two chains that filed for bankruptcy and shuttered all locations. But mass market is only one way GreenLight sells its products. It also sells to distributors, direct to specialty retailers, through racing venues, through promotional orders, and internationally.
Cool new items: Another way GreenLight adds revenue is through new product lines. One popular addition has been U.S. Postal Service-branded items, Hughes said. "We signed a license not knowing how it was going to do and it's done really well." GreenLight also has seven oil brands under license, and Gulf and Shell have been in big demand. "Our goal is to expand the line and add more retailers to our portfolio both domestically and internationally. We are making a significant push to grow outside of the country as well as inside, to diversify more."•
Check out more of IBJ's ranking of central Indiana's fastest-growing private companies.
Please enable JavaScript to view this content.