Revenue Growth FY 2014 to 2016: 70%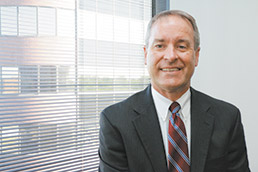 Mike Dunlap says diversification insulated Merchants from the inevitable ups and downs that individual sectors suffer. (IBJ photo/Lesley Weidenbener)
Why it grew: Merchants Bank of Indiana President and Chief Operating Officer Mike Dunlap attributes the bank's growth to multiple factors: decisions made in the past few years that have worked out well, taking businesses that had been local and expanding them nationally, and adding new business.Unconventional wisdom: In 2009, in the aftermath of the Great Recession, Merchants was counterintuitive by funding loans for mortgage companies across the country. That business continues to grow significantly, he said. "When all of the big banks got out, we got in and we established some great relationships because those companies—we were there for them. So even though all that business has come back, as of now, it was great for them and great for us to build those relationships and then protect and grow them and really give us a name in that business."
Going national: Merchants does a lot of funding in the multifamily space—apartments and nursing homes—and it's grown the geographic footprint of that business from local to national, Dunlap said. "For us, it isn't just one thing that makes it happen. You have to be doing multiple things. One may hit better than the other, but it diversifies what you're trying to do and you just have a better chance of being able to grow because you've got several different things going on."
New business: In 2013, Merchants started a residential mortgage division in Indiana, and last year it added U.S. Small Business Administration lending to its portfolio.
In the plans: Dunlap said Merchants' diversification insulated the bank from the inevitable ups and downs of particular segments. "So that was the beauty of our growth—we were able to do more things, and when you can do more things, you can have some that are going great and some not as much, but it all works for the greater good." Merchants will "continue to do what we do and just get better at it, which should lead to future growth."•
Check out more of IBJ's ranking of central Indiana's fastest-growing private companies.
Please enable JavaScript to view this content.