Revenue Growth FY 2014 to 2016: 60%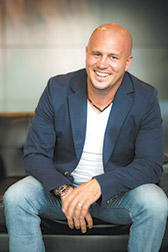 Scott Moorehead expects Round Room's portfolio to hit $2 billion in revenue this year. (photo courtesy of Round Room LLC)
What it is: A cellphone retailer and franchiser, a moisture-removal technology business and a workplace culture consultant? That's the holding company Round Room, which started in Marion in 1990 as one of the first authorized retailers for GTE Mobilnet in Indiana. Scott Moorehead took over his parents' business in 2007, "and we have since been part of a crazy wireless industry and now operate around 825 TCC [The Cellular Connection] locations across 38 states."

Expanding: On Oct. 1, the company added Wireless Zone, which has more than 330 franchised Verizon Wireless locations. Round Room now operates about 1,150 retail locations across 42 states. Moorehead said the company also owns a controlling share of Redux, a patented technology used to fix portable water-damaged consumer electronics. And its company Culture of Good teaches other organizations how "a for-profit business can run with the soul of a non-profit, and it's better for your business." He's even co-authored a book, "Build A Culture of Good: Unleash Results by Letting Your Employees Bring Their Soul to Work."

Common goal: While the products of its companies sound disparate, Moorehead said the goal is to find synergies to play off each other and make each other better. "We've never strayed too far from our core competency. Our company is a people company. We employ people, we serve people, we connect people."

Culture of philanthropy: Moorehead describes Round Room as "pound for pound, one of the most philanthropic companies you'll ever find." One example: The annual backpack giveaway that takes place at TCC stores. For the past five years, just before school starts, the stores have given away backpacks filled with school supplies. The first year, they gave away 65,000; this year, they expect to top 250,000.

Ready to add: Moorehead said all of Round Room's businesses have room to grow, and he expects to hit $2 billion in revenue in 2017. In wireless retail, he continues to look at acquisition opportunities and plans to play a much bigger role in Verizon Wireless' distribution plans. Redux will be added to Wireless Zone stores shortly, and negotiations are under way to add it in other retailers' stores. And Culture of Good will continue to consult. In addition to expansion plans, Moorehead said the cellular stores will introduce a new point-of-sale system later this year that will save customers "oodles of time."•

Check out more of IBJ's ranking of central Indiana's fastest-growing private companies.