Revenue Growth FY 2014 to 2016: 56%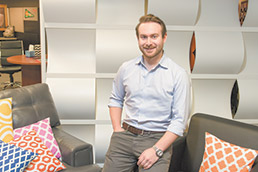 Ilya Rekhter says several companies are using DoubleMap products to move employees from building to building. (IBJ file photo)
Getting around: DoubleMap Inc.'s DoubleMap app lets users track buses in real time, and its TapRide app lets passengers request a ride—usually to connect to public transit or to get around a university or corporate campus. CEO Ilya Rekhter said tens of thousands of people use his company's products every day, and it has more than 1 million active users.
New business: Rekhter said the latest system to sign on is Dallas Area Rapid Transit, or DART—which received a grant through a Federal Transportation Administration program targeting innovative transit concepts. "The idea," he said, "is that you can use it for carpooling from your home to work. So maybe a segment is carpooling that's powered by us. Then you can ride a fixed-route bus, which we link up with. Then you can take micro-transit solutions, like a pop-up bus route that's based on demand."
Other users: Several large corporations use DoubleMap products, Rekhter said, to help employees move from building to building. In cases like this, TapRide works much like Uber or Lyft, except that the companies use their own vehicles and drivers. One company DoubleMap serves, "a large phone manufacturer," has 30,000 employees and 293 vehicles to move them around.
Advances in technology: Rekhter said that when he and his partners started DoubleMap in 2009, they saw the impact the technology was having on transit. It's only going to continue with the rise of autonomous vehicles. "And autonomous buses are right around the corner. So we found ourselves in this tidal wave of technological advancement for transportation. It's really exciting to be on the cutting edge of that and being a part of it. Our industry is developing very rapidly. We're trying to lead the charge."
Coming next: Rekhter said the company has two product lines in the works that will advance what it's already doing. "Judging by the way 2017 has gone so far in comparison to years past, I think we're going to blow the doors off this thing, and I'm very excited for some of the projects we have that are right on the cusp of completion."•
Check out more of IBJ's ranking of central Indiana's fastest-growing private companies.
Please enable JavaScript to view this content.