When Brett Favre signed with the Minnesota Vikings Aug. 18, cheers could be heard at MainGate Inc.'s 7900 Rockville Road headquarters. Predictably, Favre jerseys went flying off the shelves—about 6,000 in the first 72 hours—and MainGate gets to keep a portion of those sales.

The Vikings are one of six teams the Indianapolis-based merchandising specialist has signed deals with in 2-1/2 years, making MainGate one of the biggest retail players in the goliath of professional sports leagues.

Though financial terms of the individual deals were not announced, MainGate officials said revenue from those combined deals is approaching $10 million annually, close to one-fourth of MainGate's growing revenue. The bulk of its revenue still comes from other sports.

"They've compiled an impressive record in a short time," said John Horan, publisher of Sporting Goods Intelligence, a Pennsylvania-based industry trade publication. "There aren't more than one or two companies nationwide that can rival the size of their [NFL] retail client list."

Horan said MainGate has beaten the odds by growing at a time sports apparel sales overall are static.

Dave Moroknek, MainGate president and majority owner, said every team the company has partnered with has seen retail merchandise sales increases from 30 percent to more than 60 percent, with one team doubling its sales within five months.

"I've seen a lot of merchandising companies in sports, and I've seen none better than MainGate," said Bob Raymond, who spent almost 13 years with Major League Baseball's Detroit Tigers before joining the NFL's Detroit Lions as vice president of business operations a year ago.

The Lions have seen their merchandise sales increase across the board in the seven months since hiring MainGate, with online sales up 75 percent and sales of merchandise at the team's training camp four times what it was last year, Raymond said.
MainGate signed its first NFL deal, with the Indianapolis Colts, in January 2007. The company agreed to a seven-year deal to operate the Colts' gift shop at Circle Centre mall and its online sales initiative. The deal now includes a store at Lucas Oil Stadium that opened last September.

Using its industry contacts and word-of-mouth marketing, MainGate has signed a rapid-fire succession of deals in the tightknit NFL.

• In April 2008, it signed a three-year deal to handle online retailing for the St. Louis Rams.

• In June 2008, it signed a two-year deal to handle a retail operation of the Cleveland Browns geared toward kids.

• This January, the company signed a three-year deal to handle online retailing for the Kansas City Chiefs.

• In February, it signed a 10-year deal to handle all retailing operations for the Detroit Lions.

• In June, it signed a 10-year deal to handle all retailing operations for the Minnesota Vikings.

To accommodate the growth, MainGate added 66,000 square feet of warehouse space in March at its 200,000-square-foot campus. MainGate doesn't manufacture NFL goods—at least not yet—but it manages all other phases of team retail operations from top to bottom.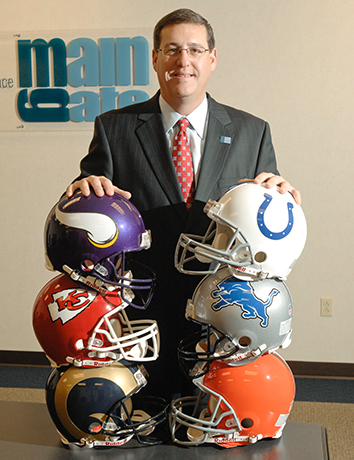 Dave Moroknek and his staff at MainGate Inc. have helped drive merchandising sales up more than 30 percent for their NFL clients. (IBJ Photo/Robin Jerstad)
MainGate officials determine which items to stock, set pricing, manage distribution and handle customer relations, among other key functions.

Each deal is structured differently, Moroknek said, but usually MainGate pays the team a predetermined percentage of sales and is allowed to keep the rest to cover expenses and turn a profit for itself. Many teams are discovering a merchandising and retail specialist can do the job more efficiently than they can do it themselves, Moroknek said.

"We have certain economies of scale and experience," he said. "These guys are experts at running football teams, not retail operations. Plus, every dollar we bring to them is net, as opposed to when they do it themselves, it's gross."

MainGate officials are wrestling some of the work away from established retail firms—such as Connecticut-based Centerplate Inc. and California-based Facility Merchandising Inc. In other cases, the company is convincing teams that used to handle merchandise sales in-house that Maingate can do it better.

Racing roots

MainGate is no rookie when it comes to selling licensed merchandise. Founded as Sport Service in California in 1963, MainGate initially made a name for itself handling licensed goods for the National Hot Rod Association. It went on to represent Ford Motor Co. and Harley Davidson.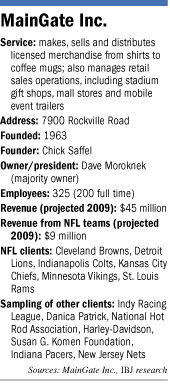 The company moved to Indianapolis in 1985 to be more centrally located and rebranded itself MainGate in 2003. About the same time, Moroknek was hired away from the Indianapolis
Motor Speedway, where he was senior director of marketing and consumer products.

MainGate lost money in 2001 and 2002, Moroknek said, but has achieved a growing profit line every year since he joined the firm. He has since become majority owner and grown the staff from 72 to 325 employees. Two hundred of those employees are full time, including 25 that handle nothing but NFL-related business.

Moroknek, whose goal is to add three more NFL teams to MainGate's fold by 2011, predicts the company's head count will continue to grow.

Oddly, MainGate's entry into the NFL came via the National Basketball Association's Indiana Pacers. Moroknek was eager to diversify the company beyond motorsports and in 2005 sold the Pacers on letting MainGate handle part of the franchise's retail business.

When a Pacers employee joined the Colts staff, the new Colts hire arranged a meeting between Moroknek and Colts top brass. The Colts at that time were working with three different companies to handle online, mall and stadium sales. The franchise also did some of the work in-house.

Moroknek pitched the Colts on letting MainGate handle all their retail business, including mobile sales units at training camp and on the roving "Make It Personal" tour.

"Their level of sophistication is unparalleled to anything we've ever seen," said Tom Zupancic, Colts senior vice president of sales and marketing. "Our sales are up 200 percent since MainGate took over."

The NFL and its teams don't divulge merchandise sales revenue, but league insiders said it's a critical piece of the pie because the money is not shared with other teams as part of the league's revenue-sharing formula. One team official said the top teams can generate $5 million to $10 million annually in merchandise sales.

Perfect timing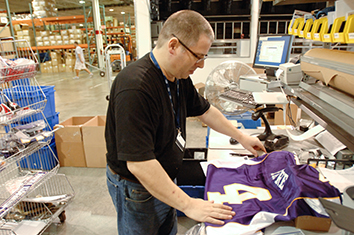 Jim Taelman of MainGate preps a Brett Favre jersey to be shipped. About 6,000 Favre jerseys were sold within 72 hours of his signing with the Minnesota Vikings. (IBJ Photo/Robin Jerstad)
MainGate's timing with the NFL has so far proven fruitful. While MainGate has signed a deal with only one of the league's top 10 merchandise sellers—the Colts were ranked No. 10 in the most recent rankings released by the league—the Lions and Vikings are both growing fast.

The Lions this year unveiled a new logo and had the No. 1 overall draft pick, quarterback Matt Stafford. And the Vikings have gotten a huge boost from acquiring Favre.

Through its long merchandising history, Moroknek said, MainGate has learned to study trends, analyze data, compile databases, stock the items that sell, and find employees who know how to move product on the retail level better than most.

"We use as much science as we can in an unscientific business," he said.

MainGate's clients said operating a retail operation might sound simple, but it isn't.

"It's not just about the sale; it's about how deep you can go with the customer," said Bob Reif, who was formerly the Indy Racing League's chief marketer and now serves as the St. Louis Rams' executive vice president of sales and marketing. "We now have more information than we ever did before about people who buy St. Louis Rams merchandise, and that provides huge crossover sales and marketing opportunities for us."

For example, the Rams, with MainGate's help, recently signed a deal for a Rams-themed credit card, and allowed the credit card company to market directly to buyers of Rams' online merchandise. MainGate also has helped the Rams online store with things like Internet search optimization.

MainGate has a turnkey operation in the licensing industry, with the ability to not only run warehouse, distribution and direct-to-consumer retail operations, but also to manufacture products at its Indianapolis headquarters.

MainGate designs and makes items from Danica Patrick T-shirts to NHRA caps, coffee mugs and key chains. While MainGate has no NFL license to make products, Moroknek said that could come.

"We've found everything this company does is cutting-edge," said Steve LaCroix, Vikings vice president of sales and marketing. "I think they've gotten the league's attention."•