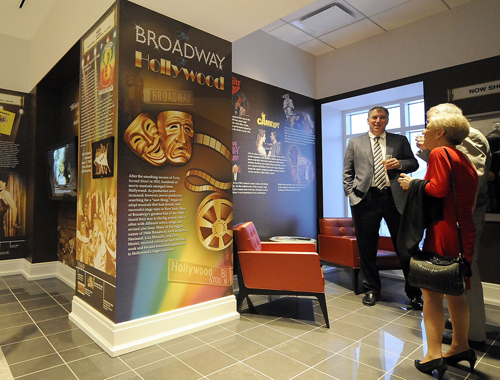 In a move that puts it in the company of the National Blues Museum in St. Louis, the Woody Guthrie Center in Tulsa and the Beatles Story in England,  the Carmel-based Great American Songbook Foundation has been named a Cultural Affiliate of the Grammy Museum.
The announcement was made Wednesday afternoon at the Center for the Performing Arts in Carmel that was expected to feature appearances by Great American Songbook Foundation founder Michael Feinstein, Grammy Museum Founding Executive Director Bob Santelli and Carmel Mayor Jim Brainard, among others.
The affiliation gives the foundation "access to Grammy Museum exhibitions, educational initiatives, research programs, internship opportunities, technical support, collaborative promotion and more."
Only four other groups have similar affiliations: the Bob Marley Museum in Kingston, Jamaica, as well as the National Blues Museum in Missouri, the Woody Guthrie Center in Oklahoma and the Beatles Story in Liverpool.
What it means for public exhibitions has yet to be determined beyond "exciting possibilities for the Songbook Foundation's many educational and outreach programs aimed at schools, community groups and music lovers of all ages," foundation Executive Director Chris Lewis said in written comments.
Founded in 2007 at the Center for the Performing Arts by, the Great American Songbook Foundation's mission is to preserve and curate artifacts related to creators, performers and publishers. It maintains an archive of more than 100,000 documents related to pop, jazz, Broadway and Hollywood music at the Palladium, where it also presents small public exhibitions in its gallery space, which currently houses a show celebrating Ella Fitzgerald.
The exhibit gallery takes up 500 square feet in the center and the archives uses 4,000 square feet. The long-term goal of the foundation is to establish a freestanding museum with much more space for exhibits and storage.
"This stamp of approval from the Grammy Museum, which is the hallmark of American popular music, provides an undeniable boost to any future plans we might undertake," Lewis said in an email to IBJ. "Certainly, we will look to them as a resource and a partner as we weigh the options for a free-standing museum."
The not-for-profit Grammy Museum was established in Los Angeles in 2008 as a partnership between the Recording Academy and entertainment company AEG. Its mission is to cultivate a greater understanding of the history and significance of music while paying tribute to our collective musical heritage.
"The Songbook Archives is a one-of-a-kind repository preserving the legacy of an enormously important era in music," said Santelli in written remarks. "We are very pleased to welcome this organization into our affiliate network and help broaden its impact for musicians, students, historians and all devotees of American music."
The announcement was made amid the Foundation's annual Songbook Academy, a week-long high school vocal workshop and competition.
"We share so much with the Grammy Museum in terms of our artistic, historical and educational mission," added Feinstein. "It is tremendously gratifying to me, both personally and professionally, to see the cultural importance of the Songbook being recognized in this way."
Besides its affiliations, the Grammy Museum operates museums outside of Los Angeles. The Grammy Museum Mississippi in Cleveland, Mississippi, and the the Grammy Museum at Musicians Hall of Fame in Nashville, Tennessee, both opened in 2016. The Grammy Museum Experience in Newark, New Jersey, is expected to open this fall.
"We started in Mississippi with the B.B. King Museum, which led to the creation of a permanent structure in Cleveland, Mississippi," Santelli said in reference to the additional museum sites. "Low and behold, money was raised to create a facility far more impressive than what we have in L.A. It has become a centerpiece of tourism, culture and education."
Santelli said the Grammy organization expects to get as much or more out of the Carmel affiliation than the other way around.
"We chose Great American Songbook because it fulfills a great need for us," he said. "It's mutually beneficial. Having access to the Songbook's archives and having access to people like Michael [Feinstein]is a wonderful thing for the Grammy museum in Los Angeles. It's not just what we can bring to Carmel. It's what Carmel can bring to Los Angeles and our other facilities around the country. We tend to take full use of that."
The Great American Songbook exceeded the Grammy's criteria for affiliation, according to Santelli.
"There are a few things we look for in partnerships," he said. "One is passion for American music, which is here in spades. Second is a very deep-seated and committed educational set of initiatives that aren't just dreams but are actually in place. The third is the ability to understand the big picture of American Music. In our opinion, American music is one of our greatest cultural treasures and resources. If you are part of that story than you are part of that family."
Please enable JavaScript to view this content.