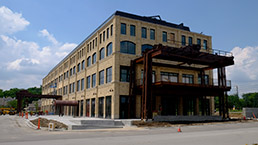 The 120-room hotel is on the former site of a La-Z Boy showroom on 86th Street. (IBJ photo/Eric Learned)
Construction is in the final stages on the $20 million Ironworks Hotel being built just west of the Ironworks apartments on the south side of East 86th Street near Keystone Avenue.
Wisconsin-based Hendricks Commercial Properties is developing the 120-room hotel on the former site of La-Z Boy showroom.
Ironworks Hotel Indy will feature 15,000 square feet of street-level retail space, including Blue Sushi Sake Grill, Massage Heights and Cunningham Restaurant Group's Rize. Cunningham also will operate Provision in second-floor retail space.
The hotel will have three meeting and conference rooms: the 700-square-foot Keystone room, the 250-square-foot Meridian room and the 200-square-foot Chatham room.
Hendricks Commercial Properties owns more than 12 million square feet of real estate in 33 states, including five buildings in Indiana.
The company also is developing the $260 million Bottleworks mixed-use project in the former Coca-Cola bottling plant on Massachusetts Avenue downtown.•
Please enable JavaScript to view this content.