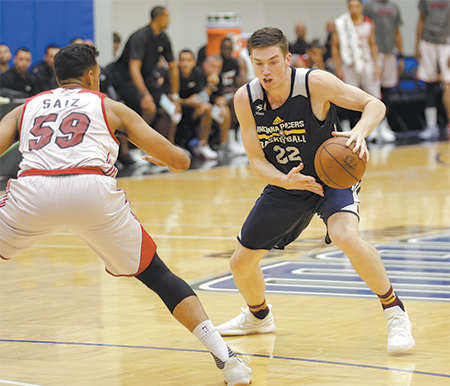 The Indiana Pacers sales staff is gearing up for a crucial three-month stretch before the season tips off.
From a business perspective, it's perhaps the highest-stakes span for the franchise in at least five years. Nearly the entire roster has turned over, and much of that change has come within the last month.
"We're used to roster shifts every year, but this is a little unusual," said Todd Taylor, Pacers chief sales and marketing officer.
That's putting it mildly.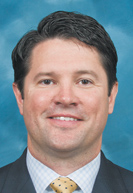 Taylor
"The roster is essentially 100 percent overhauled," Taylor added.
Gone are Paul George, Jeff Teague, C.J. Miles, Monta Ellis, Lavoy Allen, Georges Niang, Aaron Brooks and Rakeem Christmas. Add in Rodney Stuckey, who was waived toward the end of the season, and three-fourths of last year's team are now playing in another city.
The departures include three regular starters: George, the centerpiece of last season's team and an NBA All-Star; Teague, an Indianapolis native; and Ellis. Miles also periodically started.
Additions this off-season are first-round draft pick T.J. Leaf; second-round draft picks Ike Anigbogu and Edmond Sumner; Victor Oladipo and Domantas Sabonis, who came over from Oklahoma City in the Paul George trade; Cory Joseph; Bojan Bogdanovic; and Darren Collison, who played for the Pacers from 2010-2012.
Add in Lance Stephenson—who played in the last handful of regular-season games and four playoff games—and this season's lineup is almost unrecognizable.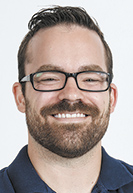 Schultz
"You don't see wholesale turnover like this too often," said Derek Schultz, co-host of an afternoon sports-talk show on WNDE-AM 1260. "In fact, I'm not sure if I've ever seen a situation quite like this."
Pacers officials said the rebuilding might not yet be done, raising the specter of more additions.
The biggest move—what new Pacers basketball operations boss Kevin Pritchard called "a gut punch"—was George's departure. Rubbing salt in the wound, George later told Sports Illustrated that he wanted to play for a title contender and didn't see that happening in Indiana.
The Pacers didn't see a massive fan backlash when George, who had one year left on his contract and told the Pacers in June he wouldn't re-sign with the team after next season, was traded to Oklahoma City, Taylor said.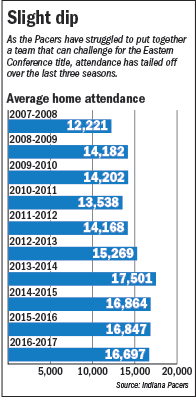 Fans were ready for the move because signs of a departure dated back to last season's all-star-game break, he said, but from a marketing and sales perspective, the loss hurts in two ways.
"Not only was he a great player, but he was a very likable guy," Taylor said. "He was always gracious to work with. In addition to that, he brought a great marketing benefit through his relationships with companies like Gatorade and 2K Sports."
Despite George's all-star status, Schultz said, he was never embraced like Reggie Miller—who led the team to the 2000 NBA finals and played his entire career here. Or even the way Miller's teammates Rik Smits, Antonio Davis and Dale Davis were.
"I'd compare Paul George's connectivity to this community to that of Jermaine O'Neal," Schultz said. "He said all the right things. I think those guys talked the talk, but they didn't walk the walk. In the end, they thought of themselves before the team."
Challenges ahead
The Pacers' season-ticket renewals were unscathed by the off-season tumult because season tickets are renewed in April, Taylor said. And while the move to shuttle Stephenson in and Stuckey out occurred before the renewals, rumblings of the major overhaul had not yet started.
Taylor said renewals are actually a tick up over the same period a year ago. That is likely due to the energy Stephenson—now on his second tour with the blue and gold—breathed into the team.
But Taylor and his staff are bracing for the next week or two, when the NBA will likely release its schedule. The Pacers sales crew will break those tickets down into half- and mini-season ticket packages and—along with full-season packages—take them to market in mid-August.
"That's when you get a good feeling about the direction you're going, and how your fans feel about the team," Taylor said. "Aug. 15 through Oct. 15 will be a big two months for us. We call that the faith and direction period."
Taylor is optimistic, in part because he believes in Pritchard's ability to lead the team into a new era.
Pritchard, who has been with the Pacers since 2010, took over basketball operations when Larry Bird stepped down in late April. Taylor and Pritchard worked together for the Portland Trailblazers, when Pritchard rebuilt that franchise a decade ago.
And he's optimistic, based on what he's heard from ticket holders, that Pacers fans will embrace the team Pritchard is putting together.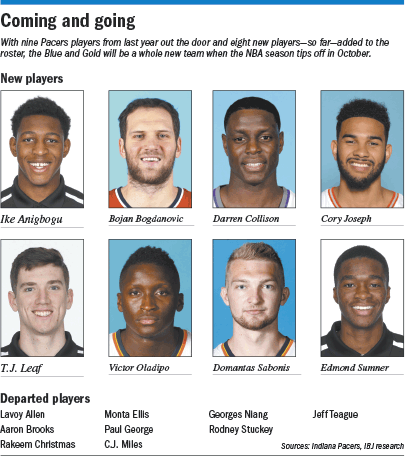 "Midwesterners like people who want to be here, are passionate, excited and work hard," Taylor said. "That's almost as important as superstar status."
He said he understands that simply having players who try hard won't be enough to increase last year's regular-season home attendance average of 16,697.
"Certainly, wins and losses are critically important in our business," Taylor said. "We're definitely trying to win basketball games."
Because most sponsorships are multiyear deals, those have seen little impact.
But Taylor noted that, amid the changes, the Pacers on July 19 finalized a five-year deal to make KeyBank the team's exclusive bank partner. A source familiar with the terms said the agreement will pay the Pacers well over $5 million over the life of the deal.
Pessimism persists
Pacers fans are heading into this uncertain season with equal parts curiosity, excitement and trepidation.
"Anyone who tells you they're excited to be selling the Pacers right now would be lying," WNDE's Schultz said. "It's not a good situation. With that said, there does appear to be a plan and direction. I do think the Pacers can now build it up rung-by-rung, and there's something exciting about that."
Still, Schultz projected the Pacers will win only 30 or so games and fall short of the playoffs this season, and that the futility could weigh on fans as the season wears on.
Since Taylor's hiring in June 2011, the Pacers have climbed out of an attendance hole. Average attendance rose from 13,538 during the 2010-2011 season to 17,501 in 2013-2014. Each of the last three years, attendance declined slightly, to just below 17,000.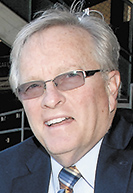 O'Malia
Former grocery store executive Danny O'Malia, a Pacers season-ticket holder since the team played its first season in the ABA in 1967, said topping 17,000 this year will be a real challenge.
"I'm always optimistic, but when it comes to the Pacers, I'm not sure why I have reason to be right now," O'Malia said. "Honestly, I don't feel very good about the team's chances for success this upcoming season."
O'Malia said he's annoyed with the way George left the team and the direction of the NBA and free agency in general.
"The days of a team building around a certain player like Reggie Miller are gone. We have to face that," O'Malia said. "I wish professional sports wasn't the way they are, with players moving all over the place all the time, and things seemingly stacked against the small markets. But that's the way it is, so we have to live with it."
Taylor said he and his staff "kicked into education mode immediately" with current and past ticket buyers when the player changes started.
O'Malia said he has received multiple emails from the sales and marketing staff.
"They've been messaging me about the rebuilding efforts and how this team will compete," he said.
The team is preparing to launch a digital and social media marketing campaign for the new players.
It's also laying plans for the regular season, including which players will adorn the three highest-profile banners—by the lobby elevators in Bankers Life Fieldhouse. Taylor predicted that Oladipo and Stephenson, along with third-year big man Myles Turner, will be chosen. Last year, it was George, Teague and Turner.
Six other yet-to-be-determined players will be featured in banners hanging from the lobby rafters.
A print, radio, television and billboard campaign likely will launch late this summer or early fall. Taylor said specifics haven't been finalized.
The Oladipo factor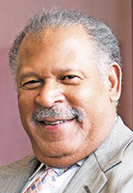 Thompson
Local attorney and sports marketer Milt Thompson said the Pacers have some appealing players to win over fans, starting with Indiana University graduate Oladipo and UCLA one-and-doner T.J. Leaf, whose dad, Brad Leaf, was a star basketball player for Lawrence North and the University of Evansville.
"I think Kevin Pritchard has made some dynamic moves and is rebuilding with character guys," said Thompson, president of Grand Slam Cos. "That means something to people here. If I was writing the messaging for the Pacers, I'd emphasize that we have a young, exciting group of guys—with no superstar personas—who are going to bring their lunch pails and work hard every day. That's what Hoosiers like."
Thompson also said he'd play up Oladipo's IU angle.
Taylor said that, because Oladipo has a four-year NBA track record, the Pacers will emphasize his professional accomplishments as much as what he did at IU. Taylor admitted, though, there's already a special bond between Oladipo and the Pacers and fans.
"Victor feels like one of our family naturally," Taylor said.
Oladipo, he said, came in—unprompted—to visit the marketing staff on his first day in town. Taylor noted he was wearing an IU sweatshirt.
"That meant a lot to me," he said of the visit. "He's definitely ready to be a part of this team in every way"•
Please enable JavaScript to view this content.