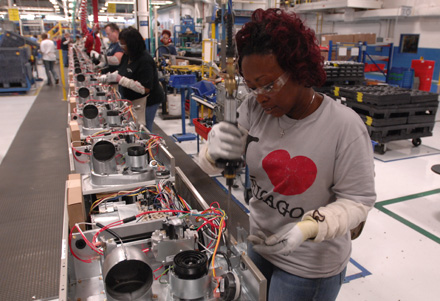 Indianapolis Mayor Joe Hogsett on Wednesday announced programs offering financial assistance to about 630 displaced Carrier Corp. workers, as well as incentives to employers to hire them.
Carrier workers searching for new employment will have access to up to $1,000 per worker for transition assistance, designed to supplement costs associated with switching jobs. The money can be used to reimburse expenses related to transportation, childcare, utility bills, tools, and new work equipment.
The money will come from the roughly $1.2 million that Carrier and its parent company, United Technologies, returned to the city in previously received tax incentives after the announcement last year that Carrier was planning to move some local operations to Mexico.
"This approach will both help those displaced workers get back on their feet as well as restore trust and vitality within the Indianapolis business community," Hogsett said at a press conference.
The city also announced a $1,000 incentive per employee that businesses can claim for hiring displaced Carrier workers. Workers must be retained for one year at the company and paid at least $16 per hour.
The use of funds still must be approved by the City-County Council. Officials anticipate that will happen before October so the assistance can be made available this fall.
"We've done our job well if we've run out of money" in the Carrier fund after these two programs roll out, Deputy Mayor Jeff Bennett said, because that would mean that each employee took advantage of transition assistance and got a new, good-paying job.
Carrier announced in May that it expected 632 employees to lose their jobs due to the decision to move fan coil production work to Mexico. About 340 of them were laid off earlier this month. Another 290 are expected to be let go by Dec. 22.
Most Carrier workers either chose early retirement or are getting some type of severance package or transition assistance. But the $1,000 is meant to be helpful to reduce the "opportunity costs" of finding a new job, said Angie Carr Klitzsch, president and CEO of EmployIndy, who called the assistance "barrier-busting funds."
Robert James, president of the United Steelworkers Local 1999, thanked the mayor's team and told IBJ that "whatever help [workers] can get" is appreciated.
He said the $1,000 in reimbursable benefits "will be helpful to members as they continue to transition into another aspect of their life, to start over after putting in so many years at Carrier."
Please enable JavaScript to view this content.