Bank of America, which announced in April that it would open a retail office in Indianapolis, has promoted Andy Crask to Indianapolis market president.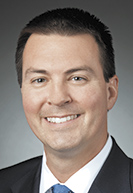 Crask
The Charlotte, North Carolina-based banking giant already has more than 125,000 central Indiana customers, either as commercial banking customers or as wealth management customers through Bank of America subsidiary Merrill Lynch.
But the new branch—which will be on the first floor of the new Cummins Inc. distribution headquarters on the east side of downtown—will provide Bank of America its first brick-and-mortar presence in Indiana.
Crask has worked for Bank of America in Indianapolis since 2000, most recently as a senior relationship manager for global commercial banking.
Crask, who holds a bachelor's degree in finance from Ball State University, lives in Westfield with his wife and two children.
Bank of America has said it plans to open a second Indianapolis branch but not where.•
Please enable JavaScript to view this content.