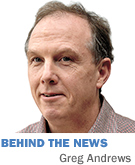 The National Lampoon brand—which took a beating after a group of Indianapolis investors gained control of it in the early 2000s—is getting a new lease on life under a recently finalized sale.
Philadelphia-based PalmStar Media last month completed a $12 million deal to buy Los Angeles-based National Lampoon Inc., a pact that severs the final ties between the company and a contingent of Indianapolis shareholders, including convicted fraudster Tim Durham.
The sale is generating a big pile of cash for Fair Finance Co. bankruptcy Trustee Brian Bash, who's trying to scrape together an additional recovery for investors in the defunct, Durham-owned firm that the Indianapolis businessman operated as a Ponzi scheme.
Bash is getting $750,000 for Durham's National Lampoon stock, plus $3 million owed under a 2015 lawsuit settlement. That deal stems from a suit Bash filed alleging Durham raided Fair's coffers to prop up the ailing Lampoon.
Laikin
The sale closes the book on an odyssey that began in 1999, when Indianapolis businessman Dan Laikin was flipping through The Wall Street Journal and saw an ad that changed the course of his life and that of National Lampoon, the once-vaunted comedy brand that had fallen on hard times.
The ad touted that Los Angeles-based J2 Communications—the name at the time for the business that controlled National Lampoon magazine and its storied spinoffs, such as the movie classics "Animal House" and "Vacation"—was trying to raise money to help launch its website.
Soon, several Indianapolis businessmen—including Laikin and his friend Durham—were scarfing up shares of publicly traded J2. They believed that Lampoon, with the right leadership, could be restored to its former glory.
"The power of a brand that is this forceful is something a lot of people don't understand," Durham told IBJ in 2001, the year the Indianapolis investor group pushed its ownership above 50 percent and gained control.
What unfolded from there wasn't pretty. The big turnaround at the company, which the new owners renamed National Lampoon Inc., never happened. And then two successive CEOs of the company—first Laikin and then Durham—landed in prison.
Laikin—who pleaded guilty to orchestrating an unsuccessful scheme to pump up National Lampoon's slumbering stock price—was released in 2013. In a quest for leniency before his sentencing, Laikin turned on Durham, telling investigators Durham was operating Fair Finance as a Ponzi scheme—using millions of dollars from mom-and-pop investors to fund a lavish, over-the-top lifestyle.
So began the FBI investigation into Durham—which culminated in his arrest in 2011 and his sentencing to 50 years in prison two years later.
Much of that history is getting replayed in the Hollywood press these days, thanks to the PalmStar purchase.
The company has been financially reeling for years while also trying to shake the stigma of scandal. But PalmStar principals are confident they can put the fraud-tainted era behind them and restore Lampoon into a comedic juggernaut.
"We viewed it as a pristine asset that had been held hostage," National Lampoon co-CEO Raj B. Singh told Deadline Hollywood. "Now, we have a brand we think can be explosive."
In a court filing, Trustee Bash said he likely would not have been able to recover anything from National Lampoon, giving its precarious finances, had the company not been sold. He said the PalmStar deal provides the maximum amounts he could hope to obtain.
It will barely put a dent, however, in the massive losses suffered by the Ohio investors who bought unsecured notes from Fair before it collapsed and went out of business in 2009.
The closing left more than 5,200 Ohioans owed $208 million. So far, they have recouped just $18 million, or less than 9 cents on the dollar.
The best hope for a large additional recovery rests with a favorable outcome of a long-running lawsuit against the Fortune 500 firm Textron Financial Corp.
Textron was one of two Fair Finance lenders Bash sued in 2012, charging they stood idly by as Durham drained tens of millions of dollars from Fair to support his lifestyle and prop up failing businesses he owned. The suit alleged the lenders turned a blind eye because the relationships were highly profitable and, unlike the investors who bought unsecured notes, they held collateral protecting them from losses.
A judge in late 2012 tossed out the case against Textron—finding in part that the trustee lacked legal standing. But Bash pressed on against the other lender, Fortress Credit Corp., and in 2015 it agreed to a $35 million settlement.
A U.S. Appeals Court ruling last year overturned the Textron dismissal, reviving Bash's suit. The judge in the case has not scheduled a trial date.•
 
Please enable JavaScript to view this content.