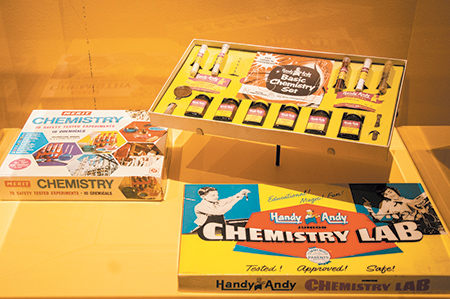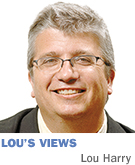 Call it eclectic, call it random, or call it exactly what a state museum should do.
Whatever you call it, a trio of temporary exhibitions now supplementing the permanent collection at the Indiana State Museum certainly offers a range of experiences.
First, the most out-of-the-blue one.
"Science at Play" (through Jan. 15) looks at the way science has been sold to kids via home chemistry sets. While their popularity has waned in these gaming-console-centric times, chemistry sets—complete with test tubes, droppers and pipettes—were once common playthings as kids grew crystals, concocted disappearing ink, and experimented with color-changing liquids. Such kits and their containers of sodium carbonate, boric acid and that old favorite—phenolphthalein solution—are here nostalgically showcased, with a nod given to other home science products such as home microscopes and View-Master stereoscopes.
I was disappointed to see, in small print, the word "simulated" on a kid's Geiger Atomic Counter, but it's an interesting artifact, nonetheless. And, fun fact, such chemistry sets were excluded from the 1969 Child Protection and Toy Safety Act because of their educational purpose, although manufacturers did cut back on the inclusion of alcohol lamps and strong acids.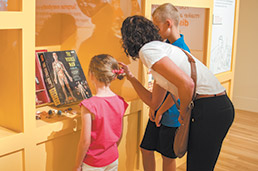 The human body becomes a snap-together model. (Photos courtesy of Indiana State Museum and Historic Sites)
While museum gift shops still stock their share of science-based toys—and with drones a hot commodity—there's only a nod here to recent science-based toys. Elements of a Harry Potter set included in the exhibit might lead to conflicting messages, thanks to a very unscientific magic wand, but such blurring of the lines between fact and fantasy is nothing new. The boxes and guidebooks for some early chemistry sets featured turban-clad alchemists and crystal balls. Context, though, is given in some interesting ways. The exhibit doesn't shy away from the sociology of these kits, with commentary included about their skew toward boys and their minimal inclusion of minorities in their packaging.
There is a fun building-block interactive station—I witnessed some adults creating rhombicuboctahedrons and icosidodecahedrons (mentioned specifically here just to drive our copy editor crazy) while their kids explored elsewhere. But, alas, the exhibit doesn't afford the opportunity to get messy exploring chemistry concepts with the kits themselves.
On the other hand, that's probably a good thing—at least for the museum's custodial staff.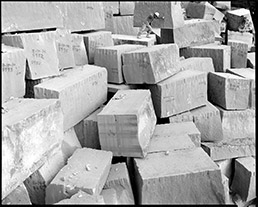 Jeffrey Wolin's photographs dramatically capture the scale of limestone work. (Photo courtesy of Jeffrey Wolin)
Across the hall from "Science at Play," "Stone Country: Then and Now" (through Sept. 10) presents photographs by Jeffrey Wolin and text by Scott Russell Sanders. In 1985, the two shot and wrote "Stone Country," a book that documented the Indiana limestone industry.
A stark, dramatic look at the process, the people and the results, the exhibit includes photographs of the slicing of the giant slabs, the splitting and moving of blocks, and the resulting quarries, tempting adventurous divers. A shot inside a mill makes maximum use of the dust-speckled light. And the power of such limestone structures as Yankee Stadium, Chicago's Union Station and the Empire State Building cannot be denied.
Meanwhile, the Hoosier Salon (through Oct. 8) is back with an entirely new crop of artwork from around the state. The juried show also includes an opportunity for visitors to vote for favorite works, leading to an additional cash prize.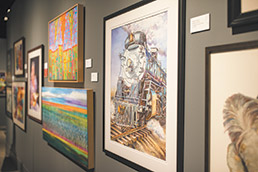 The 93rd edition of the Hoosier Salon art show features work by Indiana artists. (Photo courtesy of Indiana State Museum and Historic Sites)
Choosing might be tough. Elizabeth A. Wamsley's trio of clay birds "Conversation"? Wyatt LeGrand's oil of police in riot gear for "Inauguration Day"? The stray ball half submerged in Lawrence Rudolech's "Rivers Edge Sporting Goods"? Mary Johnston's brightly colorful "Tangled Eleven" field? The sister climbing on her brother's back to see through a lit knot hole in Leigh Dunnington-Jones' mixed-media piece "Help Me Little Brother!!"? And who wouldn't want to be at the table in Debra Huse's "Back Home Again" and be served a martini by its jovial waiter?
As I said, tough choices. But allowing kids to pick a favorite is a great way to get them to check out a diverse range of styles and artistic approaches.
All, by the way, are for sale.•
__________
This column appears weekly. Send information on upcoming arts and entertainment events to lharry@ibj.com.
Please enable JavaScript to view this content.