Senior Vice President and Chief Information Officer
OneAmerica Financial Partners Inc.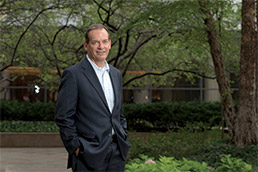 (IBJ photo/Eric Learned)
MAJOR COMPANY ACHIEVEMENTS DURING TENURE
In 2015, Berry's information technology leadership enabled the completion of the largest acquisition in OneAmerica's history: BMO Retirement Services. He also led the restructuring of the entire OneAmerica IT division and the initiative to choose a new infrastructure provider. He introduced Agile Development methodologies and advanced cybersecurity efforts, introduced mobile technology to nearly 2,000 employees, and enabled wireless technology in all office locations. "The insurance space is a mature marketplace," Berry said. "A lot of the work is related to integration. You can find a system that can do what you want it to do from a functionality standpoint, but the trick is to integrate it with your other platforms."
RECENT TECH PROBLEM SOLVED
"I work with an extremely talented group of IT professionals who solve difficult tech problems on a daily basis," Berry said of his crew of 245 full-timers (as well as 240 people in staff augmentation or managed service rolls). "Of particular note, our team reacted quickly to the recent ransomware outbreaks to successfully ensure our systems were not compromised."
FACTORING IN IT
"It is such a critical component to any acquisition," said Berry, who has handled three major acquisitions in the retirement services space. "We're involved from the very beginning to understand the system landscape of the property, to see how it would fit into our particular environment, to look for duplication of systems, and more."
THE FUTURE
"Certainly the digital revolution will continue to accelerate—that's something we'll be paying close attention to," he noted. "There's also a premium put on back office and customer service operating as efficiently as they can. And we'll continue to explore cloud offerings. We need to continue to exploit those capabilities."
FIRST COMPUTER
"At Ohio State, I wrote all of my programs on an IBM 360 mainframe using 80 column cards that were keypunched on an IBM 029 keypunch machine. I would have to lug around boxes containing 1,000-plus cards when I wrote COBOL programs for labs. At the end of the school year, students—not me—would dump the cards out the windows of the high-rise dormitories."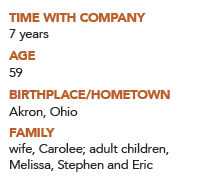 EDUCATION
Berry has a bachelor's in business administration from Ohio State University and MBA from California State University-Fullerton.
THE ROAD
Berry began his career with the aluminum giant Alcoa as a systems analyst and became the MIS supervisor for the company's premium castings division. At Fremont Life Insurance Co., he served as manager of life systems and eventually became vice president of IT and policy-owner services. At Shenandoah Life Insurance Co., he rose to senior vice president.
MENTOR/INSPIRATION
"​My mother was a school librarian and instilled in me an educational focus along with my personal values."
GO-TO WEBSITE
Google, Amazon, Garmin, Strava
FAVORITE GADGET
"Surface Pro tablet, iPhone 7, iPad and Garmin 800 are my go-to devices."
UNPLUGGING
Berry believes in a strong work/life balance for both himself and his team. "There's always a person or two that wants to hang around for the whole year and not take vacation," he said. "You have to give them a gentle nudge."
MY JOB WOULD BE EASIER IF …
"I didn't have to contend with legacy systems/technology."
Check out more CTO honorees.
Please enable JavaScript to view this content.