Information Technology Director
American Camp Association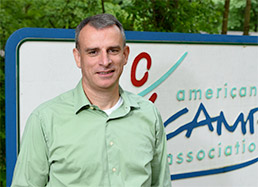 (IBJ photo/Eric Learned)
MAJOR ORGANIZATION ACHIEVEMENTS DURING TENURE
While the American Camp Association has 11,000 individual members and 3,000 member camps, it has only two people in its IT department. At the top is Schenk, who built an online Find a Camp tool to help parents identify a great summer camp for their kids and implemented Microsoft CRM to run most of the business. His work also includes a job-center page, which alone attracts 140,000 visitors a year. "More than a million people work summer-camp jobs," he said. "We received lots of emails from job seekers, and this was a win-win for both camps and those job seekers." What could be a disadvantage—the fact that more than half of ACA's 44 staffers work from home, with employees from Washington state to Florida—is, for Schenk, an advantage. "We always want to find the best talent, and being able to search nationally makes a big difference," he said. "With Office 365, Skype for Business, and instant messaging, we're three digits away from connecting with each other."
RECENT TECH PROBLEM SOLVED
Schenk developed online procedures to aid in the camp accreditation process and opened an online community for camp workers to share ideas and best practices. "A one-time training in person or a two- to three-day conference is helpful, but this is a year-round way for someone to ask a question and have 11,000 peers available to answer it." Also, because of ever-increasing threats of cyberattacks, Schenk started sending phishing emails to his staff to reinforce their security training.
SURVEY SAYS
"We help camps evaluate the impact of their programs on staff and campers. The ACA wants to make camp more than just fun for kids, and that involves measuring the outcomes and benefits. We have an awesome research team that has developed tools that can measure that statistically. And IT made them web-enabled to get them those statistics much quicker. It also provides the ACA with feedback that we can see on a holistic level."
FIRST COMPUTER
A Commodore 64 he shared with his sister and used primarily for fun. "We were enamored with being able to type POKE commands to change the colors and designs of the screen."
EDUCATION
Schenk has a bachelor's in business education from the University of Southern Indiana.
THE ROAD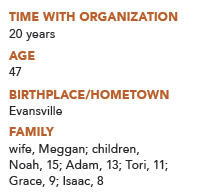 After graduation, Schenk spent three years teaching corporate groups at CompUSA. "It was a great first job for me. They had a library of books, and I'd bring one home every night to teach myself something new. Lots of times, I'd have to teach it the next day." In 1996, he took a job with the American Camp Association to help launch a website. Eventually, he was promoted to IT director of the Martinsville-based organization.
ON UPGRADING
When he arrived, the ACA was largely paper-based and had just four computers with only one connected, through a dial-up phone line. "My first job was to bring a T1 line in so all of the staff would have access." Finding the balanced edge: "There's no way we're bleeding-edge. We want to invest in proven technologies and have to make wise decisions," he said. "But there's a risk in staying too far behind. We have to make that risk calculation with every technology."
MENTOR/INSPIRATION
Peg Smith, former CEO of the ACA. "Peg," Schenk said, "was a master at clarifying our vision and mission and then empowering staff to exceed organizational goals."
GO-TO-WEBSITES
The Washington Post and the Indianapolis Colts online community Stampede Blue.
FAVORITE GADGET
His Samsung Galaxy 7. "Also cool," he added, "an apple slicer."
MY JOB WOULD BE EASIER IF …
"We had more internet bandwidth. Our office is in the woods 20 minutes southwest of Indianapolis."
Check out more CTO honorees.
Please enable JavaScript to view this content.