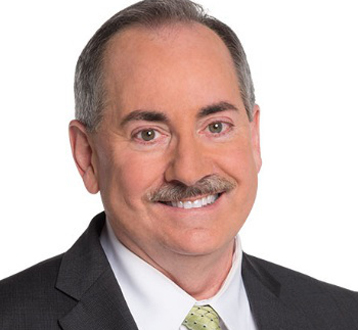 Longtime WISH-TV Channel 8 anchor David Barras announced Thursday he plans to retire later this year, a decision he called "bittersweet" after 37 years at the station.
His last day on air will be Dec. 1.
"WISH-TV has been my home, and reporting the news of central Indiana has been my passion for nearly four decades," he said in a written statement released by the station.
"I will miss it, but my wife recently retired and we decided it was time for me to do the same," he said. "We are excited about the next chapter of our lives."
Barras started as a reporter at WISH in 1980 and moved to the anchor desk in 1985. He anchored the station's Daybreak program for 22 years, where he worked with meteorologist Randy Ollis.
In 2007, Barras began anchoring the noon and 5 p.m. newscasts. More recently, he moved to the 6 p.m., 10 p.m. and 11 p.m. newscasts.
Barras nabbed the first interview confirming that the Colts were moving to Indianapolis, persuading former Mayor Bill Hudnut to publicly confirm the Colts' move. He also broke the news of the Subaru Isuzu plant moving to Lafayette and of a Fashion Mall expansion.
The station announced Barras' retirement on air on Wednesday and he tweeted the news to his followers: "Over the past 37 years you have watched me change, grow and mature. We have spent a lot of time together."
He concluded a long statement by telling viewers, "We still have 3-1/2 months together. And I know along the way, we will share some moments and memories of my time at Channel 8. In fact, by Dec. 1, you'll probably be glad to see me finally go. But when I do, I will do so with a profound sense of gratitude for all you have given me and my family. Thanks for letting me into your homes for 37 years."
The station has lost a number of its veteran reporters and anchors since CBS moved its affiliation from WISH to WTTV in January 2015 after negotiations with WISH broke down the previous year. In January, Nexstar Broadcasting Group closed on its acquisition of WISH parent Virginia-based Media General Inc.
WISH-TV General Manager Randy Ingram said Barras has "been a reliable fixture of Indianapolis television for 37 years. He will be greatly missed by both central Indiana viewers and our newsroom, but we are happy for the time he'll be able to spend with his family."
Barras began his television career at WTVW in Evansville, where he was a weekend anchor and producer. Barras is an Emmy award winner, and has received several Associated Press awards for his reporting.
Please enable JavaScript to view this content.