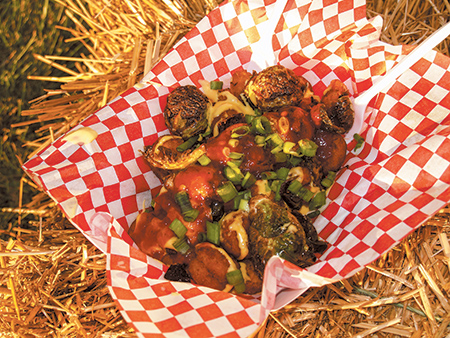 Yes, it's natural to go for the tried and true—make that fried and true.
But the vendors at the Indiana State Fair continue to try to tweak the staples just enough to generate excitement. Are the variations worth it? Here's my assessment of the newcomers in this, the year the fair folks have declared as celebrating The Wonderful World of Food.
Dirty Hippy Tots
Forgive the insulting name, children of the '60s. This is the best of the new offerings I tried this year. When you think Indiana State Fair, you don't think Brussels sprouts. But that's the surprising veggie that helps make this newcomer a winner. A bed of tater tots gets topped with scallions, nacho sauce, hot sauce, jalapeno and fried sprouts. Warning: The hot sauce is generously poured, so let them know when you order if you're resistant to heat. Carnivores can opt for a bison version, which is nearly its equal. Red Frazier Bison, $6 for half, $10 for full
Corn Dog Split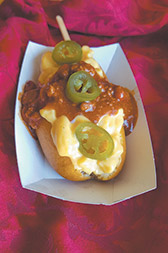 (Photo courtesy of Indiana State Fair)
I've never been a fan of pasta as a topping. But it works a bit better here than it does on pizza (where it doesn't belong at all). In this case, a corn dog is split and piled with chili, mac and cheese, and hot sauce. The stick is just a tease since nobody in their right mind would dare try to lift up this gloppy concoction en masse. Or, should I say, en mess? But, come on, wearing a clean shirt to the fair is just asking for trouble. Gobble Gobble, $8
Deep Fried BBQ Bacon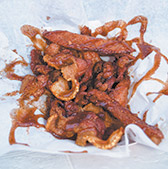 Fresh bacon is submerged in the fryer—making an incredibly satisfying sound that you can hear better if you sashay to the side of the booth. After it rises from its crackling bath, the bacon is dusted with a barbecue rub and glazed in house-made sauce. This heart-stopper doesn't reinvent the fried-whatever genre, it just delivers without excess clutter. Tip: Let them know beforehand if you want to go heavy or light on the sauce—which, like the rub, is available for sale on its own. Goodwin Family Products, $7 for a half, $12 whole
Buffalo Chicken Gyro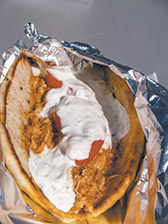 Another impossible-to-walk-with-and-eat offering takes a traditional gyro and replaces the meat with chicken and an excess of cheesy buffalo sauce and tzatziki. A fluffy pita helps. And it's nice to see some not-fried vegetables make an appearance in a State Fair dish. AP Concessions, $11
Traditional Egg Cream Soda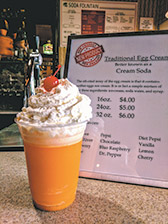 (Photo courtesy of Indiana State Fair)
As native New Yorkers will tell you, the traditional egg cream contains neither eggs nor cream. The fountain drink's building blocks are, instead, milk, chocolate syrup and carbonated water for fizz. In the past, a version of this drink has been a Tuesday staple at Hook's soda counter. But this year, what's available is offered in a crazy array of flavors from Dr. Pepper to Blue Raspberry. Traditional? Not really. Refreshing? Yup. Hook's Historic Drugstore, $4 for 16 ounce, $5 for 24 ounce, $6 for 32 ounce  
Peanut Butter Pork Pineapple Burger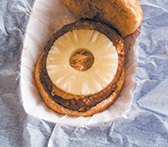 A swath of peanut butter comes between a grilled pork patty and a pineapple ring in this sandwich combo. The peanut butter dominates the taste and the fruit adds moisture, but this one cries out for something crunchier to anchor it. Has anyone thought of grilling the pineapple? Now that might be worth it. Indiana Pork Producers, $7
The Mouse Trap/Root Beer Float Shake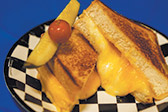 (Photo courtesy of Indiana State Fair)
It seems odd to have two items that seem like they've been around forever in a collection of new items. But that's how these are labeled. Both are studies in simplicity, with the Mouse Trap grilled cheese combo of Havarti, Colby jack and cheddar served up fully melted (as it should be) with the bread surfaces nicely toasted. The drink was unsurprising but on point. And the prices can't be beat (at least within the fairgrounds). Dairy Barn, $3 each
Cattleman's Choice Sandwich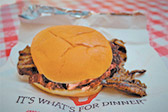 (Photo courtesy of Indiana State Fair)
This one didn't take a whole lot of thinking. Take some grilled ribeye on a bun, then pile on some smoked brisket and then, well, that's about it. The brisket was a bit fatty on ours, but that's to be expected. Indiana Beef Cattle Association, $10
Mini Funnel Cake Strawberry Shortcake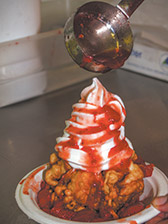 As much as fair-goers like to keep moving along to the next thing, sometimes you have to sit down and focus. That's the best way to appreciate this dessert, where funnel cake is topped with the obligatory dusting of powdered sugar but also with ice cream, strawberries and whipped cream. Don't expect to get all those together in one spoonful, though. Instead, the first course is ice cream and strawberry and the second is funnel cake in melted ice cream. Urick Concessions, $7
Deep Fried PB&J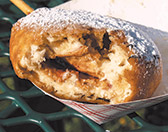 Don't get your hopes up that you'll see a full-size sandwich encased in crispiness. Instead, this is a deep-fried Uncrustable—a commercially available PB&J shell filled with the defining ingredients. My first bit yielded little if anything of the promised flavors, but the second and third chomps turned up more. There's guilty pleasure here, but not quite enough to put it in the pantheon of deep-fried classics. AP Concessions, $6
Fair freshmen
In addition to returning vendors selling new items, the Indiana State Fair also features some first-timers selling both the familiar and the unexpected. Meet the incoming class.
Swain's Pizza on a Stick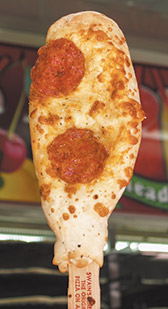 Actually, it's more like a stromboli on a stick—a thick stick that actually does hold this belly buster aloft. The challenge comes when you bite your way down to the paint-stirrer-size wooden holder and then try to navigate around it without spilling cheese all over yourself. Also problematic is the fact that the interior sauce, gravity being what it is, tends to congregate at the bottom of the crust/shell. Nevertheless, this pepperoni-packed pocket was delicious if, at $12, a bit overpriced.
BurgerBob's
Bob and company bought out Spaghetti Eddie's and are offering a solid menu of primarily burgers (as you would expect), hot dogs and buckets of fries. The adventurous can try a Southern Belly Cheeseburger with pimento cheese, fried green tomato and more. But this being the end of the line for me on a $2 Tuesday, I stuck with a simple mini burger. A full one will cost you $8 and, from what I tasted, this Bob builds a better burger than most higher-priced restaurants. Welcome, Bob.  
Chan's Chicken on a Stick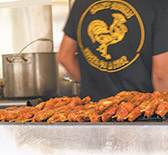 It's Chicken. It's on a stick. It's bathed in a mild teriyaki sauce and grilled (inconsistently, in the case of the one I tried), and it's rather bland, not nearly flavorful enough to sustain interest in a serving this epic. A stick will cost you $8, but the staff on hand when I bought mine was adept at upselling to a $10 plate that included fried rice.•
—Lou Harry
Please enable JavaScript to view this content.