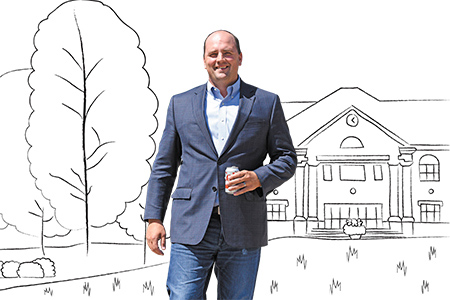 Scott Fadness sips his second Diet Coke of the day as he drives to Noblesville for an 8 a.m. meeting.
He knows it's going to be a big day. And he knows not everyone is going to be pleased with the decision he's about to make.
Some of his constituents are passionate about the Nickel Plate Railroad and want to see it and the Indiana State Fair train preserved for the future. But Fadness doesn't see a future in mass transportation in Fishers (driverless cars are a bigger interest) and thinks the corridor would serve the community much better as a multi-use pathway.
So he votes for a plan that will limit trains to a section of the railroad between Arcadia and Tipton and allow the pedestrian trail to move forward—and he does so with no trepidation.
When Fadness believes a decision is the right move for Fishers and its residents, he's unfazed by the political consequences.
"When I decided to run, for some reason, I just made it a concrete rule in my head that I was 100 percent OK with losing an election," Fadness said. "If I did what I thought was right and I lost my next election, I'm 100 percent OK with that. That has liberated me."
The 35-year-old former town manager became the Hamilton County suburb's first mayor in 2015 when the community transitioned from a town to a city. He had never imagined a career in politics before then, but now, state and local leaders are labeling him an up-and-comer in the state GOP.
Some Republicans are hopeful that Fadness sticks around Fishers to continue the work that has elevated the city of 90,000 residents from a sleepy residential suburb to a hub of tech activity and entrepreneurship. But many others are speculating about whether Fadness will seek higher office.
They all agree he is on track for a promising career.
Still, on this summer morning, Fadness makes the Nickel Plate Railroad decision that might lose him some votes—but no time to reflect on that. He has a budget meeting back in Fishers, and he loves numbers. Plus, he needs another Diet Coke.
"Let's go talk budgets," Fadness says as he walks into Fishers City Hall.
Not by choice
Fadness hates politics, and never wanted to be a politician.
Until he was 16, he thought he'd be a farmer. But when his family lost its farm in southeastern North Dakota, he switched gears and studied political science at the University of North Dakota.
"I'd always liked government," Fadness said. "I always wanted to be part of something. I just didn't like politics, per se."
After earning his bachelor's degree, he thought about seeking a doctorate and then teaching, but opted instead to pursue a master's in public affairs, a decision that led him to IU.
While he was still a student, Fadness started an internship at the then-town of Fishers. He moved there after finishing school and worked his way up to the position of town manager just before his 28th birthday.
Then in 2012, town residents voted to transition into a city government structure effective Jan. 1, 2015, which meant Fadness would lose his job.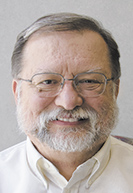 Lannan
That left two options—move and find a job as a town manager somewhere else, or run for mayor in 2014. Neither option appealed to Fadness.
"He was clearly not ready to [run] and had to be persuaded," said Larry Lannan, who covers the city on his news blog LarryInFishers.
Jennifer Hallowell, consulting director at Faegre Baker Daniels, helped with the campaign from the start. She described Fadness as "the reluctant politician."
So how did that first campaign go?
"Oh my God. It was, uh, well …" Fadness said when recently asked about it. "I literally had to ask someone how a fundraiser worked. I didn't know if it was like a bake sale… . I had no clue going into it."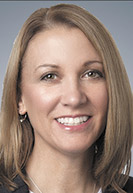 Hallowell
But Hallowell said that, even though Fadness had no political experience, he had a clear vision for the city that he could articulate well to voters and donors.
"In some ways, the most challenging part of putting a campaign together is figuring out what your message is," Hallowell said. For Fadness, "that wasn't a problem."
Voters liked his message about building a smart, vibrant and entrepreneurial city. While standing by the Dairy Queen trash bins on Allisonville Road on primary Election Day, Fadness learned he would be the GOP nominee, which all but guaranteed him a November win in the heavily Republican town.
He won the primary by fewer than 400 votes over Walt Kelly, the longtime former Town Council president who was the other front-runner in a six-way race.
"I had lived in Fishers the sum total of seven years, which included one year as an intern," Fadness said. "The only friends I had were the people I worked with at City Hall. Nobody knew who I was. In retrospect, I had no business winning that election."
On the map
Even before Fadness became mayor, he had stayed busy closing deals as town manager.
Three redevelopment projects totaling nearly $90 million were underway downtown, co-working incubator Launch Fishers had given entrepreneurs and tech startups a place to work, and construction firm Meyer Najem had invested $5.5 million in a new headquarters.
After Fadness took office, ClearObject (formerly CloudOne) moved from Indianapolis to Fishers, and a local brewing company, Four Day Ray, announced plans for a downtown location.
But the mic-drop moment came in November 2015, when Ikea announced it would open a store in Fishers in 2017.
After that, announcements kept rolling in: Topgolf, Portillo's, a culinary hub known as The Yard, and a $47 million mixed-use redevelopment project downtown.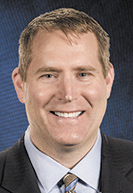 Hupfer
In addition, Stanley Security, Braden Business Systems and Knowledge Services committed to new buildings and more jobs in Fishers. And what's being considered the state's first internet-of-things lab is on track to open early next year.
"I think especially the insiders of the party involved in things like economic development know that [Fadness] is a real rising star among the party because of the impacts he's having on the ground in Fishers," Indiana Republican Party State Chairman Kyle Hupfer said. "He's being innovative, and I think that's what's getting him recognized."
Fadness is also trying to tackle the tough subject of mental health through a citywide initiative aimed at gathering data about people who struggle with mental illnesses and identifying and implementing solutions.
"There's probably not a week that goes by that I don't hear people talk about how incredible the progress is in Fishers," Hallowell said.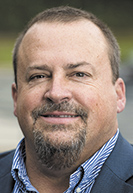 Wechsler
Launch Fishers CEO John Wechsler said, without Fadness, most of the community's new developments and accomplishments would not have occurred.
Previously, "you never saw a headline about Fishers doing anything other than building more houses—and vinyl ones at that," Wechsler said. "And now it seems like there's not a week that goes by that there's not a headline or a story or a discussion about something that's going on here related to entrepreneurship and innovation, and I attribute that to his vision."
More recently, Fadness has turned his attention to broader initiatives that would benefit the region or the state, in addition to helping Fishers.
As chairman of the Legislative Affairs Committee for Aim (formerly the Indiana Association of Cities and Towns), Fadness is talking to legislators about the shared concerns of cities and towns.
And he's trying to launch a marketing campaign for the entire metropolitan area through a partnership with the Indianapolis Chamber of Commerce. The way Fadness sees it, if Indianapolis isn't doing well, Fishers isn't doing well.
"I'm convinced we don't do a very good job speaking collectively about the benefits of this metropolitan area," he said. "It's a fruit salad of, each community does its own thing … . I think we suffer a little bit from a lack of identity."
Lannan said most local Republicans like Fadness. But there are critics of his spending on quality-of-life projects, including a proposed waterfront park at Geist Reservoir and multimillion-dollar upgrades to the downtown amphitheater, and his decisions to use tax-increment financing dollars to help finance downtown redevelopment, like the $11 million used for The Depot at Nickel Plate project. TIF districts collect the additional revenue generated by new developments, and communities can use those dollars to continue to spur activity.
Some residents and local officials also raised eyebrows at the city's agreement to pay Jennifer Messer, legal consultant and wife of U.S. Rep. Luke Messer, $240,000 per year for assistance with economic development deals. But Fadness has defended the expense.
While local Republicans have been mostly supportive of Fadness, Democrats have been less pleased.
"It's only his vision and nobody else's," said Hamilton County Democratic Party Chairman Joe Weingarten, who lives in Fishers. "I'd like to see some input from the citizens of the city instead of the city dictating what it's going to be."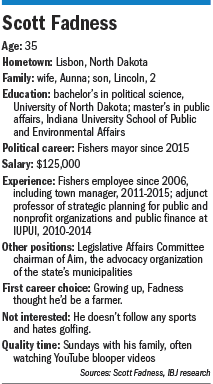 Breaking the stereotype
At Fishers City Hall, there is no portrait of Fadness on the wall and no designated mayoral parking spot near the building.
He doesn't request people call him mayor, doesn't wear ties and doesn't like to golf.
"Slowing down to the rate of golfing seems like you're watching paint dry," Fadness said.
He drives a 10-year-old vehicle, enjoys clearing snowy city streets by attaching a plow to his GMC Yukon, and gets a laugh out of pulling pranks on department heads.
In social settings, he doesn't tell people he's the mayor and avoids talking about work. He'd rather learn about the person he's talking to or talk about something funny.
"You would never know what I do for a living—unless you specifically asked me, 'What do you do for a living?,' then I would tell them," Fadness said. "But otherwise, I don't talk about work, ever."
He understands the ins and outs of municipal government and budgeting and is deeply involved in the city's day-to-day operations.
He usually starts his workday about 7 a.m. and ends whenever his last meeting is over, which varies. Sometimes he makes it home for dinner, but other days he buys Jimmy John's and pretends he's eating a gourmet meal like dishes prepared on "MasterChef."
After his 2-year-old son, Lincoln, goes to bed, Fadness often pulls his laptop back out to catch up on emails. He says he needs only about five or six hours of sleep.
"Scott, in my experience, is an expert executive decision-maker," Wechsler said. "He makes decisions in a limited time frame, with limited information, and makes the right decision most of the time. That's a pretty hard thing for people to do."
Sea of opportunities
With two years left in his first term, Fadness is already being asked about his future: Will he run for re-election?
He doesn't have an answer yet. But if he still has ideas about how to make Fishers a better place to live, work and play, he'll run again, he says. If not, if he's accomplished everything on his list, he won't.
"The good news is, I get a new idea like every three days, so I think we're OK for a while," he said.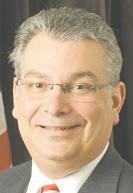 Weingardt
Fishers City Council member John Weingardt said Fadness would have his full support in a re-election bid—and is confident he would win.
"I think he's probably the best mayor you'll ever see in the state of Indiana, maybe in the entire country. He's just that good," Weingardt said. "We're very blessed to have him as a mayor and I'm looking forward to seeing what he has in store for us. It's been a hell of a ride so far."
Beyond mayor, Fadness said he would be interested in only one other elected position—governor. He said he's not wired for Congress or the General Assembly. He's an administrator.
"But I think a lot of that is fate and timing, and I don't spend one minute really focused on that," Fadness said.
Other political leaders have talked about it, though, even if it is years down the road. The next gubernatorial election isn't until 2020, and Gov. Eric Holcomb could run for re-election, meaning an open primary race likely wouldn't occur until 2024.
"I think a lot of people could see him as governor in Indiana someday," Wechsler said. "I know he has the respect of his peers."
Lannan agreed.
"There are people in the state Republican Party leadership, not all, but there is a group that really wants Scott to run for state office," he said. "He may have that public persona they're looking for and approach to government they're looking for."
But for now, Fadness is busy with his current job.
"He's only 35. To me, that's the most mind-blowing thing," Wechsler said. "He's got a lot of road ahead of him."•
Please enable JavaScript to view this content.