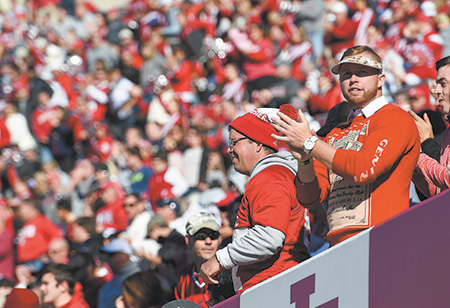 Not long ago, it was taboo for colleges to sell alcohol at sporting events.
With widely publicized alcohol problems rampant on college campuses, "it's always been considered a strong statement to say there is no drinking at college-sanctioned events," said David Morton, a local sports marketer with a background in college sports.
"In the past, a college or university selling alcohol or taking on a beer sponsorship has always been seen as a major image issue—not to mention a moral one."
But a growing number of schools see booze as the latest weapon in the arms race to raise cash to compete.
Purdue University has jumped in—announcing in June that the school will expand the sale of alcohol at its football venue and offer it to the general public at its basketball arena.
Beer and wine will be available for purchase throughout Mackey Arena and Ross-Ade Stadium, with the exception of the concourse areas immediately adjacent to student sections. 
Bobinski
Purdue officials said they made the leap after a two-year test of sorts selling beer and wine on Ross-Ade Stadium's South End Zone Patio. Fan response was overwhelmingly positive and alcohol-related disturbances were actually down at the stadium, Purdue Athletic Director Mike Bobinski said.
Schools, including many in Indiana, for years have offered alcohol in VIP areas but did not allow sales to rank-and-file fans.
Purdue is the latest to take the frothy plunge, rolling out sales to the masses.
Fifty U.S. colleges now report selling alcoholic beverages, mostly beer and sometimes wine, to anyone over age 21 at their sporting events. That number has more than doubled from 21 in 2011.
Ohio State University and the University of Minnesota make it three in the Big Ten to join the kegs-for-cash campaign, and sports marketers said holdouts like Indiana University won't be able to resist for long.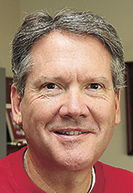 Glass
"It's [IU Athletic Director] Fred Glass' job to find more money," said David Ridpath, professor of sports administration at Ohio University and president of The Drake Group, a watchdog organization focused on big-time college athletics. "And this is an easy one. I'd be really surprised if Indiana isn't selling beer at its sports events within two to three years."
Morton, who formerly worked for Texas-based Learfield Sports on the IU Properties account, predicted that beer-makers would jump at the chance to sell alcohol at IU events and buy sponsorships at the stadiums.
"That sale would take one phone call," he said. "It would be an easy sale. A lay-up."
That's in part because IU has a marquee basketball program and because "it's a sponsorship you can quantify the value of based on sales at the venue," he said. "It's very different from most other sponsorships where the value is much less clear."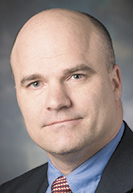 Ridpath
Despite Purdue's decision to sell beer and wine, school officials will not allow Learfield—the company that represents Purdue in marketing deals—to sell beer sponsorships or advertising for the school. At least for now.
Bobinski, who replaced Morgan Burke as athletic director in 2016, said the decision not to sell beer sponsorships pre-dates him and might be re-evaluated.
"If we do that, that's something we'll want to do carefully and thoughtfully," he said. "But I wouldn't rule it out."
Any alcohol sponsorship deal would include a "careful and responsible consumption message," he added.
Multiple schools have signed wide-ranging deals with breweries that include the rights not only to advertise during game broadcasts and in stadiums, but also to use the school's name and logos on labels, packaging and marketing materials. And in 2015, the College Football Playoff signed a multimillion-dollar deal making Dos Equis its official beer.
Beer makers spent $35.8 million to advertise during college-football-related telecasts in 2016, according to a Sports Business Journal analysis of data from iSpot.tv. That's nearly double what they spent in 2015. Many companies, such as Guinness, Tecate and Stella Artois, were new entries last year into the world of college sports.
Just say no—for now
Butler University and the University of Notre Dame, both private schools, have declined thus far to sell alcohol to the general public at their sports events.
The NCAA leaves the decision up to schools. It has largely steered clear of alcohol sales at its own events—until last year, when alcohol was sold at the Women's College World Series softball tournament and the much larger baseball College World Series in Omaha. Alcohol still isn't sold at the Final Four basketball championships, but sports marketers think it's only a matter a time before that domino falls.
NCAA championships in lacrosse, wrestling, volleyball and ice hockey will be selling beer by 2018, said sources close to the NCAA, and there is already discussion about the NCAA allowing beer sales at every round of the men's and women's basketball tournaments.
IU does offer beer and wine in select premium seating areas of Memorial Stadium and Assembly Hall, but that's done more to provide a creature comfort for the wealthy alums and school supporters, not as a revenue generator.
Glass said school officials have no plans to expand beer and wine sales to the general public—but he acknowledged the idea has been discussed.
"A significant amount of revenue can be raised," he said. "Generating more revenue is one of the most-talked-about reasons why schools are doing this, and people shouldn't act like it's not a reason."
Morton called the expansion of alcohol sales at college sporting events "a money grab, pure and simple."
"And IU must certainly realize—rightly or wrongly—that each year they don't sell beer at their sports events, the farther they fall behind the schools that do," he said.
The income potential from in-venue alcohol sales alone is significant—especially for big schools.
Colleges that have signed deals with beer and wine makers have been doused by two revenue streams—sponsorship dollars to pay for the exposure the companies get at the schools' venues and during game broadcasts, and a commission that can reach 20 percent on beer and wine sales.
The University of Texas, which began selling beer at its stadium in 2015, reported sales of $3.1 million and profit of $1.3 million last season. Texas also sold sponsorship deals to MillerCoors for domestic beer and Corona for the import category in deals that will score the school another $5 million annually.
"People said this would never happen, but once it came down to a dollar-and-cents issue, minds were changed," Ridpath said. "Beer sales at a college sporting event can be quite the cha-ching moment for the school involved."
"It's the inevitability of the profitability which is extraordinary," Bryce McTavish, executive vice president of customer solutions at Madden Communications and a former MillerCoors executive, told Sports Business Journal. "You buy a keg for $75 and sell it for $1,400."
Huge drawing card
Glass doesn't see anything wrong with trying to raise more money for the Athletic Department.
"IU is a have-not among haves," he said. "We're the second-most-underfunded athletic department in the Big Ten next to Rutgers. Sure, we're always looking to raise more money, not to stuff under a mattress or send faculty and staffers to Pago Pago. This money would go right back into programs to benefit students and student-athletes."
Additionally, offering beer is seen as a way to draw more people to games and keep them in the venues longer.
Purdue didn't sell beer just to raise revenue from beer sales, Bobinski said, but is using it as a tool to attract and retain more fans at its games.
"It's no secret our football program has been struggling," Bobinski said. "We've struggled recently to draw people to our games. We want to remove objections and obstacles for people coming to our games. This is one way to do that."
Purdue's year-over-year home football attendance dropped 8 percent in 2016, to 34,451. That's 60 percent of Ross-Aid Stadium's capacity.
And Purdue is not alone. The sobering news for college football administrators is that attendance across the NCAA has been down each of the last six years. Last year, the average among the organization's biggest schools was 43,106.
And while IU, which has reached two consecutive bowl games, has seen its football attendance tick up since Glass joined the school in 2008, it still has 10,000 empty seats at the 53,000-seat Memorial Stadium for most home games. Glass told IBJ that, if he could sell tickets for those empty seats, "it would add $10 million" annually to the Athletic Department's bottom line.
"That's 10 percent of our total budget," he said.
Control the flow
Schools like IU and Purdue have struggled mightily not only to get people to attend games, but also to get ticketholders to abandon their tailgate parties—where there is plenty of alcohol—and come into and stay in the stadium.
"If your fans are going to be drinking in the parking lot, schools are saying that they might as well bring it in-house and get a piece of the pie," Ridpath said. "People in the stadium are also more apt to buy other concessions and even merchandise."
Some school officials who advocate for alcohol sales at school venues say that, by controlling the sale of beer and wine, schools can decrease the number of alcohol-related incidents and public drunkenness.
Oliver Luck, the NCAA's executive vice president of regulatory affairs, was one of the first to champion selling alcohol at college sports events when he was athletic director at the University of West Virginia.
Luck argued that, by offering beer and wine at the school's sports venues, West Virginia could control how much fans consumed and limit alcohol-related incidents. In addition to starting to sell alcohol at its football games in 2011, West Virginia instituted policies to keep a lid on consumption, including aggressive beer pricing and the discontinuation of a policy letting ticket holders leave and re-enter the game.
The school also does not sell beer after the third quarter and limits the number of beers sold to two per transaction. Those policies are common among schools that sell alcohol at sporting events.
Neither Luck nor other NCAA officials could be reached before this story's deadline.
Glass said IU has studied how other schools have cut down on drunkenness and alcohol-related incidents by taking beer and wine sales in-house at sporting events, and emphasized, "It's for real."
Still, Glass said, IU has no plans to take the plunge in Bloomington just yet.
"I'm not saying we haven't considered it," he said. "It's a big change. We're watching how other schools are doing this."•
Please enable JavaScript to view this content.