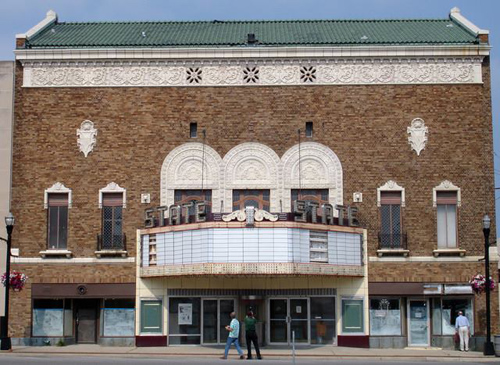 It only took five minutes for Meridian Street to become gridlocked as drivers stopped to ask questions and take in the unusual sight of the State Theatre marquee lit.
"And it was all different kinds of people," Branden Holder, 27, said. "That was what was cool — it was young people (saying), 'Oh, I've never been in there before but my dad told me about it,' and these elderly people who had to be 80, 90, stopping and they were so happy. It was like the grand unifier."
With the help of the community, Holder and his business partner, Brent Doster, 38, plan on again lighting up the marquee regularly to welcome guests to the historic event center. The co-founders of MadCo Entertainment signed a lease-to-own agreement last month to bring new life and a variety of entertainment to the State Theatre, which first opened in 1930.
Various individuals and organizations have sought to restore the State Theatre since its closure in 2008. But Holder and Doster believe their partnership and their plan to transform the spot to a modern entertainment venue—while preserving historical aspects of the building — will finally bring success to restoration efforts.
"Looking at some of the concepts others had for this building, they were really cool concepts, but it would have broken my heart to see this no longer be an entertainment venue," Doster said.
Adaptability to bring versatile acts and serve all generations is key to the partners. They're inspired by theaters such as The Vogue in Indianapolis and Newport Music Hall in Columbus, Ohio.
Past attempts to salvage the State Theatre focused on restoring it as a historical venue, Doster said, but with the Paramount Theatre right down the road, he said the site needs to offer something different.
Since the Paramount is such a landmark in the city and it offers cultural attractions such as Anderson Symphony Orchestra, the State Theatre hopes to offer a different type of venue, rather than compete. And since MadCo Entertainment operates as a for-profit business, as opposed to the nonprofit Paramount, Doster said they can invest more money to bring acts that require multi-thousand-dollar riders.
Holder and Doster want the State Theatre to be a destination for musicians and comedians, as well as offer classic movie screenings, theme nights and a tap room with about 40 beers, most of which will be Indiana brewed.
The beautiful dome over the theater is still intact and offers stellar acoustics, making it a selling point for the partners.
"It's designed for the purpose of transmitting audio and visual events," Holder said. "And so that's hopefully where our emphasis and people's awe will come from when they come in and hear."
Original plans centered on making it an entertainment center geared more toward adults in their 20s through 40s. As more people have come forward with memories and stories of the theater, though, they've expanded their plans to include family-friendly events.
Seats have been removed from the main floor and modular chairs will be added so that the floor space can be open for dancing or to bring in tables. The balcony is still intact with more than 600 seats.
Doster and Holder credited owner Marla Rochlin for investing a significant amount of money into renovations over the last several years, which allowed the partners to take responsibility over the building.
"There was certainly a lot of uncertainty as we began the project. There's a lot of positivity in Anderson, but there's sometimes not always a lot of follow through," Doster said. "So a lot of people like the idea of X, Y and Z, but when it comes time to buy it, support it, spend the money on it, sometimes that doesn't quite happen."
Since they started the venture six months ago, they've already started their own renovations, which include removing carpet and thick adhesive from the terrazzo floors.
The duo said it would take about $400,000 for MadCo Entertainment to take full possession of the building and immediately execute all of the renovations they want.
It will take a more modest $50,000 for them to open the doors, about a third of which they've raised already, they said. Doster and Holder started a crowdfunding page on Indiegogo to make donations easier and to offer memorabilia as a thank-you. The entrepreneurs are also looking for private investors.
Doster and Holder plan on upgrading the facility and opening it in phases. Over the next month, they plan on tentatively booking musicians to perform in a series of opening shows in the fall. They might plan a Halloween costume party and a New Year's Eve bash.
Their ultimate goal is to fully be open in December or the start of 2018. They plan on starting slowly, focusing more on weekend events before expanding to have entertainment throughout the week.
As they move forward with their plan to bring more diverse entertainment to Anderson, Doster and Holder are still amazed by the State Theatre's beauty every day.
"The first impression is pretty powerful," Holder said, "even before all of the repairs."
Please enable JavaScript to view this content.