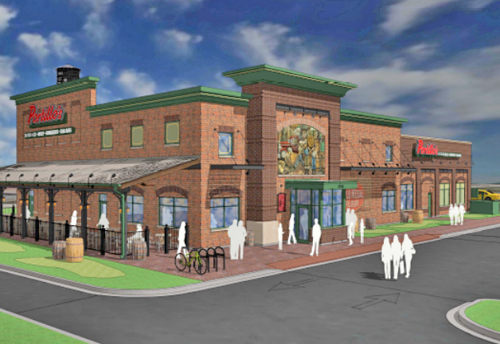 Popular restaurant chain Portillo's has unveiled the opening date for its first location in central Indiana.
The Chicago-based eatery on Wednesday announced it will open its Fishers location on Sept. 26.
The 9,000-square-foot restaurant at 9201 E 116th St. will be the 52nd for the 54-year-old company, which is known for its Italian beef sandwiches and Chicago-style hot dogs.
IBJ reported the company's plan to open a Fishers restaurant in January.
Portillo's was founded as a hot dog stand in Villa Park, Illinois, in 1963, and grew into a beloved chain of eateries contained mostly to the Chicagoland region. However, in recent years, the chain has begun spreading into other states.
Founder Dick Portillo sold the company to Boston-based Berkshire Partners for an estimated $1 billion in 2014, and the new owners began planning to expand the chain to all 50 states. Portillo remains active in the company.
The only current Indiana location is in Merrillville, which opened in 2006.
Companywide, Portillo's has about 5,000 employees. It sold more than 14 million hot dogs and 22 million slices of chocolate cake in 2015, and goes through 110,000 pounds of Italian beef each week.
The Fishers restaurant is being built on a 3.7-acre parcel just to the north of the Ikea store that is scheduled to open Oct. 11, on the southeast corner of Interstate 69 and 116th Street.
According to Nation's Restaurant News, Portillo's restaurants far outperform their peers in the fast-casual market, with annual sales of $8 million to $9 million per location. By comparison, a typical Chili's Grill & Bar does about $3.5 million in annual sales, and a Chipotle Mexican Grill does about $2.5 million.
Food critics and reader surveys regularly rank the chain's Italian beefs and hot dogs among the best in Chicago.
In a 2015 IndyStar poll that asked local residents which out-of-town franchises they wanted most in Indianapolis, Portillo's came in third, behind Ikea and In-and-Out Burger.
Please enable JavaScript to view this content.