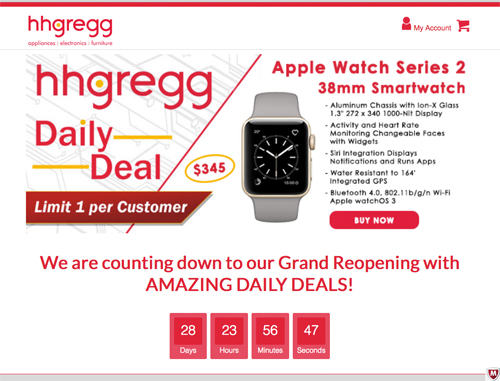 A company that acquired the intellectual property rights for defunct Indianapolis-based retailer HHGregg Inc. is planning to resurrect the brand with an online business that sells electronics and appliances nationally.
Company representatives won't comment on their exact plans, but it appears the retail site is preparing to begin operations in a month or so.
"We are excited to announce HHGregg.com is now under new ownership!" says a message on the website. "We are working tirelessly to create the perfect shopping experience for all of our loyal customers. Launch date to be announced shortly."
A countdown clock on the site that promotes "an amazing daily deal" indicates the "grand reopening" is scheduled in 29 days, but the clock resets to 29 days each time the site is refreshed.
HHGregg's intellectual property became available after the bankrupt electronics and appliance retailer failed to find a buyer and closed all 220 of its stores this spring.
A business called Valor LLC, which has connections to several electronics-related businesses in New York and New Jersey, paid $400,000 for the IP rights at a bankruptcy auction in late June, outbidding Sears Holdings Corp. by $50,000.
The acquisition included the trademarks, domain names, customer files and other data HHGregg had accumulated during its 62-year-run as a retailer.
In a Facebook post, the new owners said they would operate online and ship products nationally. They also plan to open "a few" brick-and-mortar locations, but didn't say where.
When reached by phone on Thursday morning, Valor principal Michael Eisner said he would be willing to discuss plans for HHGregg if he was contacted Thursday night, but he didn't answer several calls or respond to a voice message.
The new HHGregg.com is set to operate out of an 83,000-square-foot warehouse in Somerset, New Jersey, that was acquired this year by the Valor Group, an affiliate of Valor LLC that also does business as F&E Trading LLC.
The warehouse served as the Garden State Exhibit and Convention Center for 27 years before the property sale.
F&E Trading imports and exports consumer and professional electronics such as cameras, camcorders, phones, tablets, headphones and binoculars to more than 80 countries.
The company is led by CEO Albert Houllou, who has been involved with several electronics vendors that have faced years of litigation and multiple consumer complaints over their business practices.
Among those companies were Starlight Camera & Video Inc. and Broadway Photo, which reached settlements with New York in 2009 and Texas in 2011 after multi-year probes over consumer allegations of bait-and-switch and other deceptive sales practices.
Camera maker Canon USA has been battling Houllou and F&E Trading in court for several years over what it calls "gray-market" sales of Canon cameras. Canon accuses Houllou and his vendors of importing cheaper versions of Canon products from Asia and Europe and deceptively selling them online in the United States as higher-end products.
Canon's suit also includes other online vendors or former vendors operated by Houllou, including Big Value Plus, Another Deal Site, Electronics Valley, Electronics Basket, Davismax, Netsales, Web Offers, Brand Specials and Gadget Circuit.
Houllou also was involved in Sixth Avenue Electronics, a New Jersey-based chain that operated as many as 19 stores before going out of business in a pile of debt in 2011 after 27 years in business.
The Sixth Avenue website, which is owned by Houllou, sells electronics that are distributed through the Somerset warehouse. The new HHGregg web site appears to modeled after the site used by Sixth Avenue.
Houllou could not be reached for comment on his plans for HHGregg.
Please enable JavaScript to view this content.