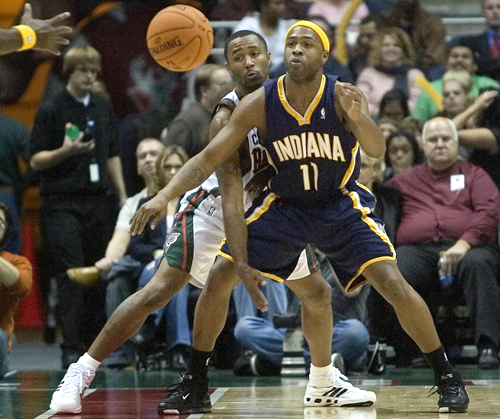 Former Indiana Pacer Jamaal Tinsley has filed a lawsuit that accuses his former agent and attorney, housekeeper and financial managers of improperly enriching themselves at his expense during his time as a professional basketball player in Indianapolis and afterward.
The civil suit, filed earlier this week in U.S. District Court in Indianapolis, names as defendants three companies, four individuals and 10 other individuals identified only as "John Does 1-10."
The named defendants are sports and entertainment agent and attorney Raymond Brothers and his California-based based company, IAM Sports & Entertainment Inc; JPMorgan Chase Bank and two of its Indianapolis employees, Erika Blume and William Kennedy; and Jennifer Burr of Indianapolis and her company, Elite Services.
Tinsley, 39, played for the Pacers from July 2001 and July 2009, when the team bought out the last two years of his contract. Tinsley went on to play for the Memphis Grizzlies in 2009-2010 and the Utah Jazz from 2011-2013.
Tinsley received almost $38 million in pay during his seven-season run with the Pacers. The buyout agreement paid him about $10.7 million of the $14.7 million remaining on the last two years of his contract.
The point guard averaged 10.4 points and seven assists per game as a Pacer, and 8.5 points and 6.1 assists per game in his 11-season NBA career.
Brothers, through his agency IAM, acted as the basketball player's agent and attorney from 2001 and 2011, the suit says. From 2006 to 2011 alone, Brothers and/or his agency received more than $1.4 million for this work.
The suit says this amount was padded with some payments to which Brothers was not entitled. It also says Brothers received more than $450,000 from money that Tinsley received from his Pacers buyout deal. But those payments, which Brothers took from September 2009 to August 2011, were considered damages, not a salary, so Brothers was not entitled to earn agent fees from it, the suit says.
The suit also says that Brothers received $41,500 in unauthorized payments for items including Brothers' cell phone bills and "repayment" of a loan that did not exist.
A phone message left at IAM was not returned.
Tinsley also lobs several allegations against Burr and Elite Services, whom the suit says had an agreement to do housecleaning for the player from 2004 to 2012.
During this period, Burr and her company, Elite, hiked their rates and charged Tinsley for unauthorized items like trip payments, moving expenses and furniture, the suit says.
Burr and/or her company were also paid more than $280,000 "after Tinsley no longer owned a home in Indiana for Burr and/or Elite to clean for Tinsley," the suit says.
IBJ was unable to reach Burr for comment on the suit.
Chase is included in the suit because Tinsley had checking, savings and trust accounts at the bank from 2004 and 2014. Kennedy and Blume served as Tinsley's trust officers, the suit says. 
Under Tinsley's arrangement with the bank, the money Tinsley earned from his basketball career was directly deposited at Chase. Then Chase distributed that money to Tinsley's trust account and made payments to Brothers/IAM and Burr/Elite. It also made an "allowance" payment to Tinsley.
The suit accuses Chase, Kennedy, Blume and John Does 1-10 of breaching their fiduciary duty to Tinsley because the bank failed to question the invoices that Brothers/IAM and Burr/Elite submitted.
Tinsley also says the bank engaged in investing and selling activities that boosted the fees he owed them, while at the same time "refusing to allow him to invest in opportunities that he wanted to invest in."
Chase told IBJ it does not comment on pending litigation. Contacted directly by IBJ, Kennedy declined to comment. Blume did not return a phone message.
Court records do not yet name attorneys for any of the defendants and, as of Friday morning, none of the defendants had filed a legal response to the suit. Tinsley is represented by Indianapolis attorney Theodore J. Minch of Sovich Minch LLP.
Tinsley's suit asks the court to award him damages in an unspecified amount and to order the defendants to disgorge the profits derived from the actions described in the suit.
The suit also seeks damages and reimbursement of attorney's fees.
 
Please enable JavaScript to view this content.