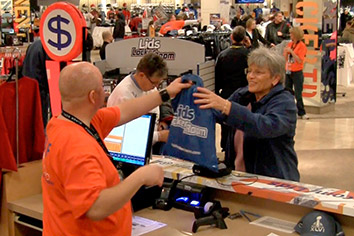 Shares in Genesco Inc., the parent company of Zionsville-based Lids Sports Group, fell more than 11 percent Thursday after the company reported lower-than-expected sales in the second quarter and cleaved its full-year earnings outlook.
The Nashville, Tennessee-based company posted revenue of $617 million in the quarter ended July 29, down 1.4 percent from the same period a year ago. Three analysts surveyed by Zacks Investment Research expected revenue of $632.4 million.
For the year, Genesco said it now expects adjusted earnings per share in the range of $3.35 to $3.65, down from its previous guidance of $3.90 to $4.05.
Same-store sales at Lids, which sells athletic apparel with an emphasis on caps, dipped 2 percent from the same quarter last year. Total revenue dropped 4.6 percent at the Lids Sports unit, to $180.2 million. Earnings also fell, 57 percent, to $3 million. The unit had 1,188 stores as of July 29, down from 1,240 at the beginning of the year.
"Unfortunately, current trends at Lids continue to run well below our expectations, which will make it more difficult to lap the tough comparisons we face beginning in October from last year's Cubs World Series win," Genesco CEO Robert Dennis said in a media release.
Genesco's Journeys Group, which operates 1,220 athletic shoe and apparel stores, reported a 1 percent increase in same-store sales, while its Johnston & Murphy unit, which sells shoes and apparel, reported a 1 percent decrease.  
Genesco shares were down 11.3 percent, to $22.60 each, in late-morning trading Thursday.
Lids, which got its start as Hat World in 1995, had been Genesco's most successful subsidiary for years after it was acquired in 2004. But it has struggled in recent years after stumbling in a bid to diversify into apparel and equipment for youth and school sports teams.
Overall, Genesco reported in a loss of $2 million in the latest quarter, down from a $6.9 million profit a year ago. Earnings, adjusted for one-time gains and costs, came to a loss of 10 cents per share.
"While we are disappointed with our reduced outlook, we believe we have established new ranges for sales and earnings that better reflect the current operating environment," Dennis said.
The dip in sales at Lids mirrors disappointing results for other athletic apparel retailers. Analysts on Tuesday said a lack of innovation from The Finish Line Inc.'s chief supplier, Nike Inc., is a big reason the Indianapolis-based shoe and apparel retailer is experiencing swooning sales and a falling stock price.
Investors thrashed Finish Line shares Monday evening and Tuesday morning after the company estimated that per-share profit for the second fiscal quarter, which ended Aug. 26, would be 8 cents to 12 cents.
Shares of Foot Locker Inc. plummeted 28 percent on Aug. 18 after the company reported a 6 percent same-store sales decline for the second quarter.
Please enable JavaScript to view this content.