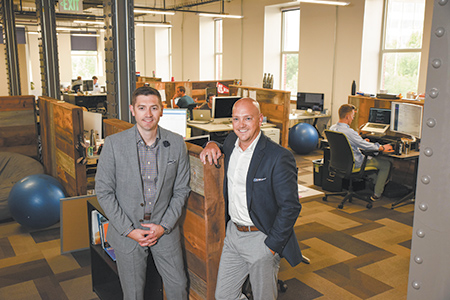 For Indianapolis-based Springbuk Inc., growth has come quickly—especially in the past 12 months.
The health-analytics-software firm, founded in January 2015, sells an HR tool for employers to track health care spending and outcomes. Since August 2016, its customer base has nearly tripled—from 310 clients in 35 states to 1,010 in all 50 states. Employment is up to 38, with six hires imminent.
Springbuk has little in common with many fast-growing Indianapolis startups. For one, it's pitching health-care-benefits software in a town known for enterprise sales and marketing software. Also, its co-founders, Rod Reasen and Phil Daniels, didn't forge their careers in the tech sector.
Even so, the historically under-the-radar company is increasingly appearing on tech-companies-to-watch lists. One Midwest investor suggested that Springbuk's becoming a billion-dollar company is not far-fetched.
"In the venture world, you're constantly looking for people who have these big visions—they've got an idea for a company that really could become a $1 billion enterprise," said Ron Watson, principal at Missouri-based Lewis & Clark Ventures, speaking about his first sit-down with Reasen at a coffee shop in late 2015.
"And Rod immediately showed me that they had a path to get there. Obviously, it takes a lot to get there, but the vision was there."
Lewis & Clark led Springbuk's $3.75 million financing round in May 2016, a capital infusion that helped fuel its growth. It had about 17 employees this time last year and was housed in a north-side office building it was fast outgrowing.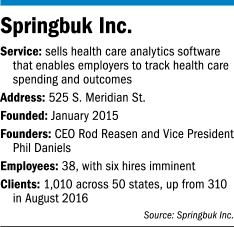 Today, it's in flex-lease space at Union 525 downtown and expects to have 44 employees in the coming weeks.
"We could be as high as 150 in the next 12 months," Reasen said.
Springbuk executives wouldn't disclose annual revenue—beyond saying it exceeded $1 million in 2016 and that it's up 180 percent from this point last year and is on track to triple over the next year.
Officials attribute much of the company's growth to a growing desire by employers to get a grip on rising health care costs. Employers provide health benefits to 49 percent of Americans, according to the Kaiser Family Foundation, which is more than twice as much as the next-largest coverage source, Medicaid.
Employer benefit costs are forecast to increase 5 percent in 2018, to $14,156 per employee, tracking organization National Business Group on Health said in a report earlier this month. That rate is lower than the double-digit hikes expected in individual health insurance markets but still markedly greater than wage and inflation growth.
Next year will mark the fifth straight year such costs have risen at least 5 percent, NBGH officials noted. Employers are reluctant to pass on those costs to employees, in part because studies have found that high costs prompt people to delay care until it's urgent and therefore more expensive.
Employers are attempting a variety of tactics to slow that pace—including telemedicine, on-site health clinics, and discounts for employees who actively manage chronic illnesses. They're also increasingly interested in software that can help them understand and manage costs.
"Employers have data, but they can't use it; vendors want data, but they can't get it," Reasen said about companies and their benefits advisers. "Springbuk solves the problem and complexity of siloed data … and helps employers spend more wisely on health care."
It works like this: Employers subscribe to the Springbuk software, paying a monthly fee for each employee. The software pulls in data from medical bills, pharmacy sales, health-risk assessments and payroll data, including sick days.
The platform visualizes trends and stats employers are most likely interested in, such as information about the most prevalent diseases or conditions affecting employees.
One of the brokers marketing Springbuk's software to employers is California-based Sequoia Benefits LLC, which has brought aboard 300 companies representing 60,000 employees.
Hall Kesmodel, Sequoia's chief growth officer, said some companies are using the platform to assess the effectiveness of second-opinion services.
"These services are very valuable in terms of helping people feel supported" Kesmodel said, but it's unclear how well these "expensive" services actually work to improve outcomes or lower costs.
"And without the claims data and the comparison over a long period of time of people who use it versus people who don't who have similar conditions, it's difficult to say if it's working or not."
Springbuk was born out of Healthiest Employers, an Indianapolis-based company that runs an awards program for employer wellness initiatives. That company, founded in 2008, grew its program to more than 45 U.S. cities and 18,000 contestant companies.
The program gave the company unparalleled access to the trends around health care benefits administration. It also led officials to realize that most companies had no way of tracking benefits spending to know if it was yielding results.
"Over the years, employer applications consistently scored low on the 'Reporting and Analytics' section of the award application," said Daniels, vice president at Springbuk.
"That's really where Springbuk began—it was front-line expertise of the challenge employers face in gathering and interpreting data to make actionable decisions in their population."
In 2014, Healthiest Employers contracted with a software vendor to do the initial "wireframing" of what would become Springbuk, Daniels said. It debuted its initial software in early 2015, then started molding an internal software team, which got a huge boost from $1.5 million in venture capital Healthiest Employers raised in July 2015.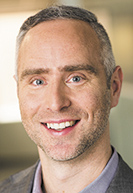 Watson
Springbuk picked up traction, and the following May, officials at Healthiest Employers decided to restructure the company around the software. Now, Heathiest Employers is a trademarked program under Springbuk.
Watson, of Lewis & Clark Ventures, said he learned of Springbuk's existence from a late 2015 news article, and he reached out to Reasen to see if he would be available for a Saturday coffee meeting while Watson was in town.
Reasen said yes, and Springbuk ended up being the venture firm's first Indianapolis investment.
Springbuk's competitors include Truven Health, which IBM acquired last year for $2.6 billion, and Verscend Technologies.
Sequoia's Kesmodel said his firm tested five health-analytics platforms before settling on Springbuk last year.
"Springbuk stood out as the most intuitive and seemed designed for the needs of the employer," Kesmodel said, while other platforms seemed like behind-the-scenes software that required "a data scientist to interpret results."
Watson is similarly upbeat.
"Springbuk seems to be situated at the right place at the right time," he said. "The market looks good; the macro trends look very good. I think it's just a matter of execution—going fast and getting that market before anybody else does."•
Please enable JavaScript to view this content.