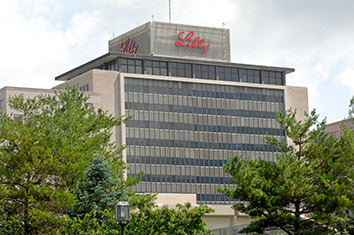 Eli Lilly and Co. plans to cut about 3,500 positions—or about 8.3 percent of its global workforce—by the end of the year and close several facilities in an effort to save $500 million.
In announcing the move Thursday morning, the Indianapolis-based drugmaker said the move will help it reduce fixed costs and invest more in "the next generation of medicines."
Lilly shares rose 1.75 percent in midday trading, to $81.92 each.
Most of the job-cutting will come from a voluntary early-retirement program, which was announced to employees on Thursday and will be largely completed by Dec. 31, the company said. Details of the buyout plan were not made public.
It was unclear how many of the cuts will come in Indianapolis, where Lilly has its headquarters along with a huge research and development center and several manufacturing operations. Lilly is one of the city's largest corporate employers.
Lilly said about 2,000 job cuts will occur in the United States with a majority of the U.S. reductions to take place via the voluntary early-retirement program.
"Since this program is voluntary, we do not yet know the specific impact to our employees in Indiana," Lilly said in an email to IBJ.
As of June 30, Lilly had 11,312 employees in Indianapolis and 12,528 total in Indiana. More than 18,500 of the company's 41,241 worldwide employees work in the United States.
Lilly said it will move production from its animal health manufacturing facility in Larchwood, Iowa, to an existing plant in Fort Dodge, Iowa, and close an R&D office in Bridgewater, New Jersey, and the Lilly China Research and Development Center in Shanghai, China. The company will also further consolidate some work to its existing shared service centers.
The company said it expects to incur charges of approximately $1.2 billion pre-tax, or $0.80 per share after-tax, which includes the estimated participation of the U.S. voluntary early retirement program, global severance and facility closures. These charges will be reflected as asset impairment, restructuring and other special charges in the third and fourth quarters of 2017. The company's reported earnings per share guidance in 2017 will be reduced by the amount of the charges.
The move comes as Lilly is trying to launch 10 new medicines in five years, an ambitious rollout plan. In recent months, the company has scrapped a much-anticipated drug for Alzheimer's disease and run into several delays launching a drug for arthritis.
"To fully realize these opportunities and invest in the next generation of new medicines, we are taking action to streamline our organization and reduce our fixed costs around the world," said CEO David Ricks, who took over the top job in January.
He continued: "The actions we are announcing today will result in a leaner, more nimble global organization and will accelerate progress toward our long-term goals of growing revenue, expanding operating margins and sustaining the flow of life-changing medicines from our pipeline."
Several top executives have left Lilly or announced plans to leave since Ricks became CEO, including Chief Financial Officer Derica Rice, head of Lilly USA Alex Azar and senior vice president Bart Peterson.
Diabetes drugs make up three of Lilly's 10 biggest products, and the company has increasingly focused on the disease as other big drugs have lost patent protection. Yet diabetes treatments have faced price pressure, thanks to heated competition.
"That was on the mind as they made these changes," spokesman Mark Taylor said in an interview.
Please enable JavaScript to view this content.