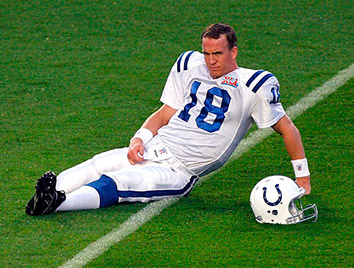 The Children's Museum of Indianapolis on Tuesday unveiled more than a dozen sports figures who will be immortalized with life-size bronze sculptures in the new Riley Children's Health Sports Legends Experience, an outdoor complex set to open in the spring.
Conspicuously missing from the list is Peyton Manning, almost certainly the most famous member of the Indianapolis Colts since the team moved here in 1984 and statistically one of the greatest quarterbacks in NFL history.
Manning guided the Colts to Super Bowl appearances in 2007 and 2010. The team won in 2007, and Manning earned MVP honors. He finished his career with two Super Bowl rings and as the all-time NFL leader in passing yardage and touchdown passes.
Local sports marketer David Morton called the Manning omission "inexcusable."
"Peyton Manning would be on most people's Mount Rushmore of Indiana sports," Morton said. "The Children's Museum's omission of him is blatant. Peyton Manning is arguably the highest profile and most accomplished athlete to ever perform in an Indianapolis uniform."
According to The Children's Museum, it relied on a 15-person committee made up of former and current sportswriters and media members, members of cultural organizations, executives from local teams, and academics and historians to come up with the final list.
The committee's final picks were basketball luminaries Larry Bird, Tamika Catchings, Bobby "Slick" Leonard, Reggie Miller and Oscar Robertson; golf-course designers Pete and Alice Dye; race car driver A.J. Foyt; soccer player DeMarcus Beasley; hockey player Wayne Gretzky; track-and-field star Wilma Rudolph; Indianapolis Colt Reggie Wayne; tennis advocate Barbara Wynne; and the Indianapolis Clowns of the Negro American League.
For brief bios of those that who will be memorialized with statues, click here. All of them have Hoosier ties, although Gretzky's appear the most tenuous. His first professional goal came with the Indianapolis Racers in the World Hockey Association.
Children's Museum officials told IBJ on Thursday that Manning's exclusion had nothing to do with the fact that the Legends Experience is sponsored by IU Health's Riley Children's Hospital and that Manning's name graces the local Peyton Manning Children's Hospital run by rival hospital system St. Vincent Health.
"We can only have so many sculptures, so we had to limit it," Children's Museum spokeswoman Kimberly Harms said.
"We always knew we couldn't recognize all of the incredible athletes up front," Harms said. "Our hope is to show the diversity of what people have overcome to get to where they are and to share the importance of health and fitness in their training."
Harms added that because Manning is being honored with the erection of a statue of his likeness in front of Lucas Oil Stadium this fall, "we wanted to honor another Colt."
Instead of Manning, the committee appointed by the Children's Museum chose retired Indianapolis Colts wide receiver Wayne, whose career was no doubt elevated because it overlapped with Manning's in Indianapolis.
"Reggie is in the record books too," Harms said. "We wanted to spread the love and spread the diversity."
According to a blog entry about the selection process on the museum's website, the committee specifically was tasked with compiling a list of candidates from the 10 sports featured in the Sports Legends Experience. "The focus was on people with a strong Indiana connection: They were raised here and/or spent part of their sports career here," the blog reads. It does not address the inclusion or omission of any specific candidates.
The final list was determined by a committee vote and and approved by museum management. No one from Riley was involved in the decision-making process, Harms said.
Harms emphasized that choosing the legends was difficult, and that the committee wanted a diverse list based on the sports represented, the era in which they played, ethnicity, gender and other factors.
It's possible, Harms said, that other statues will be erected at a later date, adding that Manning could be included in that expansion. She emphasized that the Children's Museum has no definite plans for such an expansion.
She also noted that there will be rotating exhibits inside the new $38.5 million sports park, and Manning is likely to be featured when football is highlighted.
"We kept going back and forth and back and forth on the final list [for the initial statues]," Harms said. "There was some big debate. The decisions were extremely difficult."
Manning isn't the only omission, Morton said.
"There's not one person from Indiana University basketball," Morton said. "That's another glaring omission."
Under IU coach Bob Knight, the university won three national championships (1976, 1981 and 1987) and produced a bevy of All-Americans, including Scott May, Kent Benson, Quinn Buckner, Isiah Thomas and Steve Alford.
Knight's tenure also was marred by explosions of temper and public statements many thought were inappropriate. He was fired from IU in 2000 for violating a zero-tolerance behavioral policy set up by the school's president at the time, Myles Brand. Knight has continued to be an IU detractor, despite repeated invitations by the university to return as an honored guest.
While Harms recalls Manning being discussed by the committee, she said she had no recollection of whether Knight was discussed.
"Basketball and auto racing, because we have so many great athletes connected to those sports here in Indiana, were some of the most difficult decisions the committee made," Harms said. 
Please enable JavaScript to view this content.