Eight million square feet of space equates to 185 acres, or 138 football fields.

More important for the metropolitan area's real estate market, it's the total the local industrial sector absorbed last year.

The record amount, which represents total square footage leased minus the square footage of space no longer occupied, illustrates just how hot central Indiana's industrial segment is right now.
"The market is as vibrant as I've seen in my 28 years at Duke," said Charlie Podell, senior vice president of Duke Realty Corp.'s Indiana and Ohio operations, at IBJ's Aug. 24 Commercial Real Estate and Construction Power Breakfast.

Duke specializes in the management and development of distribution properties and is one of the biggest players in the local market.

Besides the record 8 million square feet that industrial tenants absorbed last year, other indicators also help paint a rosy picture of the local industrial market.

This year, 6.8 million square feet is expected to be constructed, which would be the most in any year, with 2.5 million square feet completed through the first two quarters, a recent report from JLL said.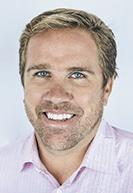 Sturman
Total vacancy at the end of the last quarter stood at 6.7 percent, unchanged from the year-ago period, and more impressive given the large amount of square footage coming to market. Through the first six months of 2017, 1.3 million square feet had been absorbed, JLL said.

"We're in a, probably, 48-month solid run of really solid net absorption," said Jake Sturman, a JLL industrial broker. "Last year was a banner year; this year looks like it will be a very good year."

So what's driving demand?

Podell pointed to several factors: a thriving economy, low interest rates and the growing demand for online shopping and quick delivery, in addition to increasing business from third-party shipping providers.



The region's central location—within a day's drive of 75 percent of the U.S. population—helps cement its status as one of the nation's top distribution hubs.

Most of the industrial development is occurring in Hendricks and Boone counties outside the Interstate 465 loop and extending west along Interstate 70 and north on Interstate 65.

"We have properties in both the southwest and the northwest area, and they are developing and really growing," Podell said.

The strength of the industrial market helped prompt Duke to refashion itself into a real estate company focused exclusively on industrial properties.

It unloaded most of its extensive office-park holdings last year and in early May announced it was selling its medical-office-building business to Arizona-based Healthcare Trust of America for $2.8 billion.

New players

Hendricks County and the west side of Indianapolis for years have been hotbeds for warehouse development, fueled by a strong interstate access, plentiful land and the aggressive use of property-tax abatements.

The 18.8-million-square-foot Park 100 on the city's northwest side ranks as the area's largest industrial park. But the rest of the top five are rounded out by west-side industrial parks—Airwest Business Park, AmeriPlex-Indianapolis, AirTech Park and Park Fletcher, which range in size from 4.5 million square feet to 14.4 million square feet. All are at least 92 percent occupied, according to the latest IBJ statistics.

Plainfield's AllPoints Midwest (3.8 million square feet) and Whitestown's AllPoints at Anson (2.4 million square feet) rank as the seventh- and 13th-largest area industrial parks, respectively, and are owned jointly by Duke and locally based Browning Investments.

Both are sure to grow in the amount of square footage they boast. About 225 acres of the 900 acres at AllPoints Midwest remain to be developed, as do roughly 212 of the 600 acres at AllPoints at Anson in Whitestown near I-65.

Browning and Duke launched their partnership in 2006 and have experienced a flurry of activity after weathering the recession, said Mark Susemichel, Browning's senior vice president of development.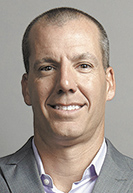 Susemichel
"When the joint venture started, there were several projects done immediately, because of the [Plainfield] location," he said. "Then 2008 hit, and the music kind of stopped for everybody. But starting in 2013, we've really been on a run and have chewed through a lot of the property, with some major developments over the years."

One of the most notable is Amazon's 630,000-square-foot fulfillment center in Whitestown, which opened in 2008. It's the largest of the online retailer's five Indiana locations by square footage.

More recently, Browning and Duke are teaming to build a 250,000-square-foot distribution center in Whitestown for Facility Concepts Inc., one the country's largest commercial furniture makers, which is moving its headquarters from Zionsville Road.

Also in Whitestown, Browning and Duke are set to break ground this fall on a 400,000-square-foot facility for Seattle-based Brooks Running Co. And in Plainfield, they're nearing construction on a 700,000-square-foot building for a tenant they're not yet ready to announce.

"Whitestown is red hot," Sturman at JLL said. "And new developers that haven't been in Indy are looking."

One of those new to the market is Molto Properties LLC. In January, the suburban-Chicago-based developer announced it had bought 47 acres in the AmeriPlex business park on the southwest side and planned to build a 621,000-square-foot spec building there.

Worker shortage

Total warehouse inventory in the metro area has swelled to 214 million square feet, a 10.3 percent increase since 2012, according to JLL.

But with the growth comes challenges, too, mostly in finding enough qualified workers at a time the state's unemployment rate is near a record low. The rate in July, the most recent month available, was 3.1 percent.

Most non-management warehouse workers earn $11 to $13 an hour.

"Labor now has become a huge issue, so the new clients are really researching labor, trying to understand the labor markets and how they can get employees to their facilities," Duke's Podell said at the Power Breakfast. "Some of these large e-commerce buildings are taking [1,200] to 1,500 employees, so it's starting to create this real base of almost a fight for labor, so to speak."

JLL is teaming with KSM Location Advisors, which represents private-sector clients in government incentive negotiations, and the Hendricks County Economic Development Council to help address the problem.

They're hosting a labor workshop from 11 a.m. to 1 p.m. Sept. 20 at the Gordmans distribution center in Monrovia, where attendees will share successful strategies they've implemented to attract employees.
Culp
"You could probably pick any single employer in Plainfield that runs a logistics operation, and I would be willing to bet dozens and dozens have over a hundred job openings," said Katie Culp, president of KSM Location Advisors. "It's very frustrating for the employers."

The upside is that it's forcing companies to get more creative and to hire workers, perhaps even those with a criminal history, that they otherwise wouldn't have given a second look during the economic downturn, Culp said.

Higher pay, better benefits and more frequent bonuses are among the tactics employers are using. The Central Indiana Regional Transportation Authority also is working with IndyGo to transport workers to parts of Hendricks County where warehouse jobs are concentrated.

Some companies have even gone so far as to issue Uber gift cards to help employees get to work, Culp said, an incentive that would have seemed unfathomable just five years ago.•