For years, Eli Lilly and Co. executives pointed to their Elanco animal-health business as a steady growth engine that could help the Indianapolis drugmaker cope with declining sales caused by human-drug patent expirations.

But these days, it's Elanco that could use some help.

The Greenfield-based unit, which makes a vast array of vaccines, antibiotics, feed additives and other health products for livestock and pets, is in a slump, after more than a decade of growth. Sales last year fell 1 percent. And the pain continued into the first six months of 2017, with sales sinking 4 percent.

That comes as competitors watched sales climb last year, including Bayer's animal health unit (up 4.8 percent), Merck's animal health unit (up 4.4 percent), and Pfizer animal health spinoff Zoetis Inc. (up 2.5 percent).

"Elanco is struggling," said Kurt Kemper, an analyst at Hilliard Lyons in Louisville. "Competitors are taking market share. It's a significant disappointment."

The pressures don't seem to be letting up. In the second quarter of 2017, Elanco's revenue fell 13 percent, adjusting for a one-time surge in wholesale buying in 2016 and excluding last year's $885 million purchase of Boehringer Ingelheim's pet vaccine business.

The squeeze is coming at a tough time, just as Elanco was hoping to get a big boost from a series of expensive acquisitions, most notably the $5.4 billion purchase of Novartis' animal health division in 2015.

Elanco's stumbling performance is raising questions about whether the unit should be sold or spun off. In a noteworthy shift, Lilly's new top leadership is refusing to rule out such a move.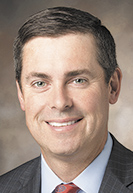 Ricks
"We need to constantly review our portfolio," CEO Dave Ricks told analysts during a conference call in July. "We need to make sure all of our assets—we have a basis for holding and driving incremental value versus what anyone else can do, and animal health is no different from that."

Ricks, who took over as CEO in January, stopped short of saying Lilly was actively exploring a sale or spinoff of Elanco. He said he was focused on improving operations and turning the unit around.

Nevertheless, his comments represent a stark contrast to those of his predecessor, John Lechleiter, who repeatedly shut down rumors of an Elanco spinoff.

Lechleiter had pointed out that Elanco was making a significant contribution, and was growing by the year.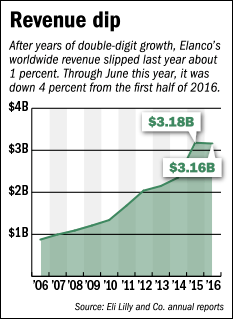 "I've been very clear, we like having that animal health business as part of Lilly," Lechleiter told Bloomberg TV in October, about two months before retiring. "Not so long ago, it was about 5 or 6 percent of our revenue. Today, it's about 15 percent. I think that's a meaningful [form] of diversification that comes with a business that we know a lot about."

A Lilly spokeswoman declined to make Elanco's longtime president, Jeff Simmons, available for an interview. But she pointed out the setbacks were due to stiffer competition, aggressive pricing by rivals and other factors.

Lilly offered some clues about an Elanco turnaround plan to investors during the July conference call.

Simmons told investors one part of the strategy is to shift into high-growth product areas, such as a salmonella vaccine for poultry and a parasite killer for farmed fish. He added that Elanco had also received approval for a flea-tick combination product for pets in the European Union.

He acknowledged that some challenges were more difficult to address. Posilac, a bovine growth hormone for dairy cows, is falling out of favor after consumers in some countries, including the United States, have pressured dairy companies to stop using the additive.

"We have seen U.S. customers choosing to forgo the benefits of this, with the oversupply of milk and lower prices," Simmons said.

He also cautioned that the market for dog and cat pest-killers was swelling with new competition. "We continue to see new entrants," Simmons said. "We continue to see the space crowded."

A rising industry

The crowded feeling is a fairly recent sensation in the once-sleepy world of animal health. For decades, a few companies made a decent, if low-key, business manufacturing feed additives and antibiotics for livestock. Elanco, formed in 1953, started out as a livestock health supplier. As recently as 2006, it rang up just $875 million in sales.

But within the last decade, the industry has roared to life, seizing on the rising consumption of meat around the world and the growing number of household pets.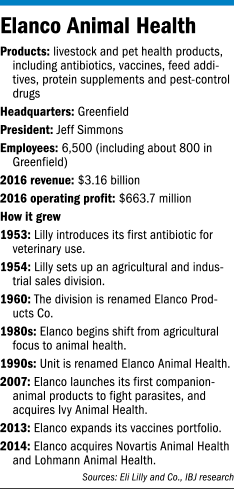 In 2007, Lilly jumped into the pet health market, producing parasite killers and diet products for dogs and cats.

The largest move in the industry came in 2013, when Pfizer spun off its animal health unit, now called Zoetis Inc., in a $2.2 billion initial public offering, making it the biggest stock market debut since Facebook went public a year earlier.

The deal also sparked a wave of consolidation, including Lilly's deals with Novartis and Boehringer Ingelheim. The huge Novartis deal helped boost Elanco's sales 33 percent. But that deal came at a steep price. Lilly agreed to pay 4.9 times Novartis' 2013 revenue of $1.1 billion.

At the time, several analysts called the deal expensive, but Lechleiter insisted that combining the two companies' complementary strengths would "enable us to truly build on the best of both."

But big profits have not materialized. For the first six months of 2017, animal health profit fell 16 percent, to $300.7 million.

Growth market

The global market for animal health is valued at $34.6 billion, and is expected to grow more than 5 percent a year through 2025, according to Grand View Research, a business consulting firm based in San Francisco.

Analysts said if Elanco can regain its footing, it has abundant opportunities for growth. Its lineup includes products to control diseases in cattle, swine and poultry; performance enhancers for cattle and swine; protein supplements for dairy cows; chewable tablets for dogs that kill fleas and prevent heartworm disease; and vaccines to prevent Lyme disease and bronchial infections in dogs.

After the Zoetis IPO, analysts expected other pharmaceutical companies to consider spinning off their animal-health operations.

As a stand-alone company, Elanco would be the 12th-largest public company in Indiana, with 2016 revenue of $3.16 billion. That would put it ahead of Vectren Corp., Allison Transmission, Finish Line, Republic Airways and Duke Realty Corp.

But even though the deal would likely generate billions of dollars for Lilly, some analysts say they don't expect an Elanco spinoff anytime soon. Elanco needs more work, following several big deals that sharply increased the size of the business, said Kemper, the Hilliard Lyons analyst.

"They need to further integrate some acquisitions and stabilize the business," he said.

But he added an eventual spinoff could give Lilly "a lot of cash to pour back into their human pharma business."

Les Funtleyder, a health analyst at E Squared, a New York hedge fund, agreed Lilly could use the money to do more acquisitions or plow it back into research and development.•