Carmel officials are cracking down on parties that neighbors say are creating too much noise and traffic.

But these aren't underage drinking bashes or out-of-control pool parties.

They're sophisticated weddings, political fundraisers and soirees that raise thousands of dollars for local not-for-profits—events some of those same residents might have attended.

In the city's crosshairs right now: Forrest and Charlotte Lucas, owners of Lucas Oil Products Inc., the naming-rights sponsor of Lucas Oil Stadium. They've hosted gatherings like these on their West 116th Street estate since 2011—but with no special permitting or commercial zoning that a traditional event center would need.
And, until recently, the city has looked the other way.

But now the Lucases are trying to get in line with local rules that limit the kinds of activities allowed on property zoned for residential use. They aren't asking to change that designation. Instead, they have applied for variances the city says are needed to allow the events to continue.

The city's planning staff sent a positive recommendation on the variances to the Carmel Board of Zoning Appeals, which will make the decision. But many of the Lucases' neighbors and a nearby events venue owner want the city to deny the request and pull the plug on the parties.

"The truth is, he's thwarting the zoning laws," Crooked Stick neighborhood resident Kristie Blankenhorn said of Forrest Lucas.

The board's decision could set a precedent for how many and what kinds of parties and events other residential property owners can host before needing zoning changes or variances.

After more than two hours of testimony at a meeting last month, the Board of Zoning Appeals delayed a vote until its Sept. 25 meeting.

"This is a relatively reasonable request; however, it is not a typical request," board member Leo Dierckman said at the Aug. 28 meeting. "You've got a big hurdle to cross."

Not the first

The Lucases are not the first Carmel residents to face questions about events on their property.

Tech entrepreneur Scott Jones, who lives in Hawaii now, filed a request last year to use his property at 1150 W. 116th St.—ironically, across the road from the Lucas property—as an events venue and a bed and breakfast. That was about the same time Carmel cracked down on residents advertising rooms and homes through short-term rental sites like Airbnb.

Jones had been renting rooms in his 24,400-square-foot mansion on Airbnb, but removed the listing once he filed for the zoning variance.

He withdrew his petition earlier this year, after meeting unexpected resistance from the Board of Zoning Appeals.

"I'm enjoying Hawaii with my family, so I just don't have time for shortsighted small-town politics," Jones told IBJ. "Life's too short. If Carmel had wanted the huge gift of a wonderful local venue, then they needed to act like it."

Board members raised concerns about traffic, parking, noise and lights, but Jones said those issues had already been addressed with city staff members, who gave the request a positive recommendation.

"Bogus issues were brought up at the very last minute at the meeting, blindsiding my representatives, which is not how the process is supposed to work," Jones said. "Stupid shenanigans like that only hurt Carmel."

The debate over Jones' property spurred interest in how the Lucas estate has been operating.

Mike Hollibaugh, director of community services for Carmel, said city officials knew the Lucases were hosting events on their property. But the city had not received complaints, so officials had not considered it a problem.

But Jones' request brought the issue to light, so city officials asked the Lucases to request the proper zoning variances, and the family obliged.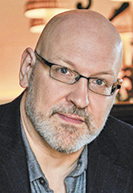 Jones
"We just felt like it was getting to the point where we couldn't ignore it completely," Hollibaugh said. "It was really just time I guess to treat them fairly."

One party too many

When the Lucases acquired their 33-acre property, which was formerly home to Conseco Inc. co-founder Stephen Hilbert, in 2010, they were not secretive about their plans to share it with the public.

And the idea wasn't novel. Hilbert occasionally used the estate for parties and events, with no complaints.

In 2011, the Lucases started hosting corporate outings, weddings and fundraisers for not-for-profits and political candidates.

In May 2016, they purchased the adjacent estate of Nancy Irsay, which brought their total property to more than 70 acres. The Irsay tract included an 8,600-square-foot home and a 10,000-square-foot pole barn known as the Robert Irsay Pavilion.

The Irsays built the barn to host parties for Indianapolis Colts players, and now the Lucases use it for events.

Tim Ochs, a partner with Ice Miller LLP who is representing the Lucases, said they have no plans to expand or add other buildings for parties.

"There's a notion out there that this is being done to expand the nature of operations. That is not the intent," Ochs said at the Aug. 28 board meeting. "This is really a request to keep doing what we've been doing."

IBJ could not reach the Lucases for this story. Ochs did not respond to messages.



Nearby residents say the frequency of parties increased when the Lucases became neighbors and even more so after they bought the Irsay property. Residents argue the family has turned the land into a commercial event venue.

"It would be inserting a clearly commercial enterprise in a neighborhood of estate homes and increase traffic on 116th Street," John Failey, who lives east of the estate, wrote in a letter to board members. "When the property was owned by the Hilberts, it was their home. While they hosted many events to raise money for schools and other charities, it was clearly residential property."

According to information the Lucases provided the zoning board, 30 to 50 events occur yearly at the estate with an average attendance of 200 to 400.

A website, lucasestate.com, showcases photos of the property, provides a biography of the chef on staff, and lists contact information for those interested in holding an event there.

The pending zoning request from the Lucases would allow up to 60 events per year, including up to eight weddings and up to 700 guests per event.

Despite that, Ochs argues the Lucas operation is not a commercial business because the couple lives on the property a "majority of the time" and personally knows the people planning the events or weddings.

"This is not a venue where you can knock on somebody's door and simply by paying a fee, you can use this venue," Ochs said at the Aug. 28 meeting. "It does not work this way. At all."

Hollibaugh said it will be up to the board to decide, but it seems the frequency of events and the website advertising go beyond a resident simply having friends over for a party.

"If I live in a subdivision, and I'm having friends over every weekend, that's one thing," he said. "This is not that."

But Ochs also argued that the Lucas estate shouldn't be considered a commercial venue because the couple doesn't charge rental fees and a majority of the events are philanthropic.

That hasn't swayed opponents.

"I can't state enough that the charitable and philanthropic endeavors of the Lucas family are undeniable, but this has nothing to do with the requirements of granting a use variance of this magnitude and scale," Ritz Charles owner Chuck Lazzara wrote in a letter to board members. "Ritz Charles has given to charity and various groups over $4 million in the past 33 years. It's insulting to think that the Lucas family has a corner on philanthropy."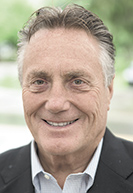 Lazzara
The Ritz Charles is at 12156 N. Meridian St., about a mile northeast of the Lucas estate.

Most nearby residents say their concerns are about the noise, lights, traffic and overall safety issues related to the events.

"It's really a commercial event center," Blankenhorn said. "Call a spade a spade."

Speaking out

At the board hearing, several neighbors told stories of Uber drivers pulling up to their doors by mistake, trying to pick up party guests from the Lucas property, or vehicles using their circle driveways to turn around after missing the entrance on Ditch Road.

It's happened so often that some residents are putting up fences to stop it.

Sharon Damico and David Notary, who live on the southeast corner of Queens Way and Ditch Road, said they spent $100,000 to add a gate around their property.

Nearly 30 neighbors, including Indianapolis Colts placekicker Adam Vinatieri, have either spoken publicly, written a letter, or signed a petition urging the board to deny the request.

"The Lucases do a lot of great things for our community and that probably would still continue even without this variance," Adam Vinatieri said at the Aug. 28 board meeting.

Three neighbors and multiple not-for-profits that have held events at the estate have publicly supported the variances.

"The venue is absolutely critical to the success of the event," John Elliott, president and CEO of Gleaners Food Bank of Indiana, said at the meeting. "And this is a very unique venue."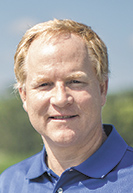 Pittman
Carmel developer Steve Pittman said several residents encouraged him to oppose the Lucases' petition. But after doing some research, Pittman said, he's supporting the request because he thinks the benefits from the events outweigh the negative impact.

"I understand why some people would be against it," he said. "But it's such a benefit for so many groups and organizations in our community. I just feel like it'd be a shame to lose it."

Jones, who is now selling his property, said he hopes the board approves the Lucases' request.

"I think Carmel would be nuts not to support it," he said. "I'm in full support."

Ripple effect

The requests from Jones and the Lucases have made city officials consider whether other estates need to obtain variances or special zoning as well.

Hollibaugh said a few other estates are in question, but nothing is ready for board action yet.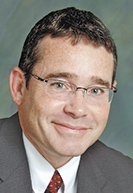 Hollibaugh
"What happens with Lucas may send a message to the community and that may clear some things up," he said.

Non-complying estate owners could be penalized, he said. But for the most part, if the resident is willing to work with the city to resolve a concern, no penalties will be imposed.

"We're not out to punish people," Hollibaugh said. "If they were going to thumb their nose at us, then we'd probably look at it differently."

But when does the level of events rise to the level of needing special zoning?
"How's it different from people holding political functions and political fundraisers at their homes?" Pittman said. "This is bigger events, but it's a bigger facility and it can handle more things."

City officials—and neighbors seem to agree—say a few events per year isn't a problem. The tipping point is when events are occurring nearly every weekend, and other business steps have been taken, like setting up a website and hiring an events manager and chef.

Opponents worry that, if the Lucas petition is approved, other estate owners will follow suit.

"He is setting precedent that will allow other estate owners to monetize their property," Blankenhorn said. "It's changing the landscape of southwest Carmel."•