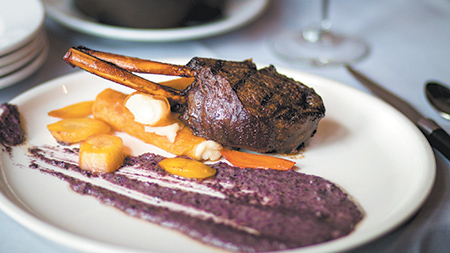 Red meat lovers visiting the Circle City—and the people who live here—don't have to go far to find a great steak. A dozen restaurants in the mile square downtown feature red meat as their specialties.
Whether you prefer Prime beef, Black Angus or Wagyu, or want your steak served sizzling in butter (see Ruth's Chris) or carved at your table (see Fogo de Chao), there's something here for everyone.
But of course, even at a steakhouse, there are other things to try. St. Elmo's is as famous for its shrimp cocktail as it is for its aged Black Angus beef. And nearly every downtown steakhouse offers great seafood options (see the Lobster Pops at Gary Brackett's CharBlue or the Pan-Seared Scallops at Harry & Izzy's).
Here's a roundup:
The Capital Grille
40 W. Washington St.
317-423-8790
thecapitalgrille.com
About the location: Adjacent to the 23-story Conrad Indianapolis, the restaurant features African mahogany paneling and Art Deco chandeliers that provide an upscale spot for business dinners and meetings.
What makes it stand out: Steaks are dry-aged on premises for more than 18 days and hand-carved by in-house butchers.
Recommended steak choice: Gorgonzola and Truffle Crusted Dry-Aged Bone-In New York Strip, $49
Prices: 10-ounce Filet Mignon, $45; 22-ounce Bone-in Ribeye, $52
What else to try: Pan-Seared Sea Scallops with Wild Mushroom Risotto, $44; Parmesan Truffle Fries, $11
CharBlue Steak & Seafood
14 E. Washington St.
317-986-7883
charblueindy.com
About the location: Just a block from Monument Circle, the restaurant is in the former location of Georgia Reese's Southern Table & Bar on the first floor of the McOuat Building and takes advantage of its brick walls and historic features.
What makes it stand out: Co-owned by former Colts linebacker Gary Brackett, CharBlue has a sense of humor (it provides a 2-ounce shot, an "amuse booze" to start the meal) and offers a farm-to-table menu.
Recommended steak choice: 14-ounce Allen Brothers Certified Angus New York Strip, $36
Prices: 6-ounce Filet Mignon, $35; 16-ounce Ribeye, $46
What else to try: Lobster Pops, $14; Hickory Roasted Cervena Venison Chop, $36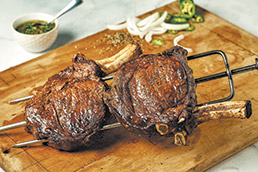 (Photo courtesy of Fogo de Chao)
Fogo de Chao Brazilian Steakhouse
117 E. Washington St.
317-638-4000
fogodechao.com
About the location: In the former Zipper Building, Fogo features a 12-foot-by-8-foot stained-glass window and is a block from the City-County Building and two blocks from Bankers Life Fieldhouse. 
What makes it stand out: In traditional Brazilian steakhouse style, waiters carve fire-roasted meats tableside and customers can feast on a Market Table & Feijoada Bar.
Recommended steak choice: Full Churrasco Experience, $51.95 (dinner)
Prices: Full Churrasco Experience, $34.95 (weekday lunch)
What else to try: Market Table & Feijoada Bar, $26.95; Sea Bass a la carte, $34.95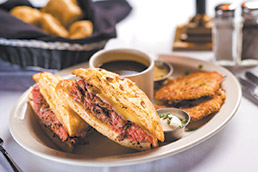 (Photo courtesy of Visit Indy)
Harry & Izzy's
153 S. Illinois St.
317-635-9594
harryandizzys.com
About the location: Next door to its more masculine sibling St. Elmo Steak House, it's part of Circle Centre and one block from the Indiana Convention Center.
What makes it stand out: Harry & Izzy's offers Black Angus steak aged an average of 45 days and the World Famous St. Elmo Shrimp Cocktail as part of a menu that's more expansive than the typical steakhouse. 
Recommended steak choice: 14-ouce Izzy Style New York Strip, $45
Prices: 8-ounce Filet Mignon, $41; 20-ounce Bone-In Ribeye, $49
What else to try: Pan-Seared Scallops, $34; St. Elmo Prime Rib Pizza, $18
Hyde Park Prime Steakhouse
51 N. Illinois St.
317-536-0270
hydeparkrestaurants.com
About the location: A block from the Circle in the Illinois Building, the restaurant is one of the closest to the Statehouse and has three private and semi-private dining areas accommodating groups from six to 130.
What makes it stand out: The New York ambiance with gold accents and horseshoe-shaped, black-tufted-leather booths and a menu with steaks named for local sports personalities.
Recommended steak choice: Steak Luck 18-ounce Bone-in New York Strip, $66
Prices: 9-ounce Filet Mignon, $44; 22-ounce Bone-In Ribeye, $50
What else to try: 12-ounce Pure Bred Lamb Chops, $44; Maine Lobster Mac & Cheese, $17
Mo's
15 E. Maryland St.
317-635-0720
mosaplaceforsteaks.com
About the location: In the Hampton Inn, Mo's is less than a block from Bankers Life Fieldhouse and less than a block west of its original location in the Majestic Building.
What makes it stand out: This cozy restaurant, part of a small chain out of Milwaukee, is known for its attentive staff.
Recommended steak choice: Dry-Aged Bone-In New York Strip, $57
Prices: 9-ounce Filet Mignon, $55; Mo's Signature Prime Ribeye, $60
What else to try: Chilean Sea Bass, $37; Ahi Tuna Sushi with Wasabi, $14
Morton's The Steakhouse
41 E. Washington St.
317-229-4700
mortons.com
About the location: On the basement level of the IBJ building, the restaurant offers a clubby, mahogany-paneled interior with two private board rooms.
What makes it stand out: Great deals on Happy Hour bar bites every night but Saturday and prime beef in a classic steakhouse experience.
Recommended steak choice: Prime New York Strip, $62
Prices: 12-ounce Filet Mignon, $56; 22-ounce Bone-in Ribeye, $61
What else to try: Honey Balsamic Glazed Salmon, $36; Four Petite Filet Mignon Sandwiches (in the bar only), $8
Prime 47
47 S. Pennsylvania St.
317-624-0720
prime47.com
About the location: In the beautiful, Majestic Building, the restaurant is less than a block from Bankers Life Fieldhouse and features 18-foot windows.
What makes it stand out: The locally owned steakhouse features Prime beef and live music nightly and a pre-game football Sunday brunch with a shuttle to Lucas Oil Stadium.
Recommended steak choice: Japanese Wagyu Filet Mignon, $22 per ounce
Prices: 8-ounce Filet Mignon, $42; Dry-Aged Bone-In Ribeye, $87
What else to try: Scottish Salmon, $35; Baby Back Ribs, $30
Red the Steakhouse
14 W. Maryland St.
317-757-3144
redthesteakhouse.com
About the location: Opened this year in an 1876 Italianate-style building, it's next to Circle Centre, two blocks from the Indiana Convention Center.
What makes it stand out: With an Italian take on the classic steakhouse, Red's features a hefty pasta selection as well as a raw bar.
Recommended steak choice: C.A.B. Bone-In Tomahawk Ribeye, market price
Prices: 8-ounce Filet Mignon, $49; 16-ounce Ribeye, $51
What else to try: Lobster Fra Diavolo, $36; Free Range Veal Marsala, $36
Ruth's Chris
45 S. Illinois St.
317-633-1313
ruthschrisindy.com
About the location: Part of Circle Centre, the restaurant's bar offers windows that are great for downtown people-watching.
What makes it stand out: Steaks are served sizzling in butter, the restaurant features live piano music, and an attentive staff.
Recommended steak choice: Cowboy Ribeye, $55
Prices: 8-ounce Petite Filet, $41.50; 16-ounce Ribeye, $48.50
What else to try: Chilean sea bass, $42; Veal Osso Buco Ravioli appetizer, $16.50
 (Photo courtesy of Shula's Steak House)
Shula's Steak House
241 W. Washington St.
317-231-3900
shulas.com
About the location: Connected by walkways to the Indiana Convention Center, Shula's is in The Westin Hotel, just across the street from the Statehouse, and offers a beautiful view of downtown.
What makes it stand out: Center cuts of Black Angus beef served in a restaurant that is part of a chain founded by Miami Dolphins football coaching legend Don Shula and celebrating the Dolphins' 1972 undefeated season.
Recommended steak choice: 24-ounce Porterhouse, $49
Prices: 8-ounce Filet Mignon, $44; 14-ounce Ribeye, $44
What else to try: Pan-Seared Sea Scallops, $35; Double-Cut Lamb Chops, $43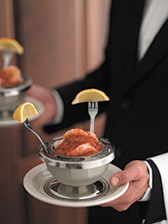 (Photo courtesy of Visit Indy)
St. Elmo's
127 S. Illinois St.
317-635-0636
stelmos.com
About the location: The city's century-old, landmark restaurant is one block from the Indiana Convention Center and in a Circle Centre mall block. It's next door to the classic Le Meridien hotel.
What makes it stand out: The World Famous St. Elmo Shrimp Cocktail ($14.95); the 100 percent Black Angus beef aged 45 days; and the sports commentators, athletes and other celebrities who visit when they're in town. 
Recommended steak choice: Bone-In Prime Rib, $55
Prices: 12-ounce Filet Mignon, $52; 20-ounce Bone-in Ribeye, $49
What else to try: Sashimi Yellowfin Tuna, $35; Indiana Lamb Porterhouse, $46 •
Please enable JavaScript to view this content.