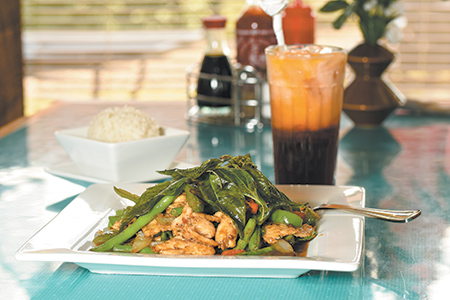 There's been a surge of late in Thai restaurants popping up on the Indianapolis perimeter.
Recent additions include the cafeteria-style Phaya Thai Street Food on Post Road and the order-at-the-counter Eat Thai at Traders Point (taking over from the spot formerly occupied by Tom + Chee). And for sit-down and table service, there's Manee Thai Cuisine IN (2274 W. 86th St., 317-991-4930), which fills the real estate hole left by Borel's Cajun & Creole Cookery.
I, for one, am glad to see the Thai trend expanding the palates of strip-center diners—especially when a locally owned spot like Manee Thai manages to create a comfortable environment for above-par food that—OK, apart from the fried stuff—tastes healthier than other neighborhood choices. Friendly service certainly is a plus here as well, helping balance the sensible, simple and unmemorable decor.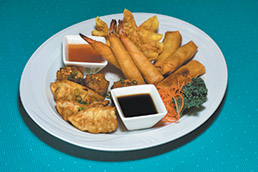 The Manee Sampler offers a crunchy. appetizing prelude to the meal. (IBJ photo/Eric Learned)
We started with the Manee Sampler ($14.99), a substantial platter with three pieces each of Shrimp in the Blanket (in other words, wrapped in an egg-roll skin), Shumai (steamed dumplings of pork, scallion and shrimp) and Gyoza dumplings (similar, minus the shrimp), and the standard thin-tube Spring Roll. Although the range of choices could have been broadened a bit, all hit their marks while serving the basic raison d'etre of a sampler platter, not only offering sharable bites but also building confidence in what's to come.
We were warned to take it light on the spice when ordering the Spicy Basil Leaves ($11.99), but what arrived needed a little more kick (your mileage may vary) and definitely more basil. The bites that included the herb—along with garlic, bell peppers, onions and green beans—transcended what otherwise was still a good Thai standard. Meanwhile, the Lava Trio ($17.99) presented shrimp, sea scallops, mussels and squid, begging the question of why this is a trio and not a quartet. Whatever the reasoning, the sweet chili paste and onion, mushroom and scallion helped unify the plate.
A range of salads (Papaya, Tofu and Duck among them) add breadth to the expected noodle and stir-fry menu. An under-$10 lunch offering seems standard these days in Thai restaurants. At Manee Thai, that translates to an $8.99 deal that includes an appetizer (crab Rangoon or egg roll, depending on the day), soup and a house salad, and a choice of 18 entrees, none of which (Broccoli Beef, Orange Chicken, Drunken Noodles, etc.), are likely to surprise.•
Please enable JavaScript to view this content.