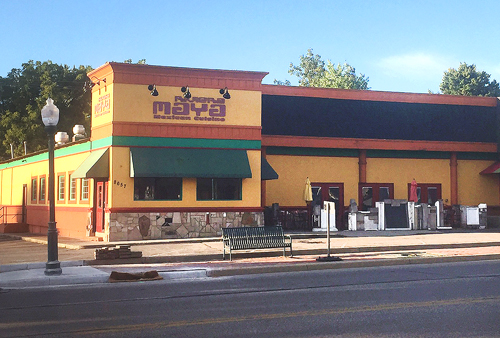 A popular Mexican restaurant in downtown Fishers is making plans for a second eatery in a high-profile location along a major traffic corridor.
Riviera Maya Mexican Cuisine, 8657 E. 116th St., has announced plans to open a second restaurant at 9770 Crosspoint Blvd. in the 9,900-square-foot building where Cheeseburger in Paradise operated from 2005 to 2014.
The Cheeseburger in Paradise building is in a highly visible spot along Interstate 69, just north of 96th Street. Motorists exiting southbound 69 at 96th Street drive right by the property, which has been vacant for more than three years.
When Cheeseburger in Paradise parent company Luby's Inc. closed the Jimmy Buffet-inspired restaurant, it said it planned to remodel it into another one of its burger joints—Fuddruckers. Those plans never materialized.
About 180 Fuddruckers restaurants operate today. Only seven Cheeseburger in Paradise restaurants are open, including one on the south side of Indianapolis, 4670 Southport Crossing Drive.
The property is owned by a subsidiary of Bloomin' Brands Inc., whose brands include Outback Steakhouse, Fleming's Prime Steakhouse & Wine Bar, Bonefish Grill and Carrabba's Italian Grill.
It's not clear if Riviera Maya will lease the space or own it.
Riviera Maya posted the announcement at its existing restauran. An employee said they were planning to open the second location in November. A manager did not respond to IBJ's request for further comment.
The second location is only about 2 miles from the restaurant's current space, which it leases from Archer's Meats & Catering.
Archer's closed earlier this month and plans to sell the property to Boomerang Development LLC. Corby Thompson, president of Boomerang, said the company hopes to include Riviera Maya in any future redevelopment of the site and the restaurant will remain there until a project moves forward. (For more on Thompson's plans, read the Oct. 2 issue of IBJ.)
Riviera Maya opened in 2010 in a building that incorporates a variety of reclaimed architectural elements from several former Indiana buildings, including an archway from a burned-down church in Kokomo, stained glass from a Masonic temple in Warsaw and flooring from a Logansport home.
Please enable JavaScript to view this content.